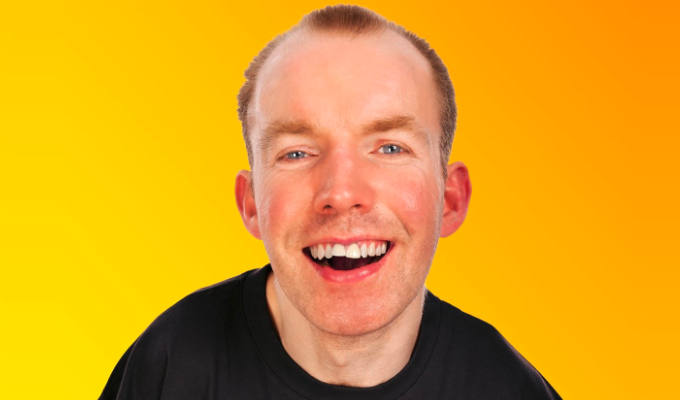 Knob gags and slapstick - perfect!
Lee Ridley, also known as Lost Voice Guy, became a major star after winning Britain's Got Talent in 2018. Now, as his book I'm Only In It For The Parking, comes out in paperback on Friday, the comedian recalls some the sitcoms that shaped his comedy…
1. The League of Gentlemen
My absolute favourite comedy show. I loved it so much that I waited in a queue for a few hours when they did a DVD signing in Newcastle. I got a photo with them, then queued up again because I'd forgotten to ask for their autographs the first time around. Such a British thing to do!
When I look back to what it was about The League of Gentlemen that particularly appealed to me, I think I liked the fact that they were making jokes out of stuff that was a bit weird and leftfield. I would have been a teenager when I watched it for the first time, so that was probably my introduction to the darker side of comedy. I didn't know it existed up until that point, so they opened my eyes to a whole new world.
For the first time I got the impression that anything could be joked about if handled in the right way… and I loved it. It probably encouraged me to push the boundaries in my own comedy (and I'm talking about before I became a stand-up, when I was just joking on with my mates).
I think the Gents helped to show me that being different was definitely an advantage when it came to being funny. They helped me view my life in a completely different way. Suddenly my various quirks were something I could laugh at rather than be self-conscious about.
After all, I do quite enjoy knowing that an audience isn't entirely comfortable. I think it's a very powerful position to be in.
2. Bottom
This is probably one of the first comedy shows I ever watched and I loved it. It was pretty rude for a 14-year-old boy, but it was also made great by the performances of Rik Mayall and Ade Edmondson, who suggested to me what life might be like when I finally left home and found myself some flatmates.
Their mix of knob gags and slapstick humour – the chaos of it − was exactly what I needed when I was a teenager living in quite a steady way, and I made sure I never missed an episode.
Another of my early favourites and one of the first sketch shows to come to my attention. Harry Enfield and Kathy Burke nailed each and every character.
Kevin and Perry were my particular favourites. They were the kind of teenagers I would have loved to be but never had the nerve. They were sulky, rude and self-centred, and I was the absolute opposite. I was never rude to my parents and I rarely went off in a sulk (if you don't count the time I swiped the family Monopoly board off the table because I was losing, but we all do that, don't we?).
So, sometimes I liked to be transported into a world where teenagers ruled. I used to imagine doing something similar in my own home but I liked pocket money more than anarchy. And I needed someone to help me with my socks.
4. Peep Show
I liked Peep Show because it didn't mind being a little bit different from the rest. The way it uses point-of-view shots with the thoughts of the main characters, Mark and Jeremy, heard as voiceovers, really impressed me when I first started to watch it.
They couldn't be more different either. Mark is the sensible one, but often has moments of impulsive and erratic behaviour (much like me, which is why I tend to sympathise with him), while Jeremy is naive, immature and often selfish, but considers himself talented and attractive.
It has some of the best comedy writing I have ever seen as well. I think we all know either a Mark or a Jeremy.
5. Father Ted
I used to watch this religiously (no pun intended). I just loved how silly it could be. It provided the perfect dose of laughter and light relief for a young bloke getting stressed out by football, exams and girls − in that order.
The childlike, simple-minded Father Dougal amused me a lot. But it was the elderly, foul-mouthed, alcoholic Father Jack I really loved.
Father Ted showed me how much fun you could have by bouncing completely different characters off each other. Something I came to use in my own sitcom years later.
6. The IT Crowd
I'm not sure if I like this because it reminds me of my geeky side or just because it's fucking funny. I can certainly see traits of myself in both coding genius Moss and the work-shy Roy so maybe that's why I can identify with it so much. I've definitely used Roy's technique of turning stuff off and back on again whenever I have a technical issue and, like him, I'm a big fan of video games and comic books.
There was also something very authentic about The IT Crowd's workplace setting, which rang true with my personal experience as an office employee for the council. It was repetitive, mundane work and you had to make your own fun to combat that. Also, although everyone gave the appearance of knowing what they were doing – meetings, memos, phone calls, the stuff of office life – in reality no one had a clue what was going on.
• Lee Ridley's book, I'm Only In It For The Parking, subtitled 'Everything I know about life, laughter and disability', is released in paperback on Friday.
Published: 9 Mar 2021
What do you think?