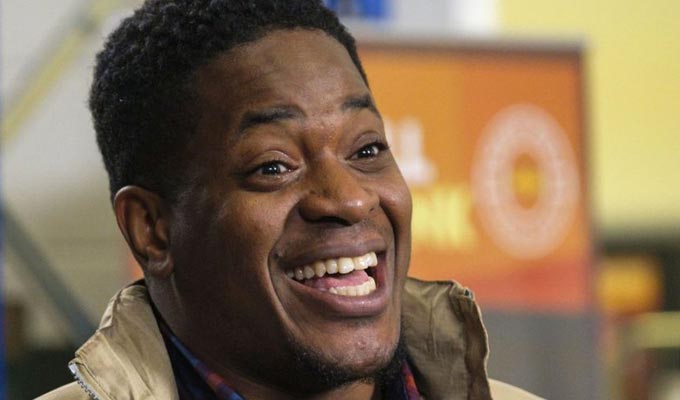 I wanted to be Will Smith growing up...
As Guz Khan's sitcom Man Like Mobeen starts its third series on BBC One next week, Tolu Ogunmefun, who plays Nate, shares his Perfect Playlist…
Jim Carrey
I'll put Jim Carrey at the top of my list, he is my comedy GOAT (greatest of all time). I love how expressive he has been throughout his career. I find everything he does hilarious. The Mask is one of my favourite films and I would remember trying to copy his moves and catchphrases 'Somebody stop me!' is my all-time favourite.
Dave Chappelle
Dave Chappelle is another comedy genius that I fell in love with. He is a mastermind of talking about any topic and bringing out the comedy in it no matter how sensitive or serious it is. This is one of my best clips from his stand-up.
Eddie Murphy
Eddie Murphy is simply a legend. His stand-up comedy special Raw had me in stitches. He is the reason I tried to play ten characters in a sketch show I did on YouTube.
I love the way he fully immerses himself in whatever character he plays. Coming to America is also in my top 10 films This scene in the barbershop is superb.
Robin Williams
It's hard to separate all the guys I've listed so far because I feel like they are all so special. Another guy that really got me close to the screen when I was young is Robin Williams. His role in Mrs Doubtfire was truly iconic. The scene with the cake face in the kitchen really had me rolling
Will Smith
I actually wanted to be Will Smith growing up. People said I looked/ behaved like him and my mum used to tell me that Will Smith was my real dad which I believed for a while. I don't quite think I've forgiven her for lying to me.
Fresh Prince of Bel Air is one of my favourite shows to date. But the scene in Men in Black when he was stepping on the roaches really got me.
Chris Tucker
Chris Tucker is underrated to me. I love all his films and comedic timing. I've watched Friday at least 100 times and tried to do a remake playing his character a while ago. It wasn't my best impression but hey, I tried.. Here is a clip that really got me going.
Tolu Ogunmefun can be seen on Man Like Mobeen. Already available on iPlayer, the third series will be broadcast on BBC One at 10.45pm from Monday.
Published: 26 Mar 2020
What do you think?