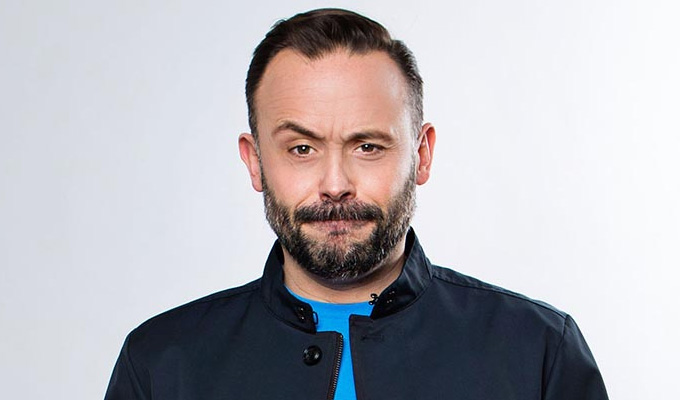 Of course I like his spiky take on liberal certainty...
As Geoff Norcott, the Tory-voting, Brexit-backing comedian from the Mash Report heads out on tour, he shares some of his comedy favourites...
Dave Allen
By the mid-noughties 'taking on religion' had become cool to the point of cliché. However, when Dave Allen was poking fun at the church it was genuinely daring. Having said that he could probably have gotten away with anything as he was the complete comedian.
Allen could do everything from observational riffs, to pub gags and extended act-outs. He also didn't look like a comedian. Growing up, they always appeared a bit wacky or disconcerting. The mainstream guys wore dickie bows, while the 1990s guys looked like there was a band somewhere missing a bassist. He just looked smart and normal.
Consequently, his leftfield take on the world often felt even more unexpected.
Absolutely Fabulous
I've been re-watching this recently and the show has stood the test of time well. It's not only held up, the comedy wheelhouse of belligerent older caners versus pious youth seems oddly prescient.
Furthermore, Edie and Patsy's casual London centrism could be a forerunner for the cosseted liberal elites of today. You know they'd have gone to march for a People's Vote, they just might not have made it out of the pub, or indeed the pub toilets.
The smoking on set, the talk of drink and drugs all seem oddly transgressive set against the reassuring atmosphere of a studio sitcom.
Most people remember the classic moment Patsy emerges from the charred remains of the flat, but for me Jennifer Saunder's woman-baby hissy fits were the heart of the show.
Bill Burr
Yes, a predictable choice for a comic like me. However, it's not just his spiky take on liberal certainty, it's his willingness to accept not being liked.
No matter what stance you take in stand-up, managing the pathetic need to for approval is crucial to saying anything worthwhile. Even among his own crowd, Burr's ideas can bring about virtual silence, then he works his way back by confronting the fatuous idea he's the only person in the room who thinks this way.
His routine about child soldiers is a reminder that class snobbishness often sees Burr's sniffier critics overlook his intelligence and creativity with language.
Here is a trademark routine where he questions just how hard it is being a 'Stay at home mom'.
The Day Today
The Day Today is lauded for its smarts, but a lot of the show's best moments come from plain silliness. From Partridge to Peter O'Hanraha-hanrahan and Chris Morris repeatedly saying 'John Fashanu' – plenty of the laugh-out-loud moments felt like things your funny mate would say during GCSE science.
Having said that, one of the show's finest triumphs was it's note perfect satirisation of the way news gets the horn for war. I wish the show was still around today to cast a similar eye over the way Sky savour and pore over even the most trivial act of terrorism.
Upstart Crow
This show has had great success, but you can only wonder what the scale of it would have been pre-streaming. It sits in that sweet spot between mainstream appeal and nourishing intellectual nuggets for people who like to pat themselves on the back.
Plus everyone in it is very good. David Mitchell, Gemma h Whelan and Lisa Tarbuck are all excellent plus it's nice to see a mate like Rob Rouse stealing the odd scene.
They're also doing a stage version, which is enough to tempt me out of my 20-year boycott of theatre. So far I've never seen a play that couldn't have been an hour shorter…and preferably not a play. But I'd make an exception for this cast.
• Geoff Norcott kicks off his Taking Liberties tour at the Stand in Newcastle tomorrow. Full dates and ticket links here.
Published: 24 Jan 2020
What do you think?