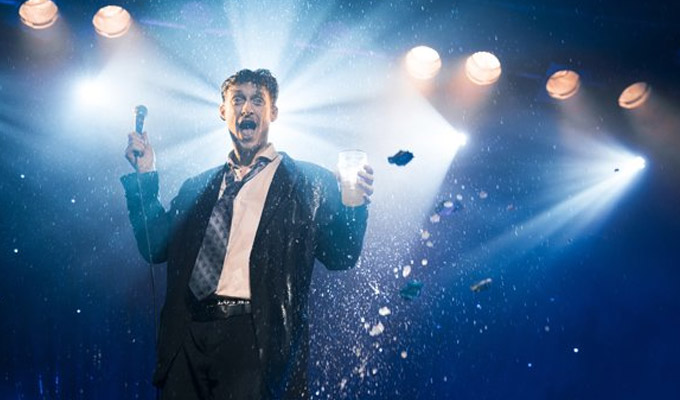 'He's influenced almost every "weird" comedian of the past two decades'
As Jack Tucker, American comedian Zack Zucker mocks the notion of brash, desperate stand-ups seeking escape from life's miseries on stage. As he begins a late-night Soho Theatre run today, here he lists six comedians who influenced him...
Tim Heidecker
Tim is one of the pioneers of modern absurdist humour, and has inspired practically every 'weird' performer that's come up in the last 15 to 20 years. Whether you've seen Tim & Eric Awesome Show: Great Job! or not, someone that you're influenced by has.
Seeing Tim perform live was a turning point in my career. I remember watching with my best friend and director Jonny Woolley and both of us leaving speechless. His commitment to the persona he's created immediately hooked the audience, allowing us the space to laugh at the success of the artist and failure of the character at the same time.
Eric Andre
Eric Andre has become the face of absurdist comedy in America. Similar to Tim Heidecker, he blurs the line of what's real and what's planned by blending the two styles together so intensely and frequently.
He's also provocative in all of the ways I enjoy. He'll never shy away from taking a joke as far as possible, for the sole reason of testing the limits.
He rides the line of being malicious in a way that understandably upsets people, but never actually causes any harm to anyone involved. RIP L. Ron Hoyabembe.
Neil Hamburger
There's a special group of comedians out there who live in the space between idiot and genius so masterfully, you aren't able to explain what you saw or why you're laughing, but you can't stop thinking about it. You're not sure if you're witnessing a great artistic piece or sitting through the dumbest shit that's ever been performed.
Both these feelings have equal value, and Gregg Turkinton's creation Neil Hamburger does just that. Dubbed 'America's Funnyman', Neil Hamburger is one of the most divisive acts on the circuit. It's all one big joke, and if you don't get the joke, then the joke's on you.
Andrew Dice Clay
Dice was a rock star. He wasn't just a comedian: he was a spectacle, a character-comedy act that left people wondering where he ends and the character begins.
I know there are comics all over the world who pack out stadiums and people love their material, but nobody worked the crowd into a frenzy like Dice. Everyone in the room knows and LOVES his jokes. They're all chanting along to them, playing into his games and saying all of the right things to get the reactions they want.
It's also fascinating because there are people enjoying this on multiple levels: a big chunk of the room has no idea he's a character, enjoying what they're seeing at face value, while the rest of the audience can enjoy the brilliant satire.
Mark Zucker
Mark Zucker is my dad. And before you make the joke, he's already beaten you to it: 'if you thought you were talking to the CEO of Facebook, you're talking to the wrong guy!' That's how my Dad starts all of his presentations for his company, Zookbinders, a premium book-binding and photography factory that makes wedding albums, among many other services.
He's started using props and physical comedy at trade shows after watching Zach & Viggo and I couldn't be more proud of how I've influenced him.
He and his two best friends Tony and Dweck, laid down the foundation for my comedy roots. They showed me classics like South Park and Andrew Dice Clay, and let me to watch Chappelle's Show, and Jackass. I love my dad and wear his tie every night as Jack Tucker.
Sacha Baron Cohen
While I have seen every episode of Tim & Eric, The Eric Andre Show, been lucky enough to share the stage with Hamburger, and have played ball with my dad, my biggest influence has to be Sacha Baron Cohen.
Sacha has been pushing the boundaries for as long as he's had a platform. His commitment to his characters is unlike anyone else, each one with their own unique physicality and point of view that goes further than the one before it.
He creates these lovable idiots that disarm his guests, baiting them into revealing their raw, honest, and often problematic beliefs.
Every time Sacha walks into a room, you know he's going to do something wild, but he's always one step ahead of us. When he does make his move, he highlights something that's been right in front of us this whole time, changing the way we talk, think and react to similar social instances in the future.
• Zack Zucker plays Jack Tucker in his Comedy Stand-Up Hour at the Soho Theatre from tonight until Saturday at 10.15pm. Tickets
Published: 25 Sep 2019
What do you think?