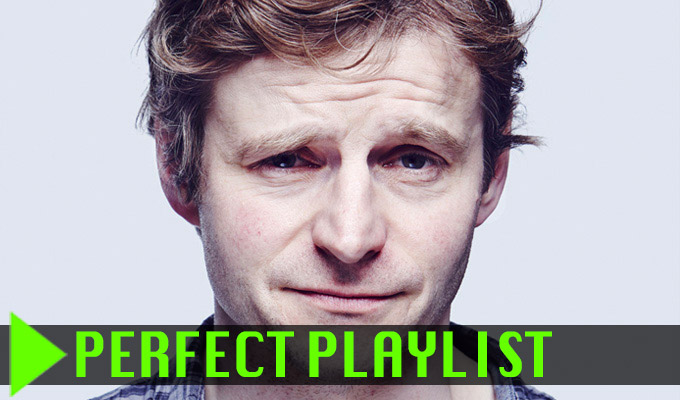 'Glee, silliness and cleverness all at once'
Stewart Lee: 90s Comedian
Something about Stew's boldness with the audience really stayed with me. I remember popping into the back of the massive Brighton Dome room at the 2005 Brighton Festival, where he was doing part of the show, and seeing him coaching 1,500 people on when to laugh and what kind of laughs each part of the crowd should do. And then conducting them as they did what they were told.
This chutzpah was mixed with a very lyrical way of telling a story and that seemed a great, unlikely cocktail. It was one long shaggy dog story, and in that way closer to storytelling than gag-gag-gag comedy. He had these weird theatrical touches, like the chalk circle he'd draw at the start like the medieval clowns apparently did as a force field against taboos.
It was like he was restless in the bracket he'd ended up in (stand-up) and was interrogating it and pushing against it and thinking he wanted to be doing something else while at the same time loving it and knowing absolutely everything about it and being fiercely protective and proud of it.
Basically, being quite contrary like a comedian probably should be!
Robin Williams: Live At The Met
We watched the video of this gig as a family when I was about 13 or14, which seems quite risqué now somehow (but also quaint, like a family huddled round a big wireless listening to Roy Rogers...)
I just loved his energy and how he was just doing what he needed to be doing. The stuff about sex wasn't awkward, somehow; he talked about it in such a real way, the sacred and the profane all mixed together.
He's so honest about his boozing, too, and you love him for it. His routines are given extra gravity because the gig's on the actual set of an opera (which he interacts with a bit) and his dirtier, grittier stuff plays off against that and feels quite moving somehow; like he's this little everyman in a Hawaiian shirt whose helpless in a giant universe but having a go anyway. Like all of us.
I've been told on two separate occasions (both at bus stops, oddly) that I look like Robin Williams. I reckon I'm about 14th or 15th in line for the role when the biopic appears.
Mark Watson's 24-Hour Shows
I was very lucky to chance on Mark's first 24-hour show in 2004. I was 'only' there for seven hours, but I've been back many times since, and occasionally appeared too, by accident or design.
They are sort of half gig/half 60s-esque happening and – through the mass group tiredness and fortitude – a kind of experiment in what performance (and comedy) can be. Any sort of prep falls apart and a collective unconscious kick in, a gorgeous mix of improvisation and desperation (which are sort of the same!).
Mark is an extraordinary marshal, auteur, and breathtaking stand-up comedian too.
In the last one, I remember a class of schoolchildren standing onstage making up the most offensive disses they could use only food imagery and Rufus Hound commentating as if on some wrestling, did this happen? Can someone verify that? This was around 20 hours in.
Dana Gould
Watching an American stand-up called Dana Gould in the Assembly Rooms very late one night in 1991 I saw that stand-up could be really moving as well as funny.
I felt the same when I saw Maria Bamford, and Kitson, and Sarah Kendall's tales of growing up in Oz (and – perhaps surprisingly – Mike Wilmot's warts-and-all tales of marriage to his 'old lady').
Gould's show was about drinking and religion and all I really remember is at one point he likened two six-packs of beer to the 12 apostles. And that there was this very reverent, alive, almost church-like atmosphere in the room.
I can't bring myself to google him because I want to keep this memory as it is; of a night when - as Springsteen said - a kid in the 9th row was blown away.
He had everyone just listening very intently and there didn't need to be lots of laughs because -when there were laughs - they were huge, deep, true laughs.
Bridget Christie: A Bic For Her
Bridget Christie's 'the lady's not for turning routine' in her Edinburgh Comedy Award-winning show at The Stand was brilliant. Her shows feel so fresh and mischievous and free from cynicism.
Maybe I've attached the wrong routine to the wrong show because I am middle-aged, but either way, she has such glee and silliness and cleverness in her stuff all at once.
We used to bump into each other at very off-the-wall variety-style comedy nights and she'd be dressed as Charles II or Japanese knotweed and I'd be about to go on as Chris John Jackson. Then she tried losing all the masks and being herself. And it worked.
Not that it wasn't working before. I think - hope - being yourself and being a character are all part of the same thing really. Another key Christie innovation is her morning shows at the Fringe. Stand-up in the morning tastes better somehow.
Tony Law at the Wi-Fi bar in Melbourne
An image I'll never forget was walking into the Wi-Fi bar in Melbourne, which hosts the late-night Festival Club gigs, to see Tony Law grandly bowing to massive applause while wearing one of those paper suits that forensics wear in TV dramas. I just thought 'what could he have been doing in that set that required that suit?'.
In a way it was like a crime scene, but one where he had done the killing and was really happy about it... The crowd were going nuts.
This is not that performance!
• Will Adamsdale: Facetime is on at Underbelly Bristo Square at 18:00 daily from July 31.
Published: 26 Jul 2019
What do you think?