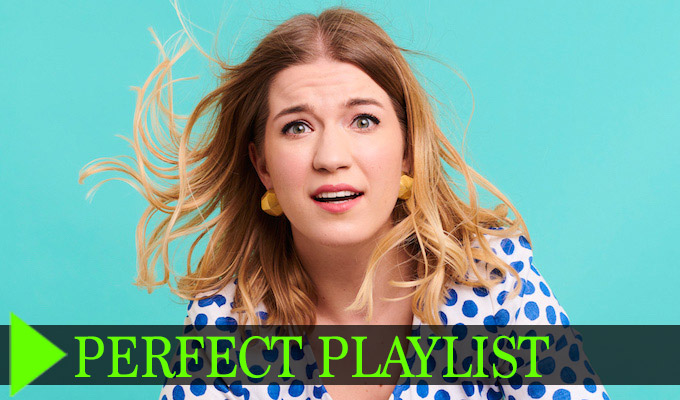 Take a techno DJ, a Siberian forest and a sparse audience of 11-year-olds...
Patti Harrison Performs the Song She Wrote for Dua Lipa
Quite frankly, I can watch Patti Harrison do virtually anything. She has an amazing string of Instagram stories, where she plays a beauty blogger being choked by a ghost, and it's so good that for a time I watched it every night before bed.
This song works stunningly as a comedy bit, as a Dua Lipa parody, and - most crucially - as a very catchy pop song. Every time I rewatch it, I find a new thing to laugh at: whether it's Harrison's signature morbidity or her British accent or her delicious eye rolls.
Inside Amy Schumer: The worst part of having a boyfriend?
This is a textbook sketch in the best way, because it is perfect in every sense. It captures so beautifully such a painfully relatable occurrence, and escalates it both quickly and organically.
Extra points for the Eugene Mirman cameo, because he is the man of my dreams.
Watch it here.
DJ Holy C - Great OPEN AIR Lake Baikal (Siberia)
Here's what's gonna happen: you're gonna follow the link and watch the whole video (it's one minute long). Then you're gonna rewind back to the 00:50 mark and watch it again just to make sure you really saw what you saw.
Then you're gonna watch it about 17 more times, to take in every true descriptor of this clip that I'm about to list: a DJ called DJ Holy C is playing hardcore techno at an outdoor daytime rave in the middle of the Siberian forrest to a sparse audience of 11-year-olds who are there attending a dance camp. I don't remember how I found this video, but I am forever grateful I did.
Natasia Demetriou & Ellie White: Mum's The Word
I can confidently say that I am responsible for half of the views on this and I'm not stopping anytime soon. I'm not going to explain why two of the most talented women in comedy are two of the most talented women in comedy, I'm just going to keep incessantly quoting this video to unsuspecting acquaintances. Lovely sheets of wafer-thin green ham!
Maurice Cracks Up Pt. 1 | Loiter Squad | Adult Swim
This is a sketch that baby boomers show each other to demonstrate how far removed they feel from today's generation. This is a sketch that would be a perfect addition to the comedy time capsule of today.
This is a sketch you put on at the end of the night, when most of the party guests have cleared out, and you're tired but you're still laughing. This is a very good sketch.
Coalition Fangirls by Charlie Dinkin
Charlie Dinkin is my director, co-writer and soulmate. She's very smart and very funny and creating stuff with her has been the most rewarding and exhilarating experience of my life.
Imagine if I asked her to marry me right here?
Dear reader, if you've gotten this far and you're not familiar with Charlie's work - why don't you check out her hilarious and award-winning short Coalition Fangirls?
Olga Koch: If/Then is on at the Monkey Barrel at 15:30 during the Edinburgh Fringe
Published: 25 Jul 2019
What do you think?