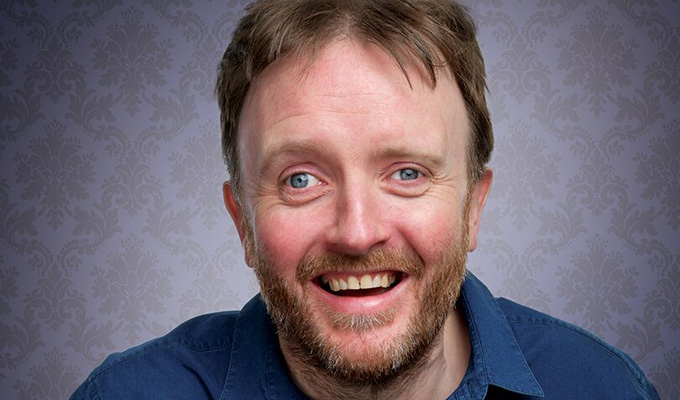 'How ironic for the blind bloke to include a visual gag...'
As blind comedian Chris McCausland prepares to embark on a UK tour, he shares some of his comedy favourites.
Frasier
It's impossible for me to pick a favourite episode or scene from Frasier, but I just love everything about the show. I would have to say that due to the sheer number of episodes, and the multiple times I have seen each of them, no other TV show has come close to bringing me quite so much entertainment and laughter over the years.
Red Dwarf
If I had to pick my favourite British series, then Red Dwarf would leave the rest floating in gazpacho. Yes, it's had its ups and downs over the years, but I just bloody love it, even more than I love sniffing the saddle on the exercise bike in the women's gym [see clip].
It's great to see such a return to form in some of the new episodes on Dave, and long may it continue!
Monty Python's Argument Clinic
The word 'genius' is banded around too much in this day and age, but I swear that if you look it up in the dictionary, it should just say: I've told you once.
Even if you take the actual argument part of this sketch as a standalone piece, it's bonkers, it's hilarious, it's oh-so bloody clever.
But then when you incorporate all of the other bits, from the abuse, and the complaining, to the being hit on the head lessons, I just don't think that this can be beaten.
The Austin Powers three-point turn
Yeah baby! How ironic for the blind bloke to include a visual gag, but I haven't always been blind, and this is one of the last comedy films I can remember actually being able to see.
I avoided this film for a while as I didn't like the look of the trailer, but a friend of mine had the video and persuaded me to watch it with him. That scene where he tries to turn the buggy around had me crying with laughter so much, I had to rewind the film as I missed the next five minutes.
Is it still funny now? I have no idea, I can't see it.
Eddie Izzard
Eddie Izzard is my all-time favourite comedian. I bought Definite Article from Woolworths having no idea who he was, for no other reason than I liked how you could feel his top was furry on the front of the case, and it knocked my bloody socks off!
The first time I saw him live though was his following tour Glorious, in which he ended the show with the computer printer bit, and my face hurt so much!
'Shteve' McClaren
Not everything funny has to be intentional, and one of the things to make me laugh the most has probably got to be Steve McClaren's dodgy Dutch accent from quite a few years back.
He had moved over to Holland to manage a Dutch team, and obviously felt that putting on a bit of an accent might help the locals understand his English a bit better.
It's incredibly cringing to watch, and the longer the interview goes on, the stronger the accent gets - It'sh shuperb!
• Chris McCausland embarks on a UK tour of his stand-up show Speaky Blinder from next month. Dates here.
Published: 8 Apr 2019
What do you think?