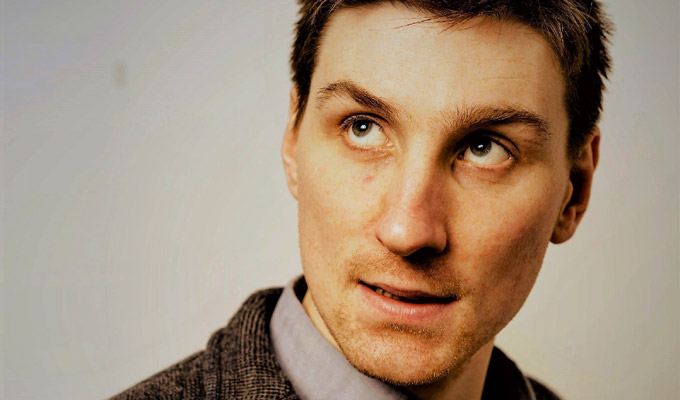 'More great lines in 30 seconds than some sitcoms manage in a season'
Sean McLoughlin is about to hit the road with his latest tour, Hail Mary. Before he does, he picked out his Perfect Playlist of comedy favourites.
Paul Sinha
The comedy circuit in the UK is great and I feel lucky to have made my living from it for the last few years. On a weekly basis I work with tremendous acts all over the country and there are dozens and dozens I could have picked here, but in the end I've gone for Paul Sinha who has inspired me since I was an acne-riddled open spot.
On numerous occasions I've seen his warmth and wit take control of the most roaring of weekend crowds, leading all types of audiences into tales about his life in such a captivating way that he almost elevates club comedy to high art.
He is just as masterful when putting together hour-long shows and I would recommend anyone to see him in both environments.
John Kearns
The second choice in a row that I occasionally bump into and may cause social embarrassment, but in me Kearns has a fan for life. I love it all, from how he composes himself onstage, to the deftness of the writing, to the unique mood he's able to generate in a room.
No other comedian has made me feel the way I do when I'm watching him. His most recent Fringe show was one of only a handful I've seen multiple times, and its hilarity and soulfulness stuck with me for days after.
30 Rock
I re-watch 30 Rock in full every couple of years and I wonder if I'll ever get tired of it. The world that Tina Fey created was so rich, and the writers she hired were so sharp that you could never catch everything the first time round.
Although Jack Donaghy is still the best (and as perfect a comedy character as has ever been created) my favourite scene is this one where Tracy breaks down and lists all the horrible things he remembers from his childhood in the ghetto. In 30 seconds he delivers more great lines than most sitcoms manage in a whole season.
The Onion/Clickhole
Accept no cheap imitations. The Onion is the original parody news source and will always be the greatest. The sharpness of the writing and the insight into society is at times so perfect I can actually feel it lifting my spirits, especially when they're covering more serious events (recent articles on the Brett Kavanaugh hearings and the #metoo movement are particularly great).
In the last few years they've also branched out into Clickhole, a whole separate website that is essentially a satire on the internet itself. Catching up on both of these are usually the highlight of my day.
The Far Side
Gary Larson's The Far Side is a perfect comic strip. I have 10 of the collections in my bookshelf and every once in a while I'll flick through one late at night and marvel at all the brilliant ideas they hold.
Larson drew scenes of animals and people trying to lead dignified lives in a universe that is fundamentally unfair and idiotic, and managed to make them as philosophical as they are laugh-out-loud funny.
It's a timeless classic in my eyes but due to the nature of it there's no clips I can pick that would do it justice, so here's a clip from Cheers about The Far Side.
Super Mario World Is A Scary Game
I don't know how I first stumbled on to this video but I've been watching it for years and I still weep with laughter when I watch it.
The guy who uploaded it hasn't put anything on YouTube for over a decade and commented a couple years ago that he made it one afternoon when he was a bored 16-year-old and was surprised to see people were still watching it.
Basically a teenage nobody made something in 20 minutes with more twists and laughs than anything I've ever slaved over. C'est la vie.
Sean McLoughlin: Hail Mary tours from March 1 to May 11. Full dates here.
Published: 13 Feb 2019
What do you think?