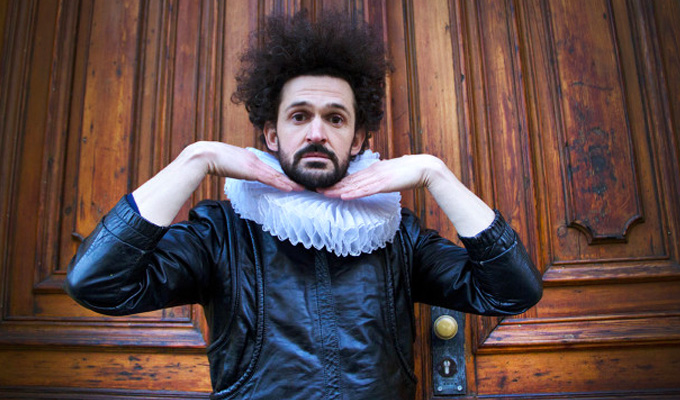 'I'll quite happily let people think I'm an idiot'
Damien Warren Smith, the man behind conceited thespian Garry Starr, shares his Perfect Playlist of comedy favourites, ahead of his appearances at London's Soho Theatre next week...
Spymonkey: Stairs
I first saw Spymonkey's Moby Dick in Edinburgh many years ago and it was this show, and in particular this scene, that lead me to exploring clown as a form of theatre.
Having worked as an actor for over a decade I was becoming disheartened with the industry and this is the show that triggered me to create my own work. I have since met a number of these idiots and Cal McCrystal who collaborates regularly with them also directed my debut solo show.
Full Frontal: Milo Kerrigan plays Table Tennis
Ahhh, the golden era of Australian sketch comedy. I grew up with shows like Full Frontal, The Comedy Company and Fast Forward and would scream with delight when the likes of Colin Carpenter or Uncle Arthur appeared on the screen.
It was also a breeding ground for Australian talent. Eric Bana, Magda Szubanski, Kitty Flanagan, Kim Gyngell and Shaun Micallef (Milo Kerrigan) all cut their teeth in these shows.
Ali G on Dangerous Drugs
I honestly cannot believe this guy gets away with everything that he gets away with. Having studied clown at the same school that he did, I still struggle to see how clown can successfully transfer to the screen when it relies so heavily on the audience.
Sacha makes this transition by including the audience (the unsuspecting public) into his scenes so we get to see his characters through their eyes. It is them believing that he is an idiot that gives us the most pleasure.
My favourite improvised line ever is in this clip. When the man says, 'Your body is beautifully constructed' to which Ali G replies, 'Thank you'. Watch his face after this; I'm sure he almost corpses.
Kath and Kim's Malapropisms
I was a bit late in the game to jump on the Kath and Kim bandwagon but am a true believer now. Those who've seen my show will also be aware that I'm a huge fan of the malapropism, possibly because it's something I've naturally done all my life.
Now I quite enjoy deliberately misusing words and quite happily let people either correct me or depart thinking I'm a bit of an idiot.
Mr Bean: Car Park Chaos
There is something wondrous about Mr Bean and these clips never seem to get old. I can quite happily sit at home watching him over and over again. It is only recently that I have discovered the back catalogue of his live performances which can also be found on YouTube. The man is quite simply a comic genius.
• Damien Warren Smith's show, Garry Starr Performs Everything, will be at London's Soho Theatre from November 20 to 24.
Published: 12 Nov 2018
What do you think?