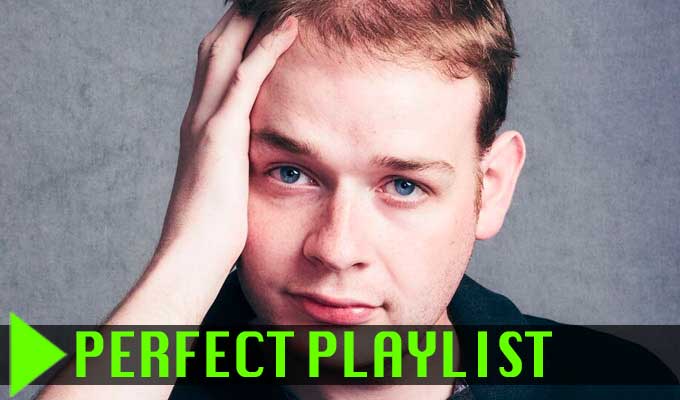 'Louis CK let everyone down... but he's still the best stand-up I've seen'
Louis CK
He let down everyone recently. His past as a creep was one of the most open secrets in comedy. I was surprised everyone was so shocked. If you listened to American comedy podcasts, people had stories about him in hotel rooms. But still without a doubt the best live stand up I've seen.
I'd recommend early Louis, before Chewed Up where he properly found his voice, there's an album with much shorter jokes. Lots of stuff about being broke and drinking before he was rich and sober. I seem to remember him talking about what he would do if he had Bill Gates's money. Including buying every baseball team and making them play wearing dresses and opening a chain of stores call Shit Ass Pet Fuckers
'I'm not paying a millions dollars for a tin tin of dog food that's clearly overpriced. And they fuck your pets that's not nice. But they've been open 50 years!'
Fanny Chmelar (The Chase)
Corpsing is always funny to watch but Bradley Walsh looks like he's actually in physical pain trying to keep it together here. I defy anyone not to love this clip. The producers have put funny answers in ever since to try to trip him up but this is the original. It's always fun making someone laugh when they shouldn't. From school assembly to AA meetings it never gets old.
Spencer Jones: The Herbert
Everything Spencer Jones does is funny. Watching him does nothing to help my imposter complex. There is no alternate universe that exists where he isn't a comedian. My four-year-old nephew laughs at him as do my grandparents. Can't think of another comedian who can do that. I've watched this clip hundreds of times.
I remember doing a gig with Spencer. It was a new material night and the audience were incredibly rude and nasty. So he decided not to go on, very understandably, and I spent five minutes telling them how dumb they were for misbehaving that they missed the chance to see him live before he's famous and huge.
Then I held the microphone up to a YouTube video of me because I'd lost all patience and respect for them. 'This is shit, here's a video of me doing well'. That's a side of live comedy you don't get to see very often, thankfully.
Man Stroke Woman
This was a BBC Three sketch show in 2005 that a lot of people missed. It was Nick Frost's first outing without Simon Pegg. Lots to explore here if you haven't seen it. The ensemble are all brilliant comic actors mainly playing the absurd sketches completely straight.
I haven't seen it in years. I seem to remember a sketch of Nick Frost waking up hung over next to a fat middle aged woman and doing the Walk of Shame downstairs and seeing a wedding photo of them and then kids walking past saying, "morning, dad".
Nick Helm
One of my first open spots was in a small arts centre in Wales and the opener was a new act called Nick Helm. The gig was not well attended, under ten people so I half expected it to get pulled.
It did go ahead and he came out all guns blazing like he was playing Wembley and gave them the full Nick Helm. He has always made me laugh a lot. His persona is fearless and cocky but also full of insecurity.
Six Days to Air: South Park Documentary
The documentary shows Trey Parker and Matt Stone working under the impossible deadlines they set up for themselves week after week. The sleeplessness and McDonald's binging that comes with writing, performing and animating a new episode week after week having just finished The Book of Mormon looks like the sort of thing that would put you in an early grave. The clips of them recording the voices however just looks like the most fun ever. Always makes me happy.
South Park was the first comedy I saw that felt dangerous. I was eight years old when it was on Channel 4 on Friday nights and it was the show teachers told parents not to let their kids watch. So I had to leave the VHS recording overnight. And Eurotrash was on after it which was handy. I remember my youth pastor telling us not to watch South Park or Father Ted because they're evil. That was when my faith started to wobble.
My luxury item on the desert island would be a computer with full internet access which kind of makes all the above choices redundant.
• Matt Rees: Happy Hour is on at the Pleasance Courtyard at 4.45pm
Published: 21 Aug 2018
What do you think?