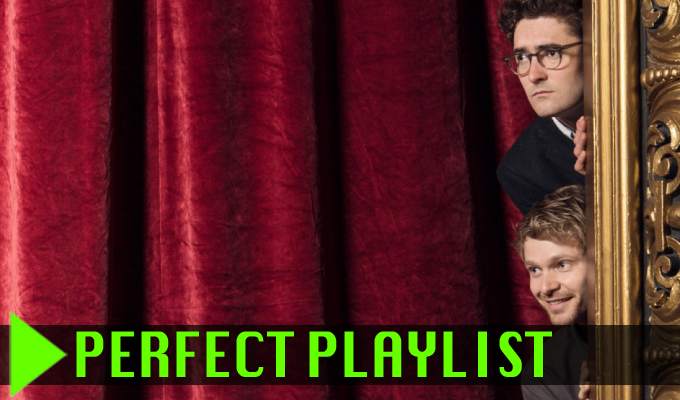 'I wish I could have seen the gigs where this routine failed'
Why Bother? Prisoner of war
Alexander Owen: Two masters from different eras riff in surprising and joyous harmony, with Chris Morris the interviewer and Peter Cook the subject egging each other on to surreal heights.
Morris compared these improvised sessions to chess matches, and listening to them certainly conjures the lovely feeling of two minds scoping each other out, testing one another's defences, and jointly erecting ever more complex logic-schemes in a semi-combative semi-collaborative fight/dance mish-mash.
The density of the madness they weave is a delight, as is their resolutely gun barrel-straight treatment of it. There are so many moments where a Morris question or a Cook anecdote is followed by a pause, in which time you imagine your own response, only for one of them to deliver one that not only tops yours, but takes a comic path you hadn't even been aware of.
Find an hour long car journey and treat your ears and mind to some of the finest.
Ben Ashenden: You find new favourite bits every time you listen to these two mugs. The character Cook plays is, for us, one of the truest portrayals of an Establishment dickhead. You can still find people like that walking around I think, but with luck they're a dying breed. I'm glad it's been captured in this bit of art.
Cowards - Henman's Best Man
Ben:One of the first sketches we ever wrote was about Tim Henman. This sketch is much better. There's so much to enjoy: the way Key says, 'Squeeze by,' the line 'well that's clearly bollocks for a start-off' and the punchline. I think it's my favourite punchline ever.
Cowards were without doubt the biggest influence on my comedy writing. I was infatuated with their naturalistic, dopey style. That they didn't get a chance to make 100 episodes of this stuff still keeps me up at night.
Alexander: Cowards helped me get my head round the idea that sketches can be all about concept rather than crazy characters. It was tough at the time to bin Dr Pizza but surely good news long-term - the pepperoni costs alone were insane.
There are so many great ideas in Cowards and this sketch showcases their trademark combo of heightenedly ditzy language and tight as hell structure. Their radio series also have some terrific uses of the audio form - there's a reveal about a guy in a theatre that is destructively potent.
Spinal Tap: Ian Faith
. https://www.youtube.com/watch?v=UZ6JxAgmxXg
Ben: As hard as it is to pick out a favourite moment from Spinal Tap, we felt that this exchange was possibly the most influential on our writing. Ian Faith is a character we can't get enough of. He's a middle-class man failing to be cool. We can identify with that. I love how the moment he starts smoking that arrogantly, you know he's in trouble.
Alexander: The way he tries to put a positive spin on everything with that faltering veneer of Establishment confidence is so funny. As well as this clip you've got him claiming it's fine the band are cancelled in Boston as 'it's not a big college town,' defending their album cover having to be plain black because 'death sells, every film in every cinema is about death,' and agreeing with Nigel that it's not his fault he's struggling to eat a completely normal buffet, but that of the "disgusting" caterers.
Plus he describes Jeanine as dressing like 'an Australian's nightmare,' which is one of the weirdest things anyone's ever said.
Andy Daly: Jerry O'Hearn
Alexander: This routine occupies the same space in my life as a favourite song, as I'll happily listen again and again with seemingly zero diminishing returns. And it kind of does take the idea that the rhythms of comedy are comparable to music as far as it'll go, as Daly strips stand-up of all meaning and leaves just the cadences behind. Such a good idea so well executed. 'What else is going on?' makes me laugh every time.
Ben: I wish I could have been at the gigs at which this failed. Surely he's done it in front of a crowd who collectively think: 'This guy's got no material, what a total idiot.'
Kate Berlant and John Early: Paris
Alexander: I first saw these two doing a set together on Jimmy Fallon last year and was immediately excited. Spending a fair amount of time watching and thinking about comedy you obviously can get a bit inured, but these guys had me feeling like it was Fringe 2010 again. (In other words: 3 Magners down, buzzing, and en route to C venues for a, excuse my French, 1am finish. Oh and I'm giving Elfalafel a wide berth am I? Get real.)
Happily I discovered they had a fairly extensive online back catalogue and was quickly gorging myself. I think this sketch offers a good way into their sense of humour, which satirises millennial pretension, narcissism and insecurity in an acutely well observed yet gorgeously stylised manner. (Exactly the kind of language they'd get their teeth into and rip to bits.) Watch this, then the Fallon set, then Reunion. Bliss, the lot of them.
Ben: I am all in for the bit where Berlant is explaining the time/space difference in Paris. Elsewhere, a Showgasm sketch called LA goes a long way to show how spectacular a performer John Early is.
Portlandia - Museum
Ben: I haven't seen many duos with as much natural chemistry than Carrie Brownstein and Fred Armisen. If any of this is scripted, then they manage to make it seem completely effortless. This sketch is just so banal and stupid as a premise that I can watch it over and over. I think what I like best about them is that they really take their time with their lines; they both sound like they really mean it and don't care if you agree or not.
Alexander: For a sketch show, Portlandia presents such an impressively consistent sensibility. You really feel the duo's hand on the whole thing, and that authorial coherency properly pumps me up. Also Carrie and Fred's dynamic is so cool and you just want to be part of their gang.
• The Pin are performing Backstage at Pleasance Courtyard at 20:00.
Published: 2 Aug 2018
What do you think?