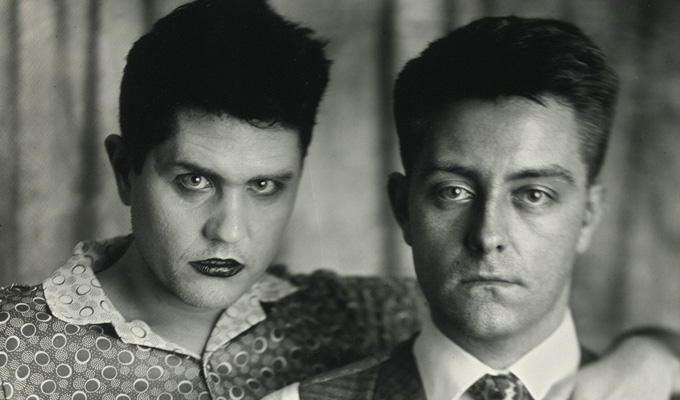 'Playful, devilish, acerbic, and completely original...'
Dark comedy duo The Death Hilarious – aka Darren J Coles and Glenn Wade – share their Perfect Playlist of comedy favourites, as they prepare to perform their show The Scum Always Rises at the Soho Theatre from the end of the month.
Bottom – Contest
For us, Bottom is the 'primo-de-la-com-com' (translation: 'The best of the com-com'), the starting point for our friendship and undoubtedly the gnarled radicle of The Death Hilarious.
Regarding each other with skepticism for a few months at university, it was at a drama society social where we discovered that we could both quote Bottom line-for-line, ad nauseum. With a hoiked eyebrow, one stared at the other as if to say: 'Yeah, but you can't fucking quote it as well as I can.' But we could. And did, often to the exclusion of friends and loved ones. The waters broke and a friendship slithered into existence.
Bottom mirrored our neurotic, obsessive, over-mothered childhoods, childhoods which became awkward and sexually-frustrated teenage years. Rik's wild-eyes and flared nostrils as he railed against the societal injustices that had consigned him to perpetual virginhood, or Eddie's nihilistic boozing and callous indifference to everything around him - they gave our worst adolescent tendencies form and energy.
But for any time-starved millennials who want the essence of Bottom in one single hit, then we'd direct them to the episode Contest. Set in the single location of their dingy flat, it's essentially a teleplay, like a rancid Abigail's Party. It features only Eddie and Richie, and is a masterclass in comedy antagonism, gleefully revelling in suicide, masturbation and delusions of grandeur.
Contest feels more grounded than the later episodes, which indulged in more fantastical schtick. Here, with condensation on the windows, the atmosphere is stifling, an inescapable eco-system of hatred.
The high points are Richie childishly play-acting as Lieutenant Sex-Machine trying to rescue an imaginary kidnapped child and the episode's finale in which Eddie goads Richie into taking his own life, simply because the telly is broken and 'it'd be a good bit of entertainment'.
People often dismiss Bottom as just grown men cavorting around in pants, swearing and hitting each other with household appliances, but in these early series the characterisation and dialogue is second-to-none.
At university, before we were ever The Death Hilarious, we had a vague plan to stage Contest as a play. And when the ideas dry up, maybe we'll tour it across provincial arts centres up and down the country before throwing ourselves into the Irish Sea. Watch this space, folks!
Limmy
Limmy, brilliantly inventive bleak comedy architect, barely a writing session goes by without us muttering: 'She's turned the waens against us' or 'That was the police… it's about mum: she's had her head kicked in!'
Most comedy aficionados will already know that Limmy is like some sordid trinket you show to others to either cement a friendship or damage it irreparably. We've delighted in shocking vanillas (artistically and sexually bleached persons) with some of Limmy's more obscure webcam work – particularly the brutal murder of Denis Norden on a Glaswegian council estate, 'Eckied Da' or an improvised sketch where a bank robber shoots his own mother and can feel his own mind 'going mental' as a result.
We tuned into Limmy just as The Death Hilarious was forming and his taste for reprehensible, completely irredeemable characters informed our approach to coming up with our own deranged regional shit.
He's clearly influenced as much by horror movies and techno music as he is by anything comedic, amply showing that if you want to do something original in comedy, you probably shouldn't be watching comedy.
He flits impishly from one medium to another – his Twitter feed is just as hilarious as his series – twisting it all to suit his own needs. He has the dexterity of an artist, but there's zero pretence about him. He'd probably despise us saying that.
But whatever mate, get tae fuck. In these not-so-humble gobshites' opinion, he deserves to be placed among the comedy greats.
Peter Cook
These lists often tend towards the nostalgic. Porridge or The Two Ronnies usually crop up as examples of good, clean, family-friendly humour by a comedian hysterically pining for the good old days, when you didn't have to wear seatbelts in cars and Nanna was still alive.
But if you rewatch most of these old sitcoms, they're turgid, bloated and often populated by boorish stereotypes. There's one voice, however, that stands out from the old crop as still radical and brilliant, often offensive but beyond cliché: Peter Cook.
From the pre-watershed Pete and Dud to the intoxicated vileness of Derek and Clive to his collaboration with Chris Morris on Why Bother?, Peter Cook is Britain's most brilliant satirist and surrealist.
Derek and Clive, the dirty secret mixtape of white male teenagers across the country, sets the benchmark for comic depravity. Cook drives his imagination to depths that would give you the bends. But it's Cook's unparalleled skill as an improviser that draws you further into the darkness, conjuring up surreal hypotheses such as how the influence of television, in particular a Holocaust documentary, has resulted in Cook murdering 18,000 Jews on the bus to Golders Green.
Listening to it gives you a disorientating mixture of happiness and nausea. We've spent many late hours, drunk on tiredness, digesting Youtube videos of Peter Cook, whether on Clive Anderson as Alan Latchley or simply arseholed as himself on Parkinson. Playful, devilish, acerbic, and completely original, his work outstrips comedians past and present.
Chris Morris: 'Is it or is it not mental cruelty to appear to a man dressed as his wife in the middle of the night?'
Peter Cook: 'I would call that… a kindness in the conditions we were living in.'
Blackadder The Third
Another example of 'sitcomronicity' (The Death Hilarious ™) between us, our ability to quote this often-overlooked series of Blackadder was a determining factor in our friendship. Or certainly for the purposes of this list it was.
Forget the iconic 'going over the top' scene from Goes Forth. That's not even comedy. It's sad. They should've edited it out. Line-for-line, scene-by-scene, Blackadder The Third is packed with expertly-written gags.
The dynamic between Blackadder, Baldrick and The Prince is pitched perfectly, and you can't help but side with Blackadder's malevolent intelligence over the sheer stupidity of the other two.
Again, the series feels incredibly claustrophobic, the action taking place over a few cramped locations, amplifying Blackadder's desperate attempts to scramble up the social ladder.
Rowan Atkinson's blank, frog-eyed delivery is able to wring laughs from a word as simple as 'no', showing a comic performer really operating at his peak.
If we were being really over-analytical, we'd say that Blackadder The Third's subtext of class conflict reflects our own situation as working class Welsh lads with artistic 'middle-class' interests and aspirations struggling to locate themselves within shifting social hierarchies. But we aren't. So go fuck yourselves.
Norm Macdonald Live
Norm Macdonald is a Canadian comedian who most people might know as a member of the Saturday Night Live cast during the 1990s.
As a stand-up, Norm is both free-wheeling yet precisely-worded; surreal at times, observational at others; childlike, puerile and un-PC, he occupies a space in American stand-up that is completely his own. Let's call it 'Norm-esque', for the sake of a future where sentences are redundant.
But it's his video podcast where, for us, Norm is at his best. Taking place over an hour, sometimes longer, Norm chats to a diverse range of comedians: Russell Brand, Todd Glass, Rosanne Barr, Bill Hader, eliciting hilarious, candid and sometimes awkward responses from them. Norm asking Stephen Merchant 'How Muslim is London?' is one of many riveting pieces of toe-curling content.
Full of references to niche American comedy, it can be a bewildering place to dip into at first, but once you key into the recurring jokes, it's easy to waste hours watching him torture his beleaguered sidekick Adam Eget, accusing him of being everything from a cuckold to a holocaust denier.
Sadly, after the brief return of two episodes in a third series, it looks like Norm Macdonald Live has finished for good, probably due to Norm's mercurial and reclusive nature.
But if you're looking for a substantial Youtube archive to play on a loop while the Tramadol takes effect, we can recommend no better source.
Barry Welsh Is Coming
An honorable Welsh mention must go to Barry Welsh Is Coming, a regional comedy series broadcast on HTV Wales in the late 1990s. For those weaned on Youtube and On Demand TV, it's worth sketching out the landscape of television in Wales around this time.
Hard to comprehend as it is, there was a time where there were only four channels. Four. That's only one more than the members of Hanson and half of One Direction (?) Instead of Channel 4, Wales had S4C, a mongrel version of Channel 4 that played Welsh-language dramas instead of Father Ted and Brass Eye which, no matter how passionately a Welsh-language commissioner will try to convince you otherwise, were unmitigated shit.
But there was one jewel in the muck of regional TV: Barry Welsh. Played by John Sparkes, Barry Welsh was the closest thing you had to alternative Welsh comedy. Devoid of inflatable daffodils and weepy renditions of Calon Lan such as you might witness in a Max Boyce 'comedy' set, Sparkes portrayed daft, doltish characters that, if you grew up in the Valleys or North Wales, you met every day.
With odd folk such as the smutty, catheter-ridden Mr. Ffff to the mayor of Fishguard, Kenny Twat, the punchline to most sketches was often crude innuendo, but there was a lyrical quality to them, like characters culled from Under Milk Wood for being too filthy.
Barry Welsh constantly ribbed parochial bemusement, particularly in its use of reconstituted news footage. A highlight of the entire series is Geraint Pillock, a segment which manipulated a distinctly 1970s-looking news interview of a Welsh man with a thick moustache, red sports fleece and furrowed brow, interviewed every week by Barry about his coracle.
Each episode the premise of his adventures became more fantastical, from time-travel to coracling on Mars, but his bemused answers were always exactly the same: 'Mainly because it's a challenge, first of all it's a challenge for me… secondly, it's a challenge for the coracle... and again it's a personal challenge for me.'
Sadly, Barry Welsh did not kick-start any revolution in Welsh comedy and has largely been forgotten, but to us it's a reminder that it's possible to do something both outlandish and provincial.
I guess it's up to us, your humble Valleys sketch duo, to become cartographers for a new alternative Welsh comedy. C'est la vie, if we must!
• The Death Hilarious will be on at the Soho Theatre from February 28 to March 3. Details.
Published: 16 Feb 2018
What do you think?