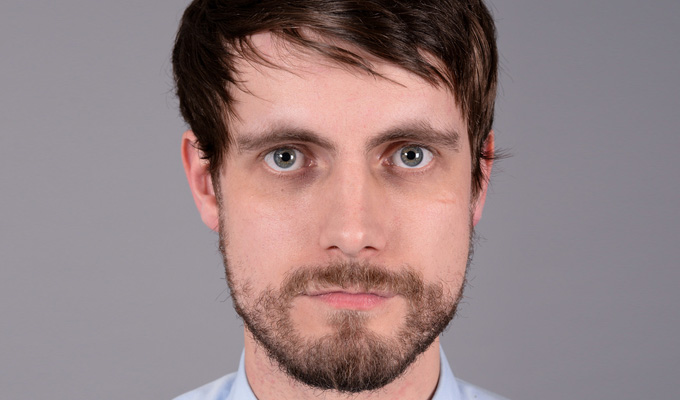 'The best comedy always has an element of risk'
James Meehan, who's appeared in Funz And Gamez and was formerly part of sketch group Gein's Family Giftshop, has just released his full-length stand-up show, As If I Hadn't Slept, for free on YouTube. Here he speaks about his own comedy favourites.
Stella
A comedy troupe comprising members of mid-1990s MTV sketch show The State – Michael Ian Black, David Wain and Michael Showalter – Stella was adapted as a sketch/sitcom and aired on Comedy Central in the States in the mid 2000s.
What I love about Stella is that on the surface it presents itself as a regular sitcom, three guys in suits who live together and get into scrapes, but it is surreal, ignores continuity, and takes the smallest of ideas and stretches them out to ridiculous levels.
Episodes range from crashing a works party in moustaches that they bought from a dealer, getting lost in the woods, and fighting with kids on a paper round.
I think the best comedy always has an element of risk, and this show was filled with it. It was only aired for ten episodes and I can completely see why. It was never going to have mass appeal or play it safe in the way that other shows released in the same year (How I Met Your Mother being one) did.
The sketch I've attached wasn't part of the series but gives a really great idea of what they were about. They have since gone on to create and appear in some of my favourite TV shows and film: Wet Hot American Summer, They Came Together, The Baxter, The Ten and my personal favourite which I'll mention next...
Burning Love
A spoof reality dating show with one of the best casts ever assembled. Michael Ian Black from Stella hosts; it's produced by Ben Stiller, created by Erica Oyama and stars my favourite comic actor Ken Marino (I got a signed photo of him for Christmas 2016 – best present ever).
It's just laugh-out-loud funny from start to finish. Through brilliant writing, improvisation and subtleties they have somehow managed to create characters that are ridiculous yet entirely real.
There are so many moments to choose from within the three series with scene-stealing turns from a multitude of people, but the star of the show is Marino playing arrogant, self-centred unaware buffoon Mark Orlando. The character is so selfish and wrong but genuinely believes that he's virtuous and right. It's character acting at it's finest.
It started off as a web series before being snapped up by E! in the US. Proof that a good concept and strong cast should get picked up if you can throw stuff out there.
Danger Precinct
I've a noticeable chip on my shoulder when it comes to class and comedy. Many TV channels have a diversity policy in place now, a good thing obviously, but this doesn't include class. Your show might have people from every gender and skin colour but it doesn't matter if they all have the same voice and are part of the same club.
Obviously there are exceptions to the rule, but if you live in London and were privately educated you've got a much better chance of a career in comedy than someone who went to a comprehensive in Dudley.
My point was that there is a wealth of amazing comedy being performed and released all over the country with not enough industry taking notice. Danger Precinct was made by a group of people from Liverpool and Manchester and it's so inherently funny that I've no idea how it's not been made into a proper series. It follows a police officer in the future as he tries to solve the Jean Ham case.
This whole scene with Phil Ellis (just before the divorce with Lianne ruined him) and Liam Bolton is my favourite bit.
Alun Cochrane
Probably my favourite stand-up comedian. Able to make the everyday interesting and the mundane hilarious. Stand-up for purists.
I've worked with Alun a few times now and he's just naturally very funny. If you can chat about your favourite gas ring on your cooker, or suitcase wheels, then I'm on board.
Plus he gave me a lift back from Machynlleth Comedy Festival last year when I was stuck there. What a nice bloke.
How Is Prangent Formed?
My favourite YouTube clip. No idea who this guy is but it's ace. PRAGANANANT
The Duplass Brothers
Pioneers in the mumblecore genre – films made on a budget that are naturalistic in style – The Duplass Brothers have gone from making The Puffy Chair on a budget of $15,000 to making films such as Cyrus And Jeff, Who Lives At Home. They have also made the series Togetherness which has become one of my favourite shows of all time.
Not necessarily comedy in the traditional sense, the Duplass Brothers seem to have a way of dissecting modern life and finding humour in the little things.
• James Meehan: As If I Hadn't Slept is available on YouTube here. He is also organsing The Great Comedy Invasion, showcasing acts from the North of England to a London audience, at the Albany in Great Portland Street is on February 4. Tickets.
Published: 15 Jan 2018
What do you think?