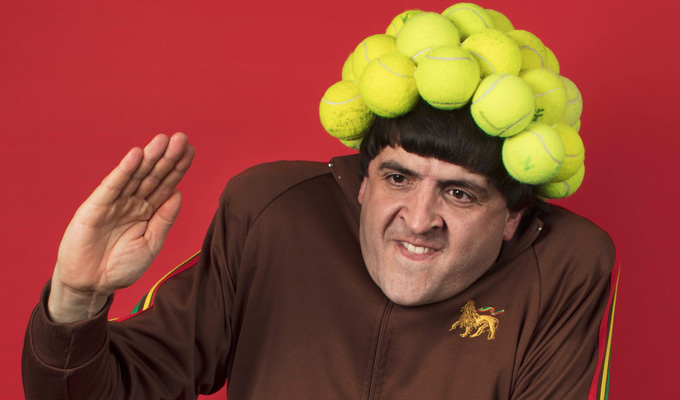 'Bad editors, an hilarious voiceover and some really shoddy graphics'
I would like to start with a disclaimer. When I do this sort of thing where I'm asked questions about comedy I always feel like a fraud.
A few days later, when reading it published, I think: 'Why on earth did you write that?' Here's the thing; I don't think I am that knowledgeable about comedy. I love it, don't get me wrong, but I don't devour it like some people do.
There are huge areas of it I haven't even touched on yet, and – let's be honest – probably never will. I'm not that well-read either. On the telly I'm in a thing about Shakespeare [Upstart Crow[ but I have not read a single line of any of his stuff. And I've definitely not seen all the 'good' films yet. But if Mrs Doubtfire comes on the telly I will always watch it. Not because of Robin Williams's performance, but because I like to imagine my Dad trying something like that to keep better contact with me as a kid growing up.
Even this introduction is a piece of shit. So with that in mind, here are some things that I think now, but will completely disagree with by the time you read them..
News Report Interview
He's a loser, he's a surfer, he's a philosopher, he's a storyteller, he's a hitchhiker, he's a drug taker, he's smashed an axe into some maniac's skull three times. He probably has issues himself and, if you look into his background, we probably shouldn't really be laughing with/at him.
That said, this is a lovely little bit of telly. It's a classic example of 'Joe Public' matching us 'comedy lot' at our own game. I now like watching the faces of people that haven't seen it before, nodding my head like some sort of combination of Denis Norden and a creepy close-up magician.
Limmy
Before iPhones and iPads and YouTube – and before some of the worst relationship decisions anyone could ever make – I was working at a production company.
Back then you could smoke indoors and I was on 60 a day. Looking back I feel sorry for the people around me.
Anyway, somehow I came across this site that was run by a Scottish bloke who made videos, really lo-fi. He was in them, shot them, edited them, the lot. Super-basic but super-funny. I loved it so much I bought a homemade DVD he was selling to fund a holiday with his girlfriend.
Don't take any of this as fact. I was in my mid-20s back then and really making the most of it/wasting my life (whichever way you want to look at it). It's all a blur.
For me, this is the shining example of DIY comedy. Limmy makes me laugh a lot. Proper stuff.
This clip is a belter and makes me think of what it must be like living in East London and being young, free, single with a few quid in your pocket. We can all dream yeah?
Armando Iannucci
It's very difficult to pick one thing from this brilliant man. He's been involved in so much stuff I love and watch over and over again. But I have chosen Hugh. I love seeing old people on the telly. They are excellent. All of them, even the horrible ones. Hugh's delivery and the script combined together are perfect.
Flight Of The Conchords
Difficult to chose one song out of the back catalogue but I have gone for this one. I used to be in a serious(ish) band and when that fizzled out I started watching this DVD a lot.
I've still never seen the second series. I have no idea why. But these guys set me off into writing some comedy songs.
Neighbours At War
This is not a comedy show, but, for me, is easily as funny as one. It's the New Zealand version that I've been watching recently on CBS Reality. Do yourself a favour and series link it.
They have a brilliant accent for a start. Then there are the people and their disputes. That alone is funny enough, but the programme-makers have employed bad editors, an hilarious voiceover and some really shoddy graphics.
For those of you who laugh at reruns of Bullseye this is the another one for you. I don't know how much the producers know how funny it is, but fair play to them whatever their intentions.
Gameface
This is the newest thing on the list – and it made me and the missus piss with laughter. Literally. We need to buy a new sofa.
The main character in the show, played by Roisin Conaty, is so relatable, working-class, and a little bit lost - aren't we all in one way or another? She's got a brilliant cutting-edge wit to her personality, always simmering underneath the daft exterior. Also, her facial expressions are bang on. And there is one line in the series that will stay with me forever.
I'm not saying what it is here, you'll just have to watch it.
Mr Bean
I found this on the internet late one night. It's a bloke called Rowan Atkinson who I think is French. That's the great thing about the internet. You can put your own stuff out there and people can see it. It's a wonderful platform. And this Atkinson chap has 141 million views. I hope he's monetising it with adverts.
Definitely one to look out for, I think he's been around a while though. Keep going mate, you're on to something.
• Spencer Jones: The Audition is on at Soho Theatre, London until January 6. Details
Published: 20 Dec 2017
What do you think?