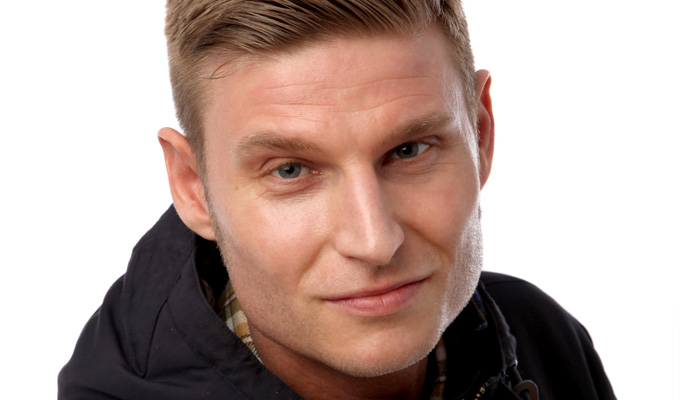 'Subtle, brave and superbly performed'
Stand-up Scott Bennett, who has just released a 25-minute mockumentary, Caravan Of Love, on YouTube, names his six comedy favourites.
Derek and Clive
It's just pure filthy poetry and gloriously offensive, even by today's standards, but get under the surface of that and there is some incredible comedy writing on display.
There is clearly tension between the pair, fuelled by Peter's jealousy of Dudley's career and this is evident in the way Peter puts him down in a cruel and sometimes deeply personal manner, but it's always hilarious.
There are numerous celebrity mentions, my favourite one being the deliciously surreal story Peter (Clive) tells of being blown up inside the body of Joan Crawford.
I love the rock and roll approach they had, hire a studio, get some booze and start the tape, it's like the very first podcast of its generation. They are considering re-releasing the albums, which I think is interesting as the public are so easily offended now. Although it's like seeing a Jerry Sadowitz gig, you're supposed to be offended, that's the whole point.
I'm Alan Partridge
Never has a comedy character been rendered with so much depth and detail. From the early days of On The Hour to the majesty of Mid-Morning Matters, Alan Partridge is simply the greatest British comedy character of all time.
The first series of I'm Alan Partridge is, for me, when he is at the zenith of his powers. To take a comedy character and show him on the downslope of a career, living in a Travel Tavern (3 star) after a fall from grace, was a stroke of genius.
There are just so many moments to pick from, dressing as a zombie using a shower curtain and corn plasters to scare the hotel staff, meeting his stalker or marching down the side of a dual carriageway to buy 12 bottles of windscreen washer fluid, singing the song Goldfinger and asking the till attendant out for a drink. It's just perfect.
Peter Kay – Live At The Top Of The Tower
I almost wore this VHS tape out when I bought it 17 years ago. It's just flawless, there isn't a weak moment in the entire hour.
The delivery is wonderful, fizzing with energy and immaculately timed. Classic routines just keep coming, painting hilarious pictures of nNorthern working-class life with killer punchlines. It personifies everything I love about stand-up comedy; the writing is just so razor sharp.
I often feel that there is some snobbery aimed at mainstream (whatever that means) stand-up like this, but you can't over-estimate the skill it takes to create comedy with this level of mass appeal that unites the generations, you don't sell out arenas by accident.
The fact that there was a scramble for tickets for Peter's latest tour shows his lasting popularity. The things he has done both on the stand-up circuit and his projects outside of it, are completely inspirational.
Human Remains
The coming together of Julia Davis and Rob Brydon in Human Remains was a six-part compilation of half-hour episodes depicting the lives of many weird and wonderful characters.
Lots of the scenes were improvised and on the DVD extras you can see them working the characters up, the ideas being developed and Julia trying not to corpse, it's amazing.
It's the first comedy series I can recall that managed to blend pitch black comedy with genuine laugh-out-loud moments. It's criminally underrated, and many people outside of the world of comedy might not even know it exists.
To me it's a genre defining piece of work, the episode All Over My Glasses, where Rob and Julia play a dysfunctional young welsh couple planning a wedding, is a personal favourite. She's obsessed with Princess Diana and he's cruel and controlling.
It's subtle, brave, superbly performed and represents a time where braver more challenging comedy was commissioned.
Jerry Seinfeld – I'm Telling You For The Last Time
In terms of comedy specials, they don't come much better than this. Jerry is a virtuoso in stand-up and this is his is finest work.
The routines have gone down as classics in the annals of comedy history. Every Halloween I think of his bit about children not being able to process the fact that 'everyone they know is giving out candy' 'what do I need to do to get the candy from those fools? I'll do anything… I can wear that.'
His style has often been copied but never bettered, he's the ultimate observational comic. It's also impressive that he is totally clean on stage too, something that I think is important to strive for.
I also love Jerry for his work ethic. I'll never forget the story he tells about his first TV spot. It was a three-minute spot and for the month before hand he went around every club each night performing the same short set. It shows the level of work you need to put in to be successful, being funny is only part of the equation.
Russell Brand Radio 2 show & podcasts
Although this all ended spectacularly with that ill-thought-out answerphone message back in 2008, I still have downloads of this show on my iPod today. I listen to them at least once a week when I am on the road.
For me it's Russell at his absolute best. The chemistry between him, producer Matt Morgan, Trevor Lock and resident poet Mr G is just perfect. It was a great medium for Russell. He was able to go off on flights of fancy, crammed full of ideas and joke points which often pushed the envelope, only for Matt to rein him in.
This dynamic resulted in radio at its best. It was natural, spontaneous and the playful friction between the pair, particularly when Russell embarked on his Hollywood career resulted in some wonderful moments.
Crammed full of features and celebrity guests, the show was such a rich offering. Russell was often candid about his past too, which gave the show a confessional and honest feel.
• Scott's own mockumentary is here:
Published: 6 Dec 2017
What do you think?