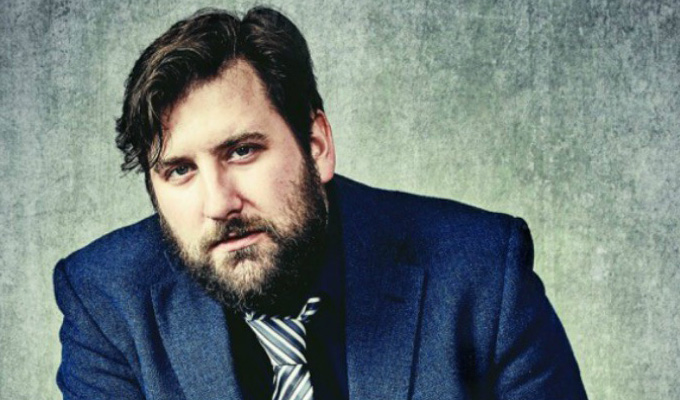 'A perfect Bonsai tree of a film'
As Garrett Millerick prepares for a short London run of his latest show next week, he picks his Perfect Playlist of comedy favourites.
Spitting Image
I used to secretly video Spitting Image and lend the tapes to classmates at primary school. They'd invariably get caught watching them and immediately crumble under interrogation.
My mother became quite used to being accosted by irate parents in the car park brandishing video tapes and pompously declaring 'I'm afraid Nigel and I just don't see this as appropriate for children'.
The subsequent punishment didn't deter me, I just had to take a different approach. So I learned all the lines and would perform Spitting Image sketches for my classmates. Like an East German folk group bashing out a half remembered version of Sgt Pepper because the Stazi have smashed all their acetates.
To this day I'm a pretty good mimic largely down to hours and hours of time practicing to do an impression of Chris Barrie doing an impression of David Coleman.
I was subsequently sent to drama classes in an attempt to quell the need to 'show off'. That comes from the 'now smoke the whole packet' book of parenting that was so popular in the late 1980s.
Harry Enfield
Part two of the same story.
Loved Harry Enfield as a kid. Still do. 'he History of The Twos is an absolute masterpiece.
But I'll always have the most affection for the second series of his television program, before it became 'and chums' and every kid knew about it.
The night it came out I was staying over a friend's house and his dad wouldn't let us watch it. So we resorted to trying to watch it on his brother's Game Gear TV tuner. I think we got about six minutes into the program before our laughter gave us away and the Game Gear was confiscated.
That kid's dad told me that my obsession with television and silly voices wouldn't get me a job. Nit wit.
The Comic Strip Presents
The best repertory company ever assembled. Every short film I ever made was just an attempt at making a Comic Strip episode.
There are too many brilliant moments to choose from. If you only had a day to binge some I'd recommend, Eddie Monsoon, Bad News, Detectives On The Verge Of A Nervous Breakdown, Beat Generation, Diary of a Nutcase, Fist Full of Travellers Cheques and Four Men in a Car.
It's often overshadowed by the glittering solo careers of the members of the ensemble but you'll find some of their best work here.
Peter Richardson is one of British comedy's great ringmasters and modern television comedy owes him a great debt.
Fawlty Towers
Last time I saw my grandfather, he was sat in a chair on a Sunday afternoon watching a repeat of Fawlty Towers. Rocking back and forth in an armchair barely able to breathe from laughing. Three generations in one room, all in bits with the laughter. I struggle to think of something that a 12-year-old and a 70-year-old can share so completely.
It's a special thing if your last and abiding memory of someone is the pair of you laughing your arses off together. I have Connie Booth and John Cleese to thank for that.
Nathan Barley
Watching this now is like viewing When the Wind Blows in the ashes of a nuclear fire. If historians of the future want to know what happened before the war they need only this, the first four series of Dragons Den, the complete works of Sarah Beeney and a ten-minute clip of Gogglebox, they'll be able to work the rest out for themselves.
King Of The Hill
Consistently brilliant throughout its run.
I'm a massive fan of Mike Judge, he does the best ensemble pieces, always brilliantly drawn characters, great storylines, and a high gag count.
If life ever feels unfair, if you ever feel like you're not getting what's owed, remember that this masterpiece was felled to make way for a Family Guy spin-off.
Contains my favourite line from anything ever: 'This choir is the faeces that is produced when shame eats too much stupidity'.
The One and Only Herb McGwyer Plays Wallis Island
Short films don't have to be wilfully unentertaining, posturing and obtuse, but so many of them are.
I saw this at a film festival in 2007 in a program of short films that could quite generously be referred to as poorly rendered pieces of pointless misery.
Then this came on and it made my day.
It's perfect. A Bonsai tree of a film. Every bit of it is great and when it's over you feel better about the world. It's only 20 minutes long but it's definitely one of my favourite films.
• Garrett Millerick: Devil's Advocate is at 2 Northdown, in London's Kings Cross, from November 29 - December 3. Tickets and info here
Published: 24 Nov 2017
What do you think?