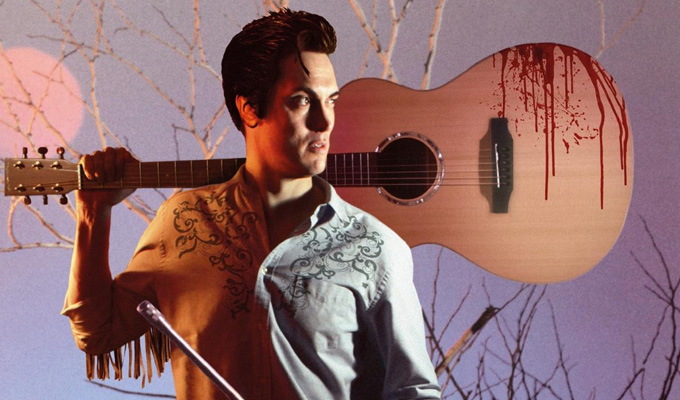 Always mischievous, never malicious...
As his cult hit The Elvis Dead hits the Soho Theatre, comedian Rob Kemp picks his Perfect Playlist.
Scrubs (Seasons 1-8)
Scrubs has a perfect sitcom balance of silly asides, running jokes, development of one dimensional characters, songs, and pathos.
Not the shiny, static, studio sitcom of old pathos and happy endings, but a mobile, kinetic, somehow indie-feeling (despite the runaway success) pathos. Everything is not OK next week.
Along with the internal monologue narration (a la Peep Show), this is how I remember scrubs anyway... so sod off.
It was sullied only ever so slightly by the continuation series nine.
Tim Key
I love Tim Key.
Single White Slut's theatricality, him onstage awaiting as we arrived, story-telling, waxing poetical on love, the audience participation, the dance sections, and stage trickery (where did she go?), was a reminder that your show/act/art can be whatever you want it to be.
And yes, you can have your bed onstage if you want to (although you will have to cart it around the country with you).
Tim Key is being all Tim Key in this clip:
David Earl
You know who's brilliant/ridiculous?
Brian Gittins, that's who. Every time I have seen him I have belly-laughed at all of the downplayed, ramshackle, intentional crapness: anti-comedy, sound effects, catchphrases, dance moves, silly games.
David Earl's alter-ego is low status, but completely in charge.
Eddie Izzard
Eddie Izzard's meandering stream of consciousness feels like a one-man reenactment of the best pub conversations I had with my mates (not that I was going to pubs when I first heard of him). They are endlessly recitable; silly, but intelligent.
It makes perfect sense for the remaining Pythons to elect him as a stand-in Graham Chapman.
He stands as a pretty decent example of a person too, keen on human rights and that. No concessions to being as Eddie as he can be, and not letting the grass grow under his feet, an eternal student, ever challenging himself.
For some reason my go-to name for an anthropomorphised animal is Steve.
Bottom
The first time I ever cried at the death of a celebrity, it was Rik Mayall.
He had always been around, and while The Young Ones stood as my introduction to anarchic alternative comedy, it is Bottom I hold dearest.
It's not just violence and knob gags, you know! There's squalor and drunkenness too.
Rik was always mischievous, always on, yet never malicious.
His autobiography is pretty much anything but a deep insight into his life and mind. I learned almost nothing about him, but then... what was I expecting? (There is one passage of honest insight, but it is never picked up on again)
Jonathon Coulton
Not enough people know Jonathon Coulton. His songs are funny, conceptually inventive, and most importantly actually good songs.
• Rob Kemp's The Elvis Dead is at London's Soho Theatre from November 14. Details.
Published: 8 Nov 2017
What do you think?