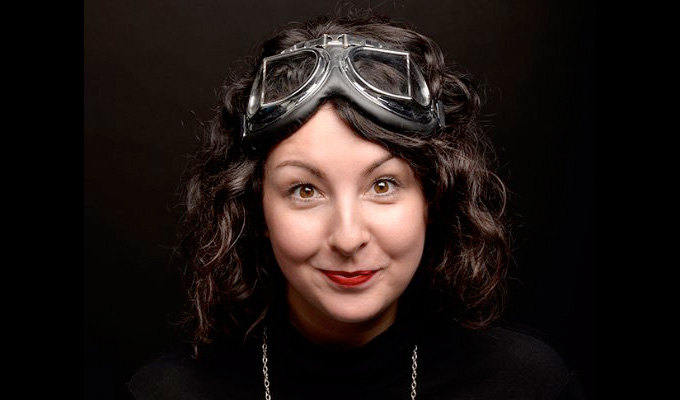 'Dark and filthy but she owns it'
Actress and comedian Samantha Baines is in Edinburgh with her solo show about the lost women of science. Here she picks her Perfect Playlist of comedy favourites.
Sarah Silverman: Cheese
I fuuuu'ing love this bit by Sarah Silverman. I love that she goes there and she goes dark and filthy but she owns it. I am also lactose intolerant and this is exactly how I feel about cheese.
I love that Sarah takes something so relatable eg. loving a food, and she pushes the boundaries. Sarah isn't afraid to be bold and shocking and I love that bravery.
I am also really interested in talking about something serious like addiction which is what she starts on in this clip but then moving it into something silly that we can laugh at – so she's talking about issues but still making us laugh and not in any way sending up the original issue.
How to Lose a Guy in Ten Days
Yeah, I love a good romantic comedy and I am not even sorry about it. My favourite line in this film is, 'I sweat when I am nervous,' which on the surface sounds pretty matter-of-fact.
What I love about this scene is that Kate Hudson takes this fairly amusing line and makes it much funnier with physicality. While saying the line, she takes tissues from the desk and puts them under her armpits.
Watching this line always reminds me to think about the physical aspects of comedy and explore how to illustrate or add to the idea with my performance.
Robin Williams: Sex
Robin Williams is the master of comedy and this clip has done the rounds on the internet so many times. Robin's stand up really is a masterclass in physicality in comedy. What's amazing is that there aren't really any verbal 'punchlines' in this clip but he still has the audience in stitches.
Robin shows the power of physical comedy in stand up and proves that it is not just a verbal medium. He also pushes and pushes the idea, and it and gets more and more laughter with his tweaks on the physical movement.
I love this clip because his actions are the joke – they are the set-up and punchline and tell a story without many words. Unfortunately this doesn't work for radio.
Tracey Ullman: What Were You Wearing?
This sketch is a wonderful piece of satire and just brilliantly written. I think a lot of women can relate to this scenario.
What is particularly brilliant about this sketch is that not only does it parody the situation perfectly it also makes the sexism clearer through this comparison. This sketch should be shown to anyone who believes that we no longer live in a sexist society eg. Jonny from Love Island.
A 'coquettish font' is also an inspired idea.
Fleabag
So the whole of Fleabag deserves to be in here. Many people have already gushed over the brilliance of Fleabag and Phoebe Waller-Bridge so I will add to that gushing with this tampon clip (gushing being the perfect word here).
As a show, Fleabag is relatable and horrifying and gratifying in equal measure. We all see ourselves in the lead character while judging her at the same time. It's a brilliant comment on modern society. It is also the first show to be brutally open about women's sex lives and wanking and tampon buying, and I think that is brilliant too.
Vicar of Dibley: Inflatable boy
I loved this programme and watched it religiously (pun intended) when I was growing up. As a young girl it was so inspiring to watch a funny woman at the helm of a mainstream show. Also, watching the jokes at the end of each episode was my first exposure to seeing a woman telling gags and I think it's where my love of puns has come from too.
This clip is of a particularly memorable joke:
• Samantha Baines: 1 Woman, A High Flyer And A Flat Bottom is on at the Pleasance Courtyard at 15:30.
Published: 21 Aug 2017
What do you think?