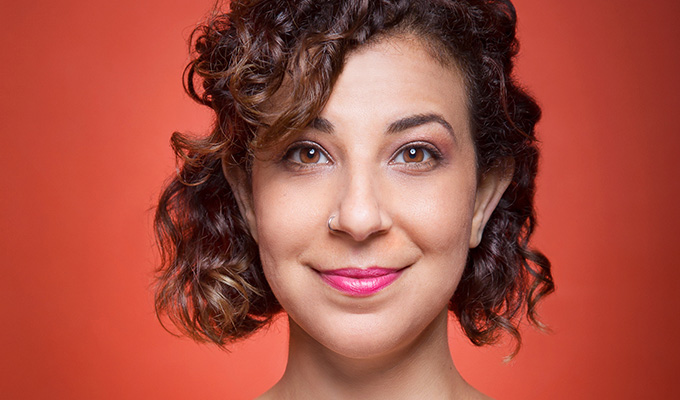 'Sometimes you just want to watch someone cry because life has beaten them down'
American comedian Maria Shehata, who is making her debut at the Edinburgh Fringe, choses her Perfect Playlist of comedy favourites.
Waiters Who Are Nauseated by Food
This sketch from the Dana Carvey Show in the 1990s features Stephen Colbert and Steve Carell before they became the Steves they are today.
It's two waiters who try to recite the specials but are nauseated by food. The title pretty much nails it.
Anyone who has ever worked in the restaurant industry is probably familiar with the endless cycle of drinking after your shift with your coworkers, and working the next day completely hungover, and this is exactly what it feels like to have to talk about food in such a state.
Henry's Kitchen: How to Make Henry's Anytime Chili For One
I would really love to see a show like this on the Food Network or a cooking channel. No more overly cheery hosts with their overly white teeth in their overly lit kitchen studios. Sometimes you just want to watch someone cry because life has beaten them down.
Henry's stories are dark and he is pathetic in a very fun way. He also has another series, You And Your Fu*king Coffee, if you enjoy squirming from awkwardness.
Dead Kevin's Dirty Dishes
I have been both on the giving and receiving end of this particular tirade, at least in my head, and if you've ever had flatmates you know it's not much of an exaggeration. It mostly focuses on Jack Robichaud and Ahmed Bharoocha's faces while Ryan O'Flanagan screams at them about the dishes and it is good.
Mr. Show: The Audition
This is one of those clips that I have watched a thousand times, and each time I word along with it. I know all the lyrics, beats, the rhythm, the crescendo, everything that makes this the beautiful symphony of a sketch that it is.
Bob Odenkirk, David Cross and whoever that other guy is, are so great together.
Comedian documentary
Maybe this is an obvious choice, but this is the documentary that inspired my move to do stand up in New York. I used to hang out at the comic's table at the Comedy Cellar with absolutely no right to be there, but I was fresh from Ohio, and it was all I knew.
Comedian is a stand up comedian's bible, a guiding light, for when you're tired, poor, discouraged, sick of the road, sick of your act, or you just want to watch someone who is massively successful fail at what they do best. Because it's a reminder that it's OK, it's all part of the process.
Ultimate Dog Tease
Not much to say about this one, this is just a video of a dog personified as being teased about food. And it makes me laugh, OK?
• Maria Shehata: Wisdomless is at Just the Tonic at The Caves at 20:20.
Published: 7 Aug 2017
What do you think?