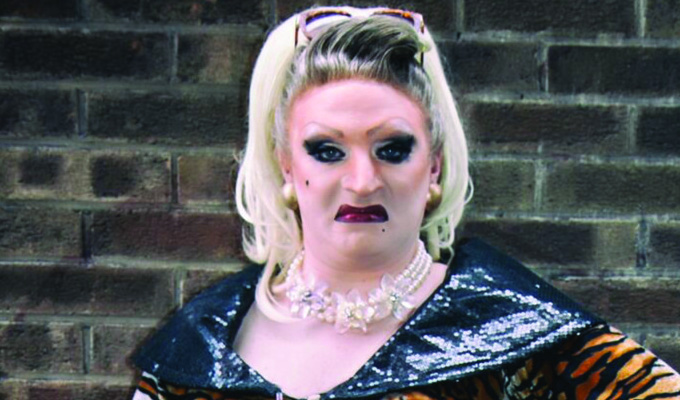 'A sensitive, intelligent man of eloquence'
What a treat for me to sieve through my wonderful mind and point an accusatory finger at other comedians – all much more famous than I – who may be part responsible for whatever it is I do on stage today!
My current show 'Self AdMyra' is all about the things I admire in me, so it was very grounding for me to take some time out from my busy touring schedule (tickets still available, please buy tickets) to focus on what I admire in others. You've kept me grounded, Chortle. Thank you.
Les Dawson
As the saying goes ' an oldie but a goodie'. I feel that due to a string of mother-in-law jokes that perhaps haven't aged to the taste of modern comedy palates Les Dawson is often unfairly grouped in with the gruffer class of his contemporaries.
Personally I've always found Mr Dawson's work to reveal him to be a sensitive, intelligent man of eloquence with a strong, admittedly slightly nostalgic, affection for his Northern working-class roots.
It's widely known that he was an excellent pianist which allowed him to play the piano badly to such brilliantly timed comic effect. He had a similar skill with language, and the simple near-malapropisms he employs with his characters Cissie and Ada (performed alongside Roy Barraclough) can still make me bark out-loud when I hear them today. On holidaying in Greece: 'Did you have the shish-kebabs?' 'From the moment I arrived.' 
Kiki and Herb
Cult figures on our side of the Atlantic, washed up lounge singer Kiki Durane and her comrade on the keys Herb rose from the backroom cabarets of late 1990s San Francisco and New York to selling out Carnegie Hall in 2004. With a 'press age' in their late 80s, Kiki and Herb later revealed themselves to be thousands of years old and present at the birth of Christ enabled after they received eternal life by drinking the milk from a cow that ate the Christ-child's afterbirth ('We can't die, ladies and gentlemen, as much as we'd like too').
Famous for their genre-encompassing medleys, Kiki's energy as she launches herself around the stage gnashing her teeth to the songs of Nirvana and Coldplay as Herb feverishly pounds the piano in accompaniment served as a huge inspiration to be fearless on stage when the occasion permits. A wonderful character act with scathingly acerbic cultural relevance performed by Justin V Bond and Kenny Melman.
Here's one of their early shows from 1999, excuse the poor quality and length, but it's one of the few videos online to capture the duo's live raw energy. 
David Mills
We're all influenced by our contemporaries so why not throw a friend into the mix? David Mills and I first crossed paths in 2010 and I've been a fan of his suave brand of quips as sharp as his suits ever since.
I often find myself at David's shows wishing I'd have thought of whatever biting social observation seems to be tumbling from his mouth, so it would appear that the same things in society irk the pair of us.
Here's David waxing lyrical about his non-gender binary partner, 'Jean'.
Phyllis Diller
What a stage presence! The outfits, the hair, the dry, elongated cackle that would follow a particular favourite joke! Wonderful. Capable of creating a fully imagined off-stage world with characters such as her husband 'Fang' and her neighbour 'Mrs Clean' (both mentioned in the video clip below), Phyllis DIller momentarily lifted the audience out of their seats and into that fully detailed world in a way that was part Larry Grayson, part Dame Edna Everage.
She was a trailblazer as one of the first, if not THE first, woman household-name comic in the US. I particularly enjoy the usual gender role reversal as she, the wife, complains about her mother-in-law (see Les Dawson).
Every aspect of the performance was taken into consideration and her worn out physicality could on occasion looking as put upon as Emmett Kelly's 'Weary Willy' before snapping right back into her trademark laugh. Joyous, wonderful stuff!
Stewart Lee
Perhaps something of a swerve in direction following my previous four selections but Mr Lee's book, How I Escaped My Certain Death: The Life and Death of a Stand Up Comedian, became a sort of accidental bible in how to construct a show, and I think Mr Lee's keen and ready eye on identifying hack tactics keep many of us in the business on on our toes.
I also admire his staunch defence of 'political correctness' whilst simultaneous taking his work into taboo areas and he seems to be unafraid to annoy his audience, which I like. He's a comedian that I enjoy very much indeed. 
Joan Rivers
Where else to end? The godmother of scathing wit. There's nothing about the work of Ms River's that hasn't already been said by greater minds than mine so instead I'd like to focus on what inspires me the most when it comes to Joan; the work ethic.
The 2010 documentary Joan Rivers, A Piece Of Work showed her to be one of the hardest-working comics in the industry displaying what we refer to in the North as 'graft'. She never, ever stopped which just goes to show that with comedy you get exactly what you put in.
If you haven't seen the documentary, give it a watch. It shows that we all share and are driven by the same anxieties.
• Myra Dubois is on tour this spring. Click here for dates.
Published: 3 Mar 2017
What do you think?