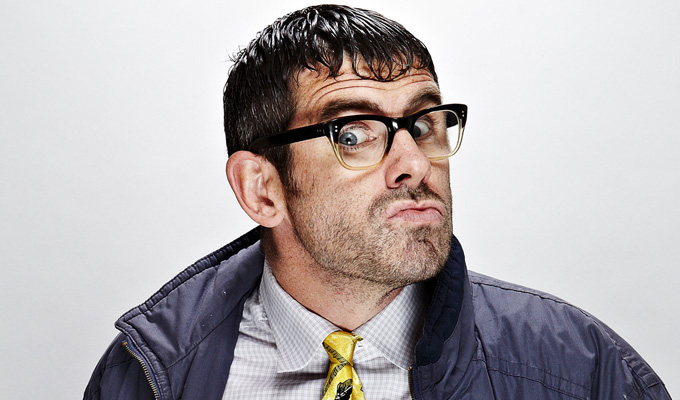 'I was always attracted to dirty, gritty, horrible settings'
The Castle
This Australian movie looks pretty low budget – but it's one of the funniest films I've ever seen.It's got everything: it's funny, it's warm, it's got so much pathos in it, it's brilliantly acted and it's brilliantly written.
It's about a family that live in a real run-down shithole of a house at the end of a runway in Australia. The government send them a compulsory purchase order to buy the house thinking that they'll bite their hand off and take the money, but even though it's a shithole by anyone else's standards they see it as their castle and their home. It's been hand-built, and they've taken bits they've found at the tip and reconstituted it and made it into their home.
The film is beautifully warm, and funny and one that I return to time after time. I would recommend anyone who's into comedy, anybody who wants to know how to move anyone in a film, to watch The Castle. The characterisation is fantastic and there are loads of belly-laugh moments in it. Brilliant.
Steve Martin's stand-up
I'm not a massive stand-up aficionado, but when everyone was watching Robin Williams and Eddie Murphy and those really big gigs from the 1980s and someone showed me Steve Martin at the Universal Amphitheater in Los Angeles in 1979 and I connected with that completely and utterly.
There was this bloke in a white suit being an idiot but also incredibly skilled. He could play the banjo to a really high standard, he could juggle, he all these circus tricks and a bit o magic. He hadeclearly crafted this act on the road - it was devised rather than sitting down at a typewriter and writing jokes, you could see that because it's the sort of stuff you just can't write. It's clowning and physical movement. He was so good with his body.
Again it's just very, very, funny; really really silly and right up my street. He wrote a book, Born Standing Up about his journey around America putting his shows together and how he came into stand-up and how he got to do those great big shows, and shortly after this was recorded he stopped doing it because there was no challenge any more. He only had to walk on stage and people just laughed at him, so he thought that was probably the end of doing it. Then he hacked those stand-up routines to bits and put a load of them in his movies, very successfully.
This was a big turning point for me in my comedy education.
Vic Reeves Big Night Out
I can't do this without talking about Vic and Bob's Big Night Out. In about 1990 I saw this for the first time on someone's video and that had the same sort of impact as Steve Martin. It was what I would imagine it was like when punk first started, when you just saw something and thought" 'I connect completely and utterly to that.' You watch that show and you thought: 'Is this improvised or is this written. What is this? Who are these people? And how are they being allowed to do this on TV?'
What's great about watching the show back on DVD is that it's only halfway through the second series that the audience really really start to get into it and do the catchphrases and join in. In the first series, there's laughter but it's not the same: people are a little bit bemused and baffled.
It's probably the same audience they had down at Deptford, where they did the shows originally. Maybe they didn't feel like they could join it. But it's only halfway through the second series that the audience become part of the show in a way that they weren't in the first series.
Big Night Out shows such a brilliant, brilliant imagination - it's like watching an art project really. Some of the sketches and characters are cobbled together at best – it looks like an Edinburgh show in some places – but there are characters and sketches where you think: 'I would never have had the balls to do that.'
The more you watched it the funnier it became as you got into the catchphrases and the characters; you really felt you were part of an exclusive club watching that because it divided people enormously. Back when I was that age - 18 I think – some friends of mine hated it with a passion. But I loved it and you could never make someone understand why you found that funny, it's just a completely instinctive thing" you either really liked it, or you really didn't and I think that's probably still of those two today, but I'm firmly in their camp.
When I first started working with them [on Shooting Stars] it was really strange; I was really uncomfortable. I was worried that I wasn't going to be able to do it. But they were very warm and lovely and they just want you to be funny, to be part of the show and to make them laugh. They are really gunning for you. It was intimidating because I had watched these people for 20 years so to be in a room working with them was the equivalent of Steven Spielberg giving you a ring, really. It qas the stuff of dreams for me. People say 'don't meet your heroes' - but not in this case. They were tremendous men.
Withnail and I
This is a stunning film. I remember seeing Withnail and I on video: my elder sister had been to see it in the cinema in about 1985. She came back saying, 'I just saw this really amazing, really strange film and there were only two other people there.'
I don't know how Withnail And I came to be the film that it became and acquired that enormous cult status. But I know that when I watched it I thought it was tremendous to watch these pair of losers, people who are trying really hard not to be in the situation they are in but getting in the way of themselves.
It was perfect characterisation and drama and a tremendous double-act and full of incredible supporting characters. Not that I would have made the appraisal at the time when I first saw it - at that time it was an instinctive latching on to something, thinking: 'I don't know why this is brilliant, but I know that it is.'
It's only when you get older that you look back and go 'I wonder why I felt like that?' Then you realise it's the writing, it's the characters, it's the acting, it's all perfect and it connected with millions of people. Maybe it was the drinking and the smoking of the spliffs, but I think it's probably extraordinary characters: Richard Griffiths as Uncle Monty and Ralf Brown as Danny The Dealer, those are brilliant performances alongside Richard E Grant and Paul McGann. He's so sincere and so vulnerable, and Richard E Grant is such a monster, just so entitled - a horrible egomanic. It just makes it a funny, funny, combination.
It's a lovely story really self-contained - a couple of drunks from London go to the countryside. Such a great watch.
Steptoe And Son
I remember watching Steptoe And Son with my granddad when I was about 11, and even then as a child I loved it. I was always attracted to things that were set in really dirty, gritty, horrible places full of clutter and mess, so Steptoe really appealed to me on that level. Then there was the rowing between two really strange characters who needed each other and loved each other.
It was so beautifully written and it was family entertainment back then, because everyone could connect to it in some way. There are just so many incredible stories.
I bought the box set recently and if you go back the amount of stories they came up with – these three-act plays in half an hour – was incredible writing from Galton and Simpson. They must have loved writing that stuff they must have known they had two incredible characters and two brilliant actors portraying them, a great setting and a great relationship - it must have leapt of the page at them. People have been trying to recreate that sitcom ever since.
Porridge
Ronnie Barker's Fletcher was one of the finest comedy creations. Again Porridge was a comedy I used to watch when I was very young. I'm not alone in saying that he was such a wonderful character.
It had everything. It had warmth. Fletch was devious and seemed like he was one step ahead of everybody else.The cast of characters around him – Richard Beckinsale as Godber; Fulton Mackay as Mackay and Brian Wilde as Mr Barrowclough. It was a great ensemble with lots of incredible stories and incredibly well-crafted writing.
I read the new script for Porridge and I thought they did a very good job. You could see from the writing that this was a proper structured half-hour comedy show which don't seem to get written so much any more.
When you've got all that structure in place, all that writing in place, it becomes much easier to film and act. That new Porridge I think will do very well as people will get into the swing of that and it will grow and grow and grow, but the original, to me was perfect.
• Dan Skinner's Angelos Epithemiou is currently on tour with Alex Lowe's Barry Of Watford in Angelos & Barry: The New Power Generator which visits Redhill on Friday, Cheltenham on Saturday and Salford on Sunday. Full dates here.
Published: 27 Oct 2016
What do you think?