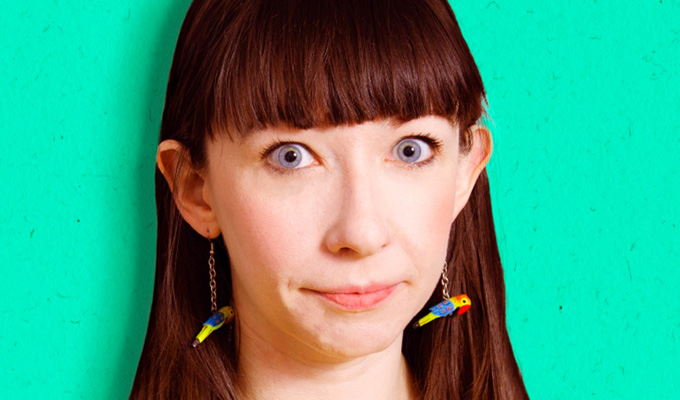 Nothing better than seeing the straight man lose it
Choosing this list was harder than choosing my daughter's name.
It'll Be Alright On The Night
Have to start with this. Nothing makes me laugh more than people cocking it up. Sheer utter joy. Back in the day I don't think the Plesteds ever missed an episode. This stuff unites families and brings world peace. We are all idiots.
Victoria Wood
Too much to say about the late and great Victoria Wood. She was brilliant, infectious, delicious. And I wanted to be her. I still do. Now I'll carry on demolishing my custard cream.
Goldie Hawn
Was torn between Goldie Hawn, Bette Midler and Lily Tomlin.I spent my childhood idolising these sassy, bolshy, hilarious women. I'd wear my mum's shoulder-pads, strut around the house and say things like 'over the shoulder boulder holder'. And my God - their hair! How did they get it so big?! It was only when I got married in Vegas and an American hairdresser blow dried my hair so it rose 3 feet above my head that I truly felt confident and funny.
Goldie wins because Overboard is one of my favourite films of all times. I can quote every line. So eat your chequers.
The Two Ronnies: Complete Rook
Ronnie Barker at his belligerent best. So British. So well observed. When I went to university I bought 'Ronnie Barker: All I Ever Wrote'. I couldn't believe his talent and the sheer volume of his work. All of it a masterclass in sketch writing.
John Candy
Love this man and his movies, I'd watch them obsessively. Whenever my mum and I would go to the video shop to rent a movie my dad would say 'get anything with John Candy in it'. I'd then spend the movie laughing at watching my dad laughing at watching John Candy.
Card Shops
I had an interesting childhood. For a Saturday treat my mum would say 'Clare, shall we go and read some cards?' Then we'd head over to Clintons and show each other funny cards for a half hour – then leave without buying any.
My mum and I are easily pleased. Dad forgot her birthday one year, rushed out to the garage and found the best card he could. It was of a banana dressed up as a dog. You would have thought all her Christmas' had come at once. 'Oh, it's a banana! I love a banana don't I Clare?! I have one every morning – just a half of one chopped up on my cereal.'
It's the simple things. So get yourself to Paperchase and try it. I'm sure the YouTube generation are missing out.
Tim Conway: Dentist skit
This is class. Comedy director Cal McCrystal got me hooked on this. It's physical comedy at its finest. And nothing better than seeing the straight man lose it. Pure joy.
• Clare Plested:Flock Up is at Ciao Roma at 17:50.
Published: 27 Aug 2016
What do you think?