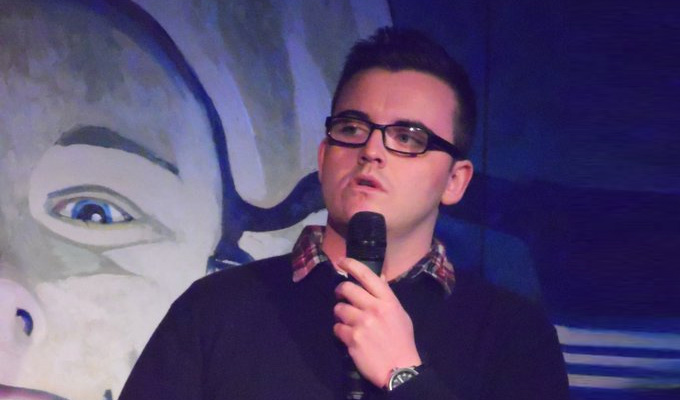 Sometimes you just need to see a fat guy fall down a hill
Bill Burr
Bill Burr is my favourite comedian of all time right now, I genuinely get excited about watching him and haven't felt like that about a comedian in a long time. I saw him live in Glasgow once and it changed my outlook towards comedy. Anytime I need a laugh I always watch him and he never fails…. just like this clip. 
Vic and Bob
I grew up watching Vic and Bob like it was my religion. They are my heroes, my medicine when I'm sad. Vic and Bob planted the seeds for me when I was young for wanting to do comedy in any form. Here are some of the best bits.
The Marx Brothers
Anything that the Marx Brothers have done has made me happy. When I studied TV production and sound recording in college I knew that I should have gone to drama school instead, so I used to skip college and watch A Day At The Races on VHS.
It was the only Marx Brothers video I had at the time but I must have watched it twice a week for nine months until I left college. Now I own all of their DVDs, if anyone tells me that they don't like the Marx Brothers I genuinely stop speaking to them and don't trust them any more.
They are comedy greats, but the music that they make is also beautiful, I listen to this if I've had a bad day. 
Steve Martin
Steve Martin is someone else I grew up with, watching films like Planes, Trains and Automobiles, The Jerk and The Man With Two Brains. He's a comedy god; I've chosen this clip of him playing the banjo to show you just how good he is at it. 
Chris Farley
Chris Farley is just a wonderful funny man, I feel very sad that he passed away and always wonder if he was still alive what he would have gone on to do.
I love the fact that he was a big chubby guy but could move about like a dancer. Black Sheep is one of my favourite comedy films. Sometimes you just need to see a fat guy fall down a hill.
Robin Williams
I was actually going to leave out Robin Williams, I'll be honest with you I haven't watched any of his stuff since he passed away as I find it a bit upsetting, but he's one of my comedy idols and I would find it criminal not to mention him.
I remember watching him on the Inside The Actors' Studio and he just had the entire crowd in the palm of his hand, I've also adored him since I was a child but when I saw him like that it was just unreal, he has funny bones and this performance is amazing. 
Darren Connell: Trolleywood is at the Gilded Balloon, 19:45
Published: 15 Aug 2016
What do you think?