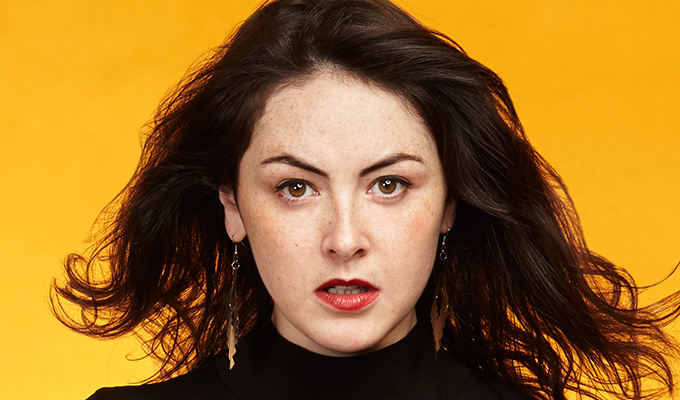 'The sexiest dictionary definition of live comedy'
Titty Bang Bang: Vampire Slayers
This sketch sums up perfectly everything that I love about this show, but I could have picked anything from the reasonably short-lived TBB.  It's my ideal sketch show: obscenely ridiculous use of language, characters which are full-on funny and mad situations that only need be justified by how much they make you laugh. You can also hear loud and clear Bob Mortimer's writing, and that Reeves and Mortimer stuff was what I started on. Plus Lucy Montgomery as Tom Cruise - how or why is that so good and funny? Don't matter, it is. 
Caroline Aherne's death was devastating really, a purely phenomenal comedian who markedly changed comedy at such a young age. Here, the simplicity of 'Scorchio' feels like such a lesson in trusting instincts, and looking at my own ridiculous foreign language stuff, this reoccurring sketch and its glorious and stupid bending of language showed me a way to do it. Also it is quietly outrageous, isn't it? I mean, I think technically it is offensive, but in that sense it feels naughty in an under-the-radar sort of way. 
Maria Bamford
Ah God. My discovery of Maria Bamford's stand-up, at the fresh and impressionable age of 19, was both a blessing and a curse. Blessing because it's my favourite stand-up ever (praise be) and curse because once I was doing solo stuff, I found myself just copying her. And guess what - turns out you can't imitate the inimitable. I found out the hard way (via awkward silence - praise be). I find her so wholly funny, and I love the way she slam-dunks unbearable people just by changing her voice to what sounds like butter. Such ease, such grace, ave Maria.
Green Wing: Sue White
Victoria Pile's sitcom was the pinnacle of my TV viewing as a teenager. Original and naughty, and never justifying its weirdness, just getting on with it. In particular, Sue White played by Michelle Gomez is for me the ultimate in comedy characters.
She's a monster, but a tap-dancing one with giant arms, et cetera et cetera. Gomez's performance feels like the comedy equivalent of improvised contemporary dance and it's completely outrageous. And the fact that she's usually confined to the drab office from that one camera angle: I think it's a bit o' genius.
John Early: The Characters
My token fella on the list! Poor guys, they barely get a look in. No, there is an accidental lack of men on this list, which I would apologise for, but I also wouldn't. Maybe I'm horribly prejudiced? Scary, I might go see a professional to get that sorted out…
 John Early is young and 'up-n'-coming' New Yorker now on Netflix. I saw him when he was in London at the end of last year, and my God, it felt like someone presenting you with the sexiest dictionary definition ever of live comedy.  His character comedy feels genuinely new and original, without the need to say 'My name's so and so and I… dot dot dot'. Here the funniness comes from the tiniest tics.
Maria la del Barrio: Soraya Montenegro
While technically not being comedy, this is hands-down the funniest thing I've ever seen. I know it's ten minutes, but so worth the watch until the end. It's perhaps the most drama-packed ten minutes ever achieved in the history of the 'warm arts'.
Soraya is the main villain in this classic Mexican soap opera or telenovela (wow, that's also the title of my show! Okay, okay, can you guess what it is yet?) and I have to be honest: this clip is the only reason I wanted to do an Edinburgh hour this year. That and the atmos' in Pleasance Dome.
But no, seriously, if you like this kind of crap then BOY do I have a show for you. 
• Emma Sidi: Telenovela is at Pleassance Courtyard 20:15.
Published: 7 Aug 2016
What do you think?