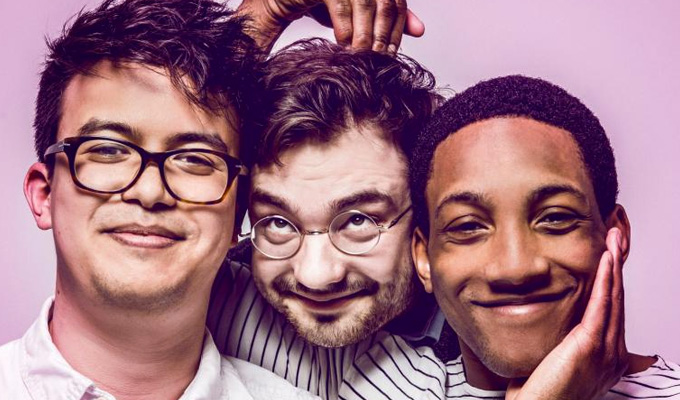 I've been shocked at the snobbery about Peter Kay
Dangerous indeed to ask me to do summat like this. I always write too much, and I always get too sentimental. Also I always leave it until super late. It's now 00:25 on the night before this is due in. However, I've got a full pot of Clipper, and The Very Best of Stan Rogers on in the background. Let's do this.
I should also preface by saying I've left out the obvious choices, like Only Fools, Porridge, Brassed Off, Father Ted, Family Guy, Ab Fab, The Vicar of Dib et al, because people have already written way better stuff about those than I could. I suppose they're a bit like the Bible and Shakespeare on Desert Island Discs, what what?
Auf Wiedersehen, Pet
I'm not sure if this technically counts as a comedy (more that elusive species, the 'comedy-drama'), but it's a good starting point for this list, because it's definitely what made me want to be an actor.
Watching it when I was 18, although it was made in 1983, it was like seeing all the heroic characters from my very young childhood, hardworking lads making the best of it, displaced and mucking about together, having adventures in a not-great place where they didn't really want to be (Düsseldorf in the first series, my own beloved Wolverhampton, Derby and Spain in the second).
Bricklaying is the family trade, a tradition my dad bucked when he decided to become a librarian, when he wasn't busy marrying another librarian and having a weird little son too young.
I loved how the show didn't water down the regional accents, and the performances by the likes of Tim Healy and Kevin Whateley are as honest and masterful as Timothy Spall's is hilarious. Also, anybody who's grown up in a working-class family somewhere like Newcastle, or the Black Country where I'm from, knows there's always one 'head-the-ball' in your dad or your grandad's group of mates who, aside from being a liability, a part-time bigot and a heavy boozer, is wittier, savvier and funnier than anybody else (my family will know exactly who I'm talking about, if they read this).
No one has ever come as close to embodying that character as the genius Jimmy Nail, and it didn't surprise me to learn that before he played Oz, he'd never done any acting, and had just barrelled into the audition room and knew exactly what they were looking for.
Phoenix Nights… or anything by Peter Kay
If AWP showed me all the hero characters of my upbringing, Phoenix Nights showed me all the comedy ones. The larger-than-life ones. From the age of about 11 to 15, going to bingo-and-karaoke night at my mum's mum's club was nothing short of magical. Phoenix Nights captured it all so perfectly. The jobsworth 'Captain' on the door ('Twenty pence apiece, and don't forget the raffle'), Holy Mary behind the bar, the burned and twisted charity donation box in the shape of an orphan with a crutch, hot chips and orange squash…superb. Even the exact glasses, jumper and pencil-tash combo of Brian Potter.
Max and Paddy remains the thing me and my little brother watch together after the pub every time I come home, and The Sound of Laughter was an inspiring and galvanising read just before I went away to university. Call me a greenhorn, but I've been a bit shocked since I've moved daan Saarth by some of the snobbery around Peter Kay, particularly amongst comedians, it makes me a bit sad. The man's made of purest funny, and is surely one of the great character actors of this generation. Compare Keith Lard with the dad from Cradle to the Grave.
I love this here outtake. So much corpsing at such well-observed mundanity.
The Brentford Trilogy by Robert Rankin
A series of books that defies categorisation! A trilogy of nine, though the first, second and fifth ones are the best, if you want my two rusty old cents.
Jim Pooley and John Omally, two middle-aged wasters, bum around The Flying Swan, drinking pints of Large on the perennial slate, in between fighting off resurrected demons, alien invasions, creatures from Hebrew folklore and hollow-earth mole people. I dreamed of living this life when I was 14. I was obsessed with pubs during the daytime. The description of the rainbows of light bouncing off the optics reminded me of The Posada in Wolverhampton, or the Navigation Inn in Willenhall, where my dad drank. No clip, so here's a jpeg of some of the attractive and mysterious cover art.
Johnny Stecchino (1991)
Again, this could have been anything by Roberto Benigni, and the obvious choice is La Vita è Bella, but I do love this film. I won't lie, it is at its best if you speak Italian, and by GOD some of it is SO offensive (the controversial scene where a man with Down's Syndrome snorts cocaine comes to mind, now mercifully cut from most releases).
In brief, the story revolves around a cheeky fella from Cesena called Dante (Benigni) who is a doppelgänger for wanted Sicilian mafia grass Johnny Stecchino (also Benigni), who is in hiding. He is tricked by Stecchino's wife Maria (played by Benigni's real life wife, Nicoletta Braschi) into coming to Sicily, in the hopes that the mafia will mistake him for Stecchino, and murder him, leaving the real Stecchino free to flee Italy.
Ignorant of all of this, Dante gets into various scrapes in Palermo, e.g. mistaking cocaine for diabetes medicine, cutting deals with corrupt government officials because he thinks they're onto him for cheating benefits, rather than handing over names to the secret service. One of his hobbies is stealing bananas (he really is a cheeky little fella), and in this scene, he has just done so at the opera in Palermo. All of the people in the audience berate him for ruining their families and killing their relatives, but he thinks they've sussed him out for stealing the 'nana.
'YOU'LL PAY!' they scream.
'I was going to pay at the interval! Fine, look, here, satisfied?!'
He throws down the equivalent of 80p.
'THE FINAL INSULT!'
'How much do bananas cost in Palermo?!'
And so on. The whole thing ends beautifully when he reaches for the banana, shouting, 'Fine, if you won't take the money, take this!', and they think he's got a grenade. I remember as a kid choking with laughter at the man screaming 'HA UNA BOMBA!!'
Frasier
Take a minor character, say, an eccentric psychiatrist, from a decade-old, classic, beloved sitcom, that's had its time, then give him a spin-off nobody asked for, where he's randomly a radio celebrity, suddenly has a brother who's identical to him, and reinvent his dad as a working-class cop with a little dog sidekick, living in a penthouse in Seattle. Surely an absolute turkey?
Or, as it turns out, one of the cleverest, funniest, most touching and well-loved comedies of all time. My very well-thumbed complete box set has pride of place next to my DVD player. I've always secretly thought that the relationship between Frasier, the pompous, pretentious son, and Martin, the prosaic, exasperated father, was a bit similar to mine with my dad, and I had to smile the other week when my mum revealed that's exactly what he'd said when I was 9, and had bought my Action Man a fatigue sweatshirt, and made him drive my collection of Mcdonalds Happy Meal beanie Wombles around in his Silver Speeder.
'They're called missions, not picnics! Missions!' was my dad's plaintive cry.
My only complaint about Frasier is the addition of a certain ghoulish Mancunian character with a cod Yorkshire accent who tells tales of her days growing up in a house on the docks overlooking a quarry with a frozen lake out back, eating kidney pie and eels in the parlour where her mum takes her tea. The whole premise of the character was so ridiculous it's all you can do not to name a sketch group after her…
• George Fouracres is one third of Daphne. Their Second Show is at the Pleasance Courtyard at 17:45 from tomorrow.
Published: 2 Aug 2016
What do you think?