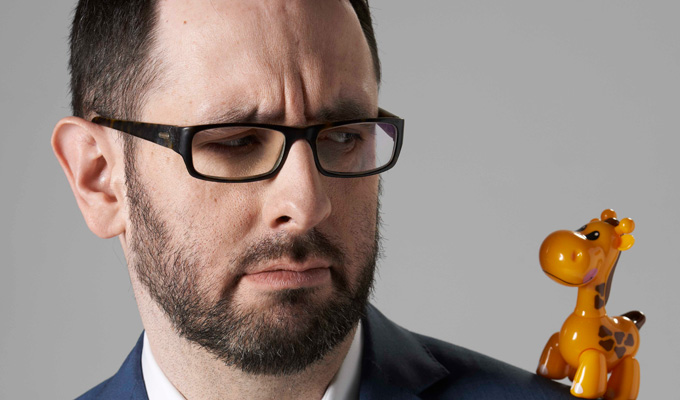 The energy, the sweat, the adrenalin...
As is becoming something of a Perfect Playlist mantra, there's loads of things I love that have already been covered - It's Always Sunny in Philadelphia, Norm MacDonald, etc.
Triumph The Insult Comic Dog: Star Wars
I've loved most of Robert Smigel's stuff that I've been able to watch - the Ambiguously Gay Duo and especially his SNL Charlie Brown Christmas, but Triumph is the thing I come back to over and over again.
There's loads of possible Triumph clips I could link to, but this is one of the classics and a good starting point. Smigel goes into some detail about this clip in Mike Sacks' brilliant book And Here's The Kicker. I love the mix of improv and scripted lines, and the way the cuteness of the puppet enables him to be breathtakingly rude.
Beyond how joyful the mischief is, the writing behind Triumph is sumptuous - there's an awards ceremony where Triumph says of Katherine Heigl: 'If she were any more high maintenance she'd be a saltwater fishtank.'
Patton Oswalt: The Miracle of Childbirth
I always remember the much-missed Lloydy The Illegal Street Trader saying that he regarded his set as a Cockney song. There are certain routines that I can replay as soon as they've finished as if they were a pop song, and the richness and lyricism of this routine still staggers me. Every word is so precisely chosen and it finishes with a perfect dismount. Insane linguistic tekkers.
Doug Anthony Allstars: Dead and Alive
When I was 16 I went to the recording of this with my mate Jim, who is now one of the nation's foremost kidney consultants. It was the most exciting thing I'd seen. The energy, the sweat, the adrenalin - the way they made the audience so willingly complicit in everything they did, so that it never once felt offensive regardless of how nominally 'rude' it was.
I didn't think I'd ever get to do anything like it myself, being extremely bad at singing, acting and collaborating with other human beings, so it was my extreme good fortune to be the straightman to two equally dysfunctional men who were more than patient with my shortcomings.
Watching this back after 22 years it still hangs together - not being afraid to smudge it up can have amazing results.
Mantan Moreland Party Record
I only became aware of this clip as the Beastie Boys sample it on Ill Communication. It's hypnotic - a 'rude 'n' crude party record' from a man in his late 60's, recorded around 1970. It's fascinating - a really average joke followed by a staggering humdinger of a tag - a tag which I find myself saying to my baby daughter whenever I change her nappy.
Brett Gelman: iBrain, Comedy BangBang
I'm always way behind trying to catch up with all the podcasts I'd like to hear, but I listen to Brett Gelman's iBrain story at least once a month. It's a seven-minute build up to a punchline that probably lasts longer than that. It starts 35mins 15sec in:
Iron Mic Rap Battle: Eli Porter vs Envy
There's a lot of rap battles on YouTube, but this is the one I always come back to. There's so much detail to cherish in this clip it rewards repeated viewings. But it all comes back to Eli Porter - he's amazing. It's like watching a young Kitson. It's worth listening to with headphones or you might miss him say 'I said freakin'…'
The Mary Whitehouse Experience: Martin Cropper
It's a shame there isn't more of The Mary Whitehouse Experience radio stuff online, as it was seriously brilliant. I used to tape it off the radio when I was 13. I finally got to meet David Baddiel a year or two ago and one of the marketing people from Avalon, the agent we share, came up to me and said" 'David, I really enjoyed your show…'
This is probably a satisfying clip to listen to during the Edinburgh Festival, and one that would stand no chance of being broadcast today.
Yeasayer: Madder Red
My erstwhile Klang compatriot Marek Larwood is brilliant alongside Kristen Bell in this video for Yeasayer's lovely song Madder Red.
Steve Hall: Zebra is on at the Stand 5&6 at 18:35
Published: 21 Aug 2015
What do you think?