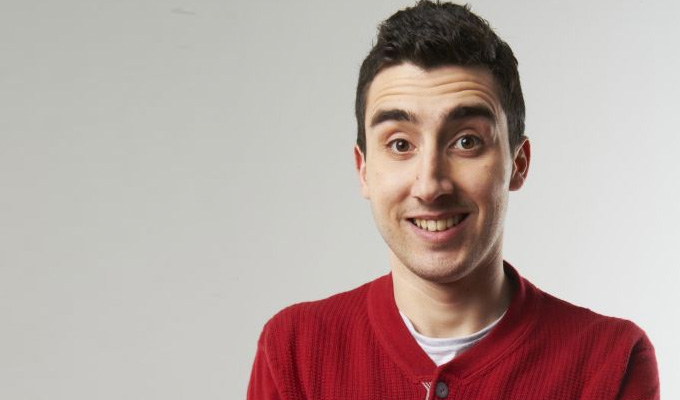 'The comic tension is perfect...'
Kevin Bridges: Michael McIntyre's Comedy Roadshow
This was the stand-up clip that made me want to get on stage myself. I saw it on YouTube the day after it went out and became an immediate fan. He just looks so effortless. I think everybody watching just wants to be his mate. I don't think audience members think that when watching me, the best I can hope for is, 'Oh he's seems sweet'.
BASEketball
Slightly odd choice maybe. I chose it because it was one of my formative comedy experiences. My brother showed me this film when I was young, it was the first 'adult' comedy film I watched and actually understood. I watched it three of four times in two days then insisted all my friends saw it too. Weirdly I wasn't even a fan of South Park; when my mum heard that one of the main characters was a poo she banned it from the house.
I watched BASEketball again for the first time in many years recently and I still loved it. The scene that sticks in my head is the one where they repeatedly say 'dude' to each other and this somehow works as a fully functioning conversation. My schoolfriend Theo and I would settle many arguments using this method.
On a more comedy geek note, Matt Stone and Trey Parker are fantastic. I recently watched Book of Mormon, and although obviously very different to BASEketball, it shares their style of tackling serious issues with comedy. In Book of Mormon it is the role of religion in society and in BASEketball it is the over-commercialisation of sport. Excellent.
Bob Newhart
I absolutely love the one-sided conversation joke format. It is so simple, but so brilliant. The laughs come from the audience working out what the other person, who they can't hear, is saying or doing. Probably the best known comedian for doing these was Bob Newhart, but Shelley Berman did some great ones too.
This clip is Newhart on the phone to Walter Raleigh who has just discovered tobacco in The Americas. My favourite moments are the long silences while the audience wait for the next clue as to what is being said. The comic tension is perfect.
Modern Family
I'm sure a very common choice, but that's for good reason. This has been my favourite sitcom of recent years by a long way. The writers find funny and fresh ways to pair the characters up in each episode. This, I guess, is the beauty of having so many characters, there are various pairings that can be made and because the characters are so well-developed, each one brings a new dynamic.
Probably my favourite is Jay (the grumpy father-in-law) with Phil (the child like son-in-law). Phil's desperation for Jay to like him, and Jay's indifference to everything around him creates beautiful comedy.
This series also does pathos very well, I bloody love the stuff. My favourite comedies are almost always the ones with 'heart'. Of course, too much is horrible, it becomes overbearing, but when done right it can lift the jokes to a higher level.
The Ape That Got Lucky
There is nothing quite like radio comedy, it has an intimacy that no other medium can achieve.
This is a fantastic radio series by Chris Addison from 2005. The premise is that Chris is giving a lecture on evolution, trying to establish how and why we humans became the 'Top Species' (capital T, capital S). I think it is the tone of this show that I enjoy the most. It is silly, completely daft, and yet still successfully juggles one of the most complex issues in science.
A half-hour of straight stand-up on radio can be a little monotonous, but what they cleverly did was introduced the brilliant comic creation of Professor Herring, who claims to be a leading academic on evolution but is clearly in fact a madman. This breaks up the 'lecture' bits and often supplies the funniest moments. With a few sketches thrown in, too, these episodes really are a joy to listen to, which is probably why it won a Gold at the Sony Awards.
Saved By The Bell
I was absolutely obsessed with this show. Even though it was a late 80s American kids TV show, for some reason Nickelodeon started showing it in the UK in about 1999. At the time I didn't even know it was an 80s thing, I just thought kids in America dressed weird.
I watched it desperately wanting to be Zack Morris, but in truth I had far more in common with Screech. This show was possibly the first thing I laughed at on TV that wasn't parents getting gunged, so for that reason it will always have a special place in my comedy heart. I was a proper fan, I still liked it when they did the college years. I have yet to meet anyone else who did.
Steve Bugeja: Day Release is at Just the Tonic at The Mash House (free) at 20:00
Published: 17 Aug 2015
What do you think?