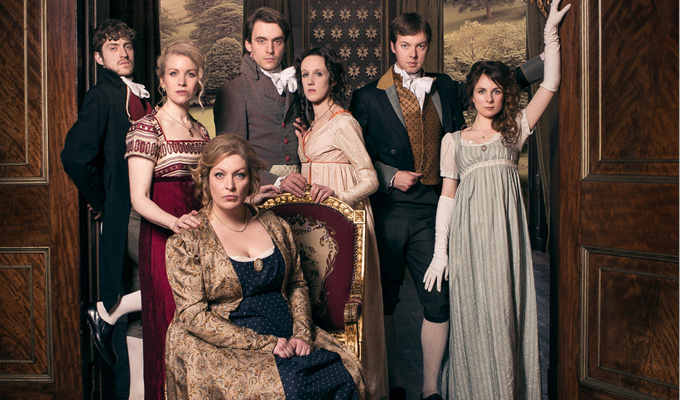 Frampton-On-The-Hill has never seen such mirth!
Richard Brinsley Sheridan
Sheridan's delightful comedies always reduce me to vapours. In the summer of my seventeenth year, I persuaded Papa to allow me to stage a family production of The School For Scandal. I was a game Maria, but my idiot brother Henry was abhorrently drunk, made a mess of Teazle, careered into the set and dealt a fatal blow to the chaise longue. Papa was appalled, although the Fringebiscuits were most complimentary!  
The Hendersons from London 
Mama's cousins are staying - and they are a most diverting couple! Henrietta wears gentlemen's boots, takes snuff, and hammers out Gypsy songs on the pianoforte; Peter plays topless backgammon with the servants and has broken seven vases. Frampton-On-The-Hill has never seen such mirth (although Papa says they should be 'lined up and bayonetted'). 
Joseph Grimaldi
Truly the finest clown to have trod the boards, and a garlanded winner of the Fosters Commendation for Humorous Diversion. Last summer, myself and Mary-Beth saw him in Harlequin's Wedding at Bath. What felicity! Mary-Beth laughed so hard that her bonnet flew clean off and blindsided a parson. She has since, hounded by scandal, run off with the regiment to Gaulier. 
George Stubbs' Miss Ann White's Kitten
Cat paintings! What larks! 
Lord Roy 'Corpulent' Brown
A favourite of my brother Henry, who insisted upon his inclusion. Henry is an idiot. 
Horace Walpole's The Castle of Otranto
My sisters shudder and gasp at these Gothic works, but I find them curiously amusing. A fine gentlemen called Conrad is, for no reason, crushed on his wedding day by a centurion's helmet the size of a carriage. A monk and a peasant are chased through a sewer. Someone has a strange scar. Someone is stabbed in a church. Perfumed garbage! 
Primogeniture
The estate goes to Henry. What an amusing conceit! 
Austentatious: An Improvised Jane Austen Novel is on at Underbelly George Square at 13:15
Published: 15 Aug 2015
What do you think?