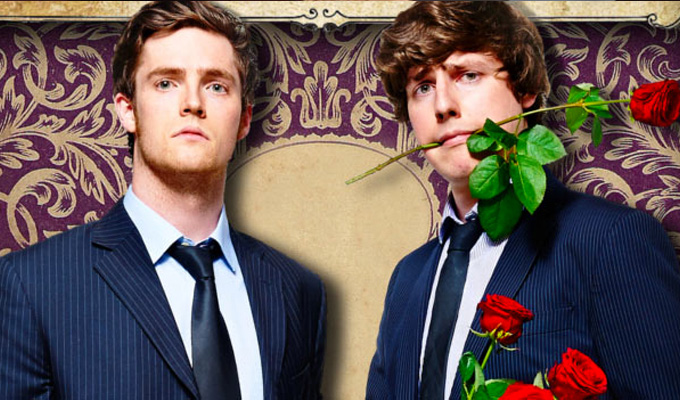 'The best comedic performance in a generation'
Tim And Eric
Glenn Moore: I'm unsure about the extent to which this can be considered a comedic achievement, but Tim and Eric Awesome Show! Great Job is the closest TV has ever come to recreating what a nightmare looks like. It's never less than unsettling and upsetting, but it's one of the funniest shows I've ever had the pleasure of coming across.
It's openly weird, but subtly distressing, with shots that linger for just a split second too long, uncomfortably stilted dialogue, and the naturally creepy look of an early 1990s local TV advert.
It just completely unlocks a different side of comedy, and I don't remember an episode not reducing me to tears of laughter at some point. Watch
Arrested Development
Glenn: I first saw Arrested Development on a plane about 12 years ago, and it was one of those flights where the in-flight entertainment was just three episodes of a sitcom, selected with gay abandon from different seasons, for nobody's enjoyment. They had three arbitrarily-selected episodes of Arrested Development, and the first one I saw featured the clip below, which made me explode with laughter, to the extent that I woke up all my fellow passengers.
I don't think I've ever laughed harder in my life at such a brief moment of slapstick. I couldn't breathe, nor could I rewind the episode and watch it again and again. So I just replayed the episode in full, and watched it in full about four times, just to keep seeing David Cross crashing through a coffee table.
In retrospect, it was a remarkably unhealthy reaction to a sitcom, but I was delighted to find that pretty much every other episode of the show matched it in terms of quality. It was like discovering the Beatles.
30 Rock
Glenn: 30 Rock feels like such a departure from so many other sitcoms, in that the focus isn't so much about getting laughs from the situation, but rather getting laughs from the characters constantly spouting bizarre, off-beat lines that are actual, proper jokes.
Like Arrested Development, the insanity of each situation is dealt with in the calmest manner (with no acknowledgement of how strange it is for Liz Lemon to spit out a mouthful of water in surprise, before realising she hadn't taken a sip of water in the first place, or Tracy Jordan having to be repeatedly measured for hats, because 'his head size keeps changing'.), and it all comes about as part of the writers' commitment to just keep firing jokes out every few seconds.
Reggie Watts
Matt Stevens: It's no exaggeration to say that seeing clips of Reggie Watts on YouTube for the first time about two years ago changed the way I looked at comedy; what is was for, how it could be communicated and what the genre of stand-up could be defined as. 
Apart from being a supremely talented musician,singer and tech whizz, Watts has evolved a style of improvisation that allows a free flowing stream of consciousness, with sentences that make absolutely no sense, to appear as a well structured and prepared lecture. He weaves, apparently seamlessly, between TED-style speeches, multi-layered songs and surreal monologues. It's mightily impressive.
The Thick of It
Matt: Peter Capaldi's performance as Malcolm Tucker is, for me, the best comedic performance in a UK show in a generation. Coupled with the brilliant writing which is as cutting and incisive as it is puerile and silly, Malcolm's character is a stand out comic marvel that I could watch for hours.
The Pajama Men
Matt: A great example of a formidable live act who've not yet made a successful transition to TV or film. While I'd love to see the Pajama Men get their own show, there's something nice also about feeling like you're on the inside of a brilliantly kept secret, knowing that one of the best sketch duos in the world are generally unknown among the wider population and you have the privilege of seeing them work their magic in unfairly small venues, considering their talents.
•Thünderbards: Chapter III is on at Underbelly Cowgate at 17:00
Published: 7 Aug 2015
What do you think?