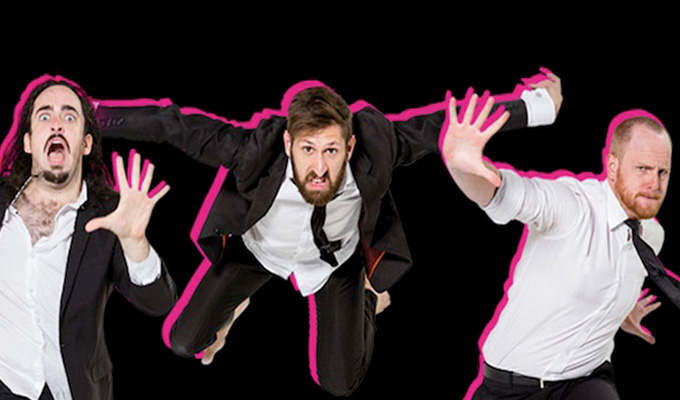 'Three grown men in suits dry humping everything in sight'
One of the most exciting things about being in a comedy group, as opposed to being a solo performer, is that you get to share your influences with one another. The following is a list of some of the sketches that have influenced each of us the most, one from each of the Donnas.
Shaun Micallef
Chosen by: Zach Ruane
Shaun Micallef is now something of a household name in Australia, although less well known in the UK.
When I was nine years old, sitting in front of the TV with my older brother, he was a revelation. The Micallef Program is the reason I am a sketch comedian today. It was wild, it was irreverent, it wore its influences on its sleeve but somehow felt completely fresh. 
I really could pick any sketch from this series, but this is my all time favourite - the combination of character, parody and a great core concept is something I've always held on to, and something I'm always driven to include in all of my work.
Side of Smooth: Morning Walk
Chosen by: Broden Kelly
My choice is the debut single from the jazz-pop duo Side of Smooth. The beauty of this video is in the simplicity, like that bag from American Beauty. This was shown to me when I was a bit burnt out with comedy after a lot of festival touring. Nathan Fielder has since gone onto cult status in alternative comedy across the world, but it's fun to see where he started.
Don't Want To Go To School
Chosen by: Mark Bonanno
This video by Adult Swim changed my life and I'd never laughed as hard as when I saw this for the first time. It made me laugh from a place I didn't know existed. It struck a chord I had never heard before. It was just so different and so outrageous and I just didn't care that it didn't make sense. It was dark and weird and wonderful and unfathomable.
I've always been blown away by comedy that I can't fathom; when I can't picture how it would have been written or conceived. Python did that to me as a kid and Tim and Eric did that to me as an adult.
Stella
Chosen by: director and co-writer Sam Lingham
It was after our second show that a comic who had been in the audience dragged us out of a noisy bar and onto the street to make us watch his favourite sketch. It was Whiffleball by Stella. I went home and watched every Stella clip that I could find.
What I love about Stella is, in essence it's just three guys fucking around. No fancy production or world changing views, just three grown men in suits dry humping everything in sight.
I don't know what it says about me but this clip is my favourite. It's dark and dumb and filthy but few things have made me laugh more.
Monty Python's Flying Circus
Chosen by: all of us
Here's a Monty Python sketch because we felt we should probably include a Monty Python sketch in our list of influences.

• Aunty Donna are appearing at Latitude this weekend, Soho Theatre from July 27 to 29 and at the Gilded Balloon at 22:00 during the Edinburgh Fringe.
Published: 15 Jul 2015
What do you think?