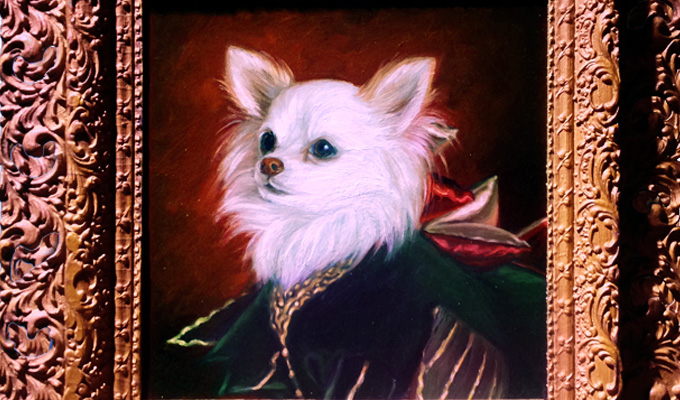 A rabbit who does stand-up, What more could you want?
Good evening. Mr Piffles here, the World's First Magic Performing Chihuahua, and now resident of Nevada, USA, where I appear with my colleague and associate, Piff The Magic Dragon, on the famous Las Vegas Strip.
Piff has asked me to compile a list of my favourite animals in comedy, and even though I'm currently balls to the wall attempting to sleep 23 hours of the day, apparently we've got tickets to sell. Therefore needs must. Also he's taken away my daily biscuit until I learn to type and form sentences, so let's crack on.
Louie the Dog assisted by Bob Williams
It's not easy being the actual draw, talent and eye-candy in an act, as well I know, but Louie the Dog pulls it off effortlessly. Literally. This pooch proves that while less is more, even less is even more, and barely anything at all is almost too much. The ultimate idle idol, I personally have drawn much inspiration from this comatose canine, as the revered critic Mr S. Bennett duly recognised. Louie, I'd salute you if I had the balance and range of movement. And could be bothered.
Favourite Moment: 'He's thinking about it.'
Skippy the Rabbit assisted by Bruce Block
Of all the things that are lacking in this world, a reason to hate Piers Morgan is not one of them. Yet they continue to multiply like rabbits. Speaking of rabbits… (Nice link Piffles!) Allow me to introduce Skippy; a stand up comedian rabbit. Yes. A rabbit. Who does stand-up comedy. What more can you ask for? Nothing. Unless you're Piers 'Life Hate' Morgan, who buzzed him with all the sadistic joy of a Milgram experiment. (Nice analogy Piffles.)
I haven't seen Skippy for a while now. He was opening for Amazing Jonathan in Vegas a few years back, before he got sick from all the drugs (AJ that is, not Skippy). Forced to seek work, Skip headed to America's Got Talent, the Russian roulette of career moves, and when Morgan gave him that X, Skip never recovered. He went underground. Last I heard he was calling bingo numbers in a casino downtown for a leafy salad and a cardboard box in the cleaning cupboard. By now he's probably sitting on a pile of half eaten carrots, bloated, mangy, with a gun to his head wondering where it all went wrong. A fate that can only be a matter of time for Piers Morgan. Surely?
Favourite Moment: 'I've got a wife and ninety children to support'
Skippy the Guinea Pig assisted by Harry Anderson
In 1985, Skippy (a common name, as you're discovering, in the showbiz animal world) got his big break on Saturday Night Live. Sadly, like a rabbit in headlights, he froze on screen and was promptly ingested on network television by his former friend and owner Harry Anderson, for whom, choking was not an issue. The switchboard lit up like a Christmas tree. A particularly angry Christmas tree. A Christmas tree that had just seen his family pet consumed directly in front of his face, and is now wobbling its sparkly tinsel eyebrows, widenening its bauble eyes, and dropping a package of two if you catch my meaning.
Such was the furore caused by the consumption of Skippy that Harry was ordered back on stage to make amends. Cap/hat in hand, Harry confronted the long distance mob, looked straight down the lens and said: 'I've been asked to comment on the fate of poor Skippy whom you all met in the prologue. Well, all I can say is that pound for pound, nothing beats the nutritional value of Skippy.'
Favourite moment: Harry Anderson trying to say: 'We'll be right back,' mid mouthful.
Luigi the Psychic Parrot assisted by Dana Daniels
Piff the Magic Dragon once told me a story about a magician who was booked to perform close-up magic at a party for an East End gangster. As close-up magic can sometimes feel like the drain cleaning of show business, it is possible this minority wizard was already feeling a little under-appreciated.
His discontentment was certainly not helped that night by the owner's parrot, who would squawk, 'that's shit that is', to whatever visual stimulation befell his sight. And so the scene was set when into this gaze our magician strolled and performed his parlour miracles. 'That's shit that is,' the parrot proclaimed. Ignoring this interjection, our prestidigitator persevered. 'That's shit that is! That's shit that is! That's shit that is!' On and on until finally this social sorcerer snapped and lunged for the bird, attempting to prize its head off with a bottle opener.
He had to be held back by four people, with the bird screeching, 'That's shit that is,' in ever escalating panic. I believe the parrot is now in a polly protection programme and is penning his memoirs in the hope of a three picture deal.
None of this has anything to do with Luigi the Psychic Parrot, who is a true pro, and possesses not only a genuine telepathic ability, but the manners and dignity to play a family crowd.
Webster the Duck, assisted by David Copperfield
Webster the Duck has been performing with David Copperfield for more than 30 years now. Like DC himself, he looks pretty good for his age. As a fellow resident of Las Vegas, Webster and I used to brunch together every third Sunday of the month. Sadly this came to an end over an ugly incident involving bread. But I'm not one to hold grudges and it would be churlish to exclude Webster from his rightful place on this list.
This routine is probably my favourite in his feathery ouvre, although it takes a while to get there. Because what's funnier than a duck being slammed repeatedly into a door? Nothing. Nothing! Slam that duck into a wall! Yeah! Who's got the bread now duck?
Favourite Moment: Slam slam slam that duck.
Rabbit's Many Friends-And-Relations assisted by Penn & Teller
In the past magicians have been accused of treating their animals almost as poorly as their female assistants. And while Penn & Teller may have chipped a few bunnies in their time, they've also fed starving rats, launched a campaign to rescue the African Pygmy Elephant, and healed a mortally wounded snake. (Although technically, that last one doesn't count as they were the ones who severed poor Stan in the first place.)
I think it's fair to say the bad boys of magic have a soft spot for animals and mythical creatures. They've certainly been pretty sweet to Piff and I since we moved to Las Vegas. In fact, Piff has been working as part of the Penn & Teller Brain Trust for the past year where he has helped them vanish a cow, produce a rabbit from a borrowed top hat, and crack and restore a chicken egg.
Now as I am about as verbose as Teller, I asked Piff to talk to Penn about his favourite trick they have performed with livestock,and this is Penn's choice. In the lead-up they were told it was career suicide, Letterman was as delighted on the night as he looked, and on the drive home they thought they'd never work again. As it happens, it became one of their most talked-about moments in their careers, they were invited back many times over the years, and Penn & Teller have done ok ever since.
Favourite moment: Teller's face during the opening dance number. And the fact that this has an opening dance number.
Notable Exceptions
Julian Clary and Fanny the Wonderdog are as absent here as they are on YouTube, which is a shame. I really wanted to include Sid the Venezuelan Jungle Parrot but technically he is more mineral than animal. The Moscow Cat Circus would deserve a mention, had cats not ruined the internet and my life enough already. So screw you, kitties. And finally this goat on a rope has done the work necessary to be included on this list, but sadly any comedy derived from the viewing is both cruel and unintentional. Although the monkey is hilarious.
Now. Please buy tickets for these shows: Mr Piffles & Piff The Magic Dragon performing in X Comedy at The Flamingo, Las Vegas, Thursdays to Sundays until August 2; Breakfast at Piffany's, July 13 and 14 at 7pm at the London Wonderground, Southbank, then August 14 to 29 at 10.40pm at the The Beauty, Circus Hub, Underbelly at the Edinburgh Fringe. More info: PifftheMagicDragon.com.
Published: 23 Jun 2015
What do you think?