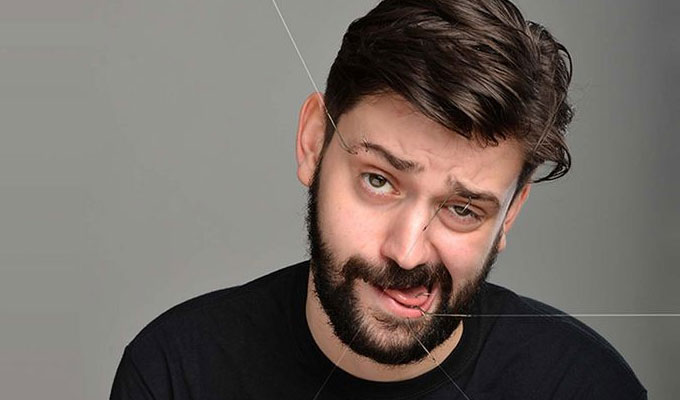 Pedantic, creepy and sweaty... I love him!
I've tried to choose particular routines that people may not be aware of, or praise particular sitcom characters that are more unsung heroes. I think let's all take it for granted that Patrice O'Neal's Elephant In The Room is the best thing ever and Monty Python were all right and everything that everyone thinks is good I also think is good. Except I've never seen Seinfeld. But I've heard that's good.
Louis CK: Word Live at Carnegie Hall
This is an album that for whatever reason seems to fall through the cracks when people think about Louis CK. I think it was a compilation of material that had been written (and not all of it shown) for the stand-up bits of his sitcom, as well as some stuff that hadn't been included in other specials.
Anyway his 'sleep' routine is one of my favourite bits of stand-up. The description of just how good sleeping feels just keeps getting more and more surreal and yet somehow more and more relatable. ('Sleep is an ancient whore with 20 tongues blowing me.') It's also the best example I've heard of someone doing observational comedy about their own subconscious activity. He can literally write this in his sleep, it's unreal.
There's also a brilliant track in his encore about the logistics behind the making of Schindler's list that you can't find anywhere else.
Ross Noble on Live at The Apollo
I was obsessed with Ross Noble. I was 11 or 12, watching the old Live at the Apollo with Jack Dee, when this bloke with long hair and loose-fitting clothes just shambles on and starts talking about glueing meat to your face for ages. It might be that the old series gave people more time than it does now, but I mean it's almost ten minutes on glueing meat to you face. It just brilliantly cuts through the veneer of 'shiny-floor' TV.
It's great. And so fucking stupid. Having been a stand-up for six years I know deep down that it probably wasn't improvised (I mean the balls to get booked for the Apollo and just wing it…) but I like pretending that it might be…
Kyle Kinane: God Of Thunder
Talk about squeezing every last joke out of a story. Celia Pacquloa played me this on a drive back from a gig and it just goes to show if your persona's strong enough you can get a whole eight minutes out of a guy eating pancakes. He covers every possible angle and the composition of the whole thing is masterful.
He's just about to release his third album/special and he's great, one of my favourites at the moment. It's wistful and soulful but without sacrificing any punch or gags.
Super Hans
I am so thankful to Peep Show. It's consistent brilliance through a pretty dry spell in TV comedy has been a godsend since that golden period of the Office, Garth Marenghi and the Boosh in the early 2000s. It's been one of the only TV shows since then that I haven't heard a bad word said about.
The writing and performances are all brilliant but the standout character is Super Hans. Every episode is made better by his cameos, he's managed to create the archetypal stoner character, paranoid and self-assured in equal measure.
His speech about how the music industry really works is so funny and bang-on; but it's also all about how relaxed Matt King plays him, he's such a louche crackhead, and a perfect foil for uptight Mark and immature Jeremy.
Dr. Alan Statham in Green Wing
You get used to meeting people you've admired for years in comedy but when I got to meet Mark Heap I properly lost my shit. Sweaty handshake, weak knees, stuttering. I basically turned into Alan Statham, who is probably my favourite Heap character, just ahead of Brian in Spaced.
He's pedantic, hunched over, horribly tactile, creepy, weirdly sexual, sweaty. But there's so much warmth there and along with the stutter it's like a turbo-Arkwright from Open All Hours. A sexually aggressive dweeb should be the least likeable character on TV but he's so non-threatening it's hilarious.
The Blues Brothers
Ok i'm normally not one of those people that go "What Do You Mean You Haven't Seen Blah Blah Blah" But if you haven't seen the blues brothers go fuck yourselves it's the best feature film. Full stop.
The dialogue, the stunts, the sheer scale of the car chase and the police car pile up, the fact they literally gave Ray Charles a gun and let him shoot it, there are Nazis and James Brown in it, John Belushi does 25 consecutive cartwheels down a church aisle, Princess Leia then attacks John Belushi with a rocket launcher WHY ARE YOU STILL READING THIS AND NOT WATCHING THE BLUES BROTHERS
The police car pile up though… it's like a slapstick silent film, but with cars instead of people. They pretty much just shoot police cars out of a canon into a huge pile of other police cars. It's cartoon levels of stupidity but with real vehicles. And it's all played straight-faced.
Robot Wars
I mean it's Jonathan Pearce commentating on the destruction of nerds' dreams.
• Fin Taylor's debut Edinburgh show Live From The Wardrobe has just been released for free download at www.fintaylor.com. Here is a sample:

Published: 26 Jan 2015
What do you think?