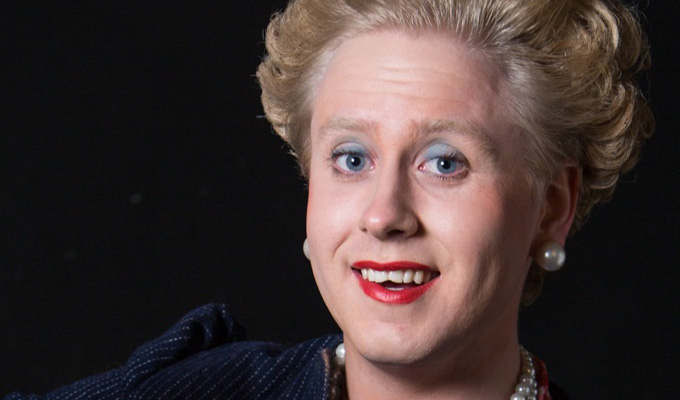 I've got as good a sense of humour as the next Prime Minister....
Are You Being Served, Sir?
I do love classic British comedy, Dad's Army, Hi-De-Hi, Boys from the Black Stuff, but my favourite has to be Are You Being Served? Not only do I enjoy it for its celebration of consumerism but also for the wonderful Mr Humphries.
He was a very funny character. You see whenever he was asked if he was free he always was. He was always available to work. Hilarious. Regardless of who needed service or what job he was being asked to perform. Oh it makes me laugh. Whether it was a leather clad biker or a cherub faced young man in a tank top and short shorts he was always ready to run his tape up their inner thigh. While he was an asset to the company, he also released this lovely song which demonstrates just how free he is. I'm sure he went on to make some young woman an excellent husband.
On a side note, one thing I don't understand about this show is why Mrs Slocombe put up with that bothersome cat. Let me tell you, if my pussy had been subjected to half the things hers had I'd have a good mind to have it pumped full of cyanide, stuffed by a professional and put on the mantelpiece next to my Milton Friedman commemorative mugs.
William Shatner sings Rocket Man
Not so much comedy, but certainly important. Quite simply this man is my inspiration. We've all been encouraged by tales of people who have persevered and achieved great things in spite of a disability. President Roosevelt, Tyrion Lannister, Oscar Pistorius. But most remarkable is William Shatner, who managed to have a successful pop career despite lacking even the slightest hint of musical ability.
Many young people formed bands after seeing the Sexy Pistols perform in the 70s as they realised they didn't actually need to be able to play music in order to do so. I felt the same way the first time I heard William Shatner sing. It was a road to Damascus moment for me, but better because I was in the back of a chauffeur driven car in West Dulwich and not on a donkey in the Middle East.
I have enjoyed all of the TJ Hooker star's musical creations but this one has to be my favourite. Watch as he breathes new life into the wonderful Elton John song Rocket Man. Or as he styles it Rock-It Man. Which of course makes just as much sense. And also enjoy Bernie Taupin's enthusiastic introduction - he must be thrilled about what's going to happen to his song.
And if you like that, do watch this clip of Shatner singing the song Taxi by Harry Chapin, which of course I approve of far more than if it were called Bus.
Parrot sketch on Saturday Night Live
One of the things I'm most remembered for is for referencing the 'parrot sketch' at a party conference. I'm appalled by this as I didn't know what I was doing – The speech was written for me and I just thought I was quoting Treasure Island.
I don't like Monty Python or any of the people who work with him. The only Monty I approve of is the General and he was too busy fighting on the African front to open any pet shops.
I've seen this sketch numerous times and the audience always seems to laugh along as if it's funny that John Cleese has been sold a so obviously defective product. I've got as good a sense of humour as the next Prime Minister (the oft hilarious John Major) but this pet shop couldn't be more badly run if it were part of the public sector. I hope Mrs Slocombe never showed her pussy here.
Thankfully, this recording of the sketch from Saturday Night Lives gets exactly the reception it deserves. The New York audience has seen that the emperor has no clothes and they are not amused by his parrot's plumage.
Just Say No
I've recently found myself becoming interested in 'drums and basses'. From George Michael's the Wham Rap to that bit in the 1990 World cup song. I love busting a groove after a sick beat drop.
But my absolute favourite example of 'the hip hop' has to be the rap fill in this wonderful song by the Grange Hill kids. I love popping this on while I'm having a nice bit of warm Bovril toast with Denis, and reflecting on the very serious point in the song. Just say no to drugs.
You can bet if a socialist wrote this it would be called 'Just say you have asthma so as not to offend them' or 'go ahead, try it, who needs fully functioning hippocampus'. But this is unequivocal. I love it.
Incidentally, I think it's best enjoyed high.
Also, do look at this video promoting the upcoming election for the Norfolk Police and Crimes Commissioner. I've never wanted to 'keep the wrong 'uns out' quite so much as when encouraged to by a middle aged Norfolk local DJ through the medium of rap.
Strike
My writers have asked if I'd use one of my picks to highlight one of their choices. Jon Brittain and Matt Tedford say that without Strike and the other Comic Strip films Margaret Thatcher Queen of Soho might never have been made. Not only was it a tonal touchstone at numerous points along the journey, but it's also a wonderful example of how irreverence is sometimes the best vehicle for serious political points. And without knowing that, we never could have made our show, which alongside delivering laughs attacks prejudice and promotes equality.
I said I'd be perfectly happy to include it as one of my choices as unfortunately my favourite Bernard Manning clip is no longer online.
Me
The last choice was a no brainer. No list of comedy greats would be complete without Me*. But which wonderful example of my timeless, witty, cutting edge, comedy stylings should I pick? My devastatingly hilarious self penned Yes Minister sketch. The time I refused to jump on a Dutch chat show. My appearance on Saturday Superstore with Allo Allo's Gordon Kaye. That time I punched David Dimbleby (video not available).
No. In the end I opted for my guest star appearance on the wonderful situation comedy, Coronation Street. And what an amusing scenario. A townful of Northerners and they're all employed.
Unfortunately I did have to venture outside of the M25 but as it wasn't actually a real Manchester street I could walk down it without being mobbed (what can I say? they love me there. Watch the clip, the barmaid won't let go of my hand). And of course, the offer to come back was left open, so who knows, maybe one day when my singing and dancing days are done, I could trek up north and become the landlady at the Rovers Return.
But until then, I'm Margaret Thatcher Queen of Soho and if you don't like it, watch this and take note.
* Rather like the H in Him when describing God, the M in Me should always be capitalised. And for the same reason.
• Margaret Thatcher Queen of Soho will be at The Old Market in Hove on October 24 and 25 as part of the Brighton Comedy Festival. Tickets.
Published: 7 Oct 2014
What do you think?