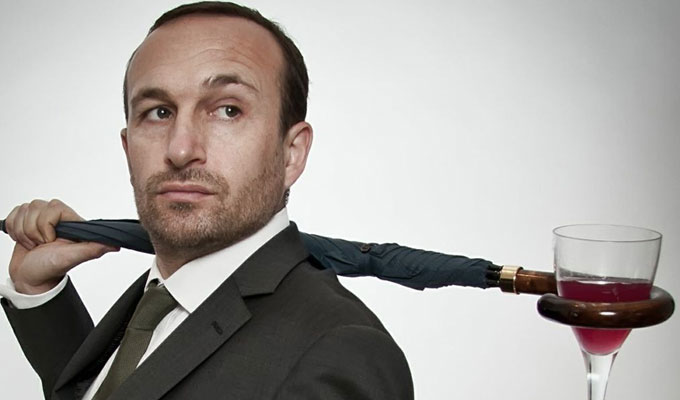 I want to be Dick Van Dyke when I grow up
David Letterman
He used to, sometimes, introduce himself as 'Your TV pal, Dave', which is exactly what he became. The archetypal grouchy uncle, who always has a stupid joke that your mum tuts and shakes her head at. Enough has been written about how he redefined broadcasting to be looser, more open to spontaneity, and reflective of his not-quite-as-square-as-he-looks world-weary vaudeville huckster persona.
Everyone who came afterwards was at best inspired by him, and mostly shamelessly ripped him off. Go to YouTube and seek out his second primetime video special, and marvel at the genius of making Barry White say the word 'Jazzercise'.
The Dick Van Dyke Show
More than almost any role model, more than Cary Grant, or Gene Kelly, or Hawkeye from M*A*S*H, I want to be Dick Van Dyke when I grow up. (Oh, and if you only know Dick Van Dyke from 'Allllo Muaaary!', then you're a dullard and a fool).
In 1961 Carl Reiner based his new sitcom on his memories of being a writer for Sid Ceasar's Show Of Shows, and with Dick, and Mary Tyler Moore, created something new and very special. It was, on paper, a fairly traditional family sitcom, but on the screen, it sizzled – the leads were young, and cool, and sexy. There was masterful slapstick, romance, song and dance routines.
Fifty years later, it hasn't lost a thing, and pretty much every episode is on YouTube – so if you want your comedy with a dash of real style, performed by two hot leads at the top of their game, there you go.
William Regal
A lot of what I learned about how to work a crowd, I learned from professional wrestling – wrestlers, of course, come from the same carny and music hall roots as a juggler like me, and William Regal is the best villain in the business, and funnier than most stand-ups.
His facial expressions alone could fill a coffee table book. Complete mastery of improvisation and character, able to turn a crowd against him, and then make them love him again, just by raising an eyebrow.
As a teenager he was already taking on all-comers in the ring on Blackpool Pleasure Beach, and has spent his life perfecting his often underrated and overlooked theatrical talent. He's a huge fan of British comedy and variety, and it shows in the glint in his eye that he often brings to his work. He also wrote a completely great autobiography, which I recommend. Oh, and also the clip here is pretty old – he'd want me to tell you that his hair is much more lustrous now.
Jean Grae
I'm an old school hip-hop fan. In my teenage years Public Enemy and Run DMC kept me company every day as I walked down to the local park to practice the tricks that I fantasised might one day make me a meagre living. But these days, you have to work a little harder to find the hip hop that isn't, shall we say, a little problematic in terms of the way it deals with gender etc. For someone like me who is as much an old school leftie as I am an old school homie, it's become a bit of a minefield.
Enter the awesome Jean Grae. One of the most thoughtful, witty and literate voices in the current scene, she's totally independent, releasing her music herself through her website and promoting it through her expert use of social media. And sure, we can learn a lot from her about how to run a business in 2014, but more than that, her music is gorgeous, often deeply personal and lyrically beautiful. And she's tough as hell.
Mr.Hulots Holiday
https://www.youtube.com/watch?v=_92Cm8gl7Ls
A sublime, perfect mainly silent comedy film. But more than that, Jaques Tati's depiction of a seaside community, an interwoven tapestry of people going about their business, having fun, falling in love, selling ice cream, preparing dinner – I want to live there, in black and white. It's hilarious, very pretty to look at, and chock-full of heart. When I'm feeling down, this film refills my hope in the inherent goodness of people.
• Mat Ricardo: Showman is on a short tour this autumn, starting with a gig at the Brewery Arts Centre in Kendal this Saturday. See his website for details
Published: 26 Aug 2014
What do you think?