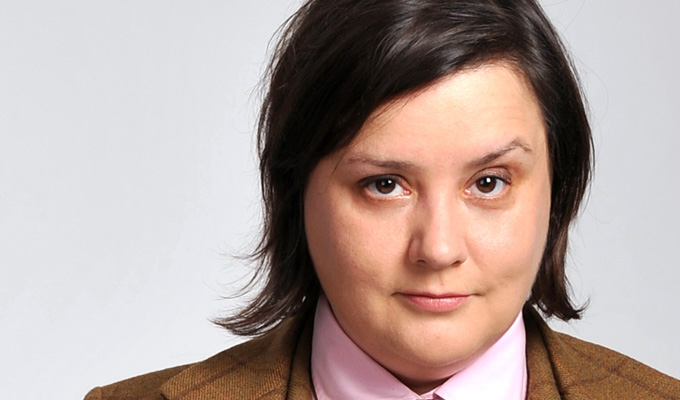 'Some of the best lines ever written for a woman. Delivered by a man.'
Like many comics of my generation, Victoria Wood was, and remains, a huge influence on my writing. I had a VHS copy of An Audience With Victoria Wood and I still know the whole show off by heart. Watching the performance back, it exquisitely captures a stand-up at the top of her game.
This song is, for me, perfect in every single way. Lyrics, delivery, sentiment. Beat me on the bottom with a Woman's Weekly indeed.
The High Life
The High Life is one of the first times I remember seeing Scottish comedy be camp. Of course I'd grown up with heroes like Billy Connolly, but seeing Alan Cumming and Forbes Masson strut around with the glorious Siobhan Redmond inspired me to look at Scottish comedy, and sit coms, in a different way. It also has one of the best title songs/sequences of all time.
They only made one series, but it is brilliant. I wish we were allowed to make things like this now.
Tootsie
I love this film. To me it's perfect. The performances, the script, the timing. And the audition scene where Michael Dorsey is desperate for work is one I recognise well.
Producer: We're looking for someone younger.
Michael: "They have dinner--" Can I start again? I didn't get kicked off right.
Producer: The reading was fine. You're the wrong height.
Michael: I can be taller.
Producer: No. We're looking for somebody shorter.
Michael: Look. I don't have to be this tall. See, I'm wearing lifts. I can be shorter.
Producer: I know, but we're looking for somebody different.
Michael: I can be different.
Producer: We're looking for somebody else.
It's mind penicillin in my view. If I'm feeling even slightly annoyed at life I watch it, and it never fails to make me happy. Oh and it has some of the best lines ever written for a woman. Delivered by a man.
Laugh? I Nearly Paid My Licence Fee
This is a little known show, made in Glasgow in 1984 and for some reason it's stuck in my head for the past 30 years. It's the first time I remember seeing Robbie Coltrane on my television, and he's magnificent throughout it. A very young, and very funny Elaine C Smith also makes a welcome appearance.
LINPMLF is a traditional sketch show but it had a number of stand-out moments. Not least this song, which I still sing (much to the joy of my family) whenever I'm near the River Clyde. For me, the lyrics 'La Patisserie. At the City Bakery' are genius. Looking back at it now is interesting, and oddly difficult to watch as it was filmed before the regeneration of my home city.
Seeing some of the locations down at the disused ship yards (many of which have now been demolished) make it a time capsule of sorts. Worth watching.
Apologies for the poor quality of this video, it's the only one I could find.
Amy Poehler: Parks and Recreation
I pretty much love everything Amy Poehler does. I love her so much that I'm glad I've never met her because I would probably demand to be her friend and make her live in a caravan with me. She's clever, funny without being cruel, brilliant at slapstick – in short she's wonderful. I had to stop watching this episode of P & R on the train because it looked to my fellow passengers like I was having a seizure of some sort.
I should say that by choosing this my love for Tina Fey hasn't lessened. She would be welcome in the caravan with me and Amy.
Girls on Top
I'll admit that this is a convenient way of getting my remaining comedy heroes into the one clip. Girls on Top was a sit com made in 1985/86 starring Dawn French, Jennifer Saunders, Ruby Wax and Tracey Ullman. I was convinced I would marry Tracey Ullman when I was younger, sadly our paths never crossed but this is a gem of a show showcasing my favourite comics when they were at the start of their career.
The title sequence alone is worth it to see Dawn French pop out from a poster that says, 'Comedy degrades women'.
&bull: Susan Calman: Lady Like is on at Underbelly Bristo Square at 18:30
Published: 14 Aug 2014
What do you think?