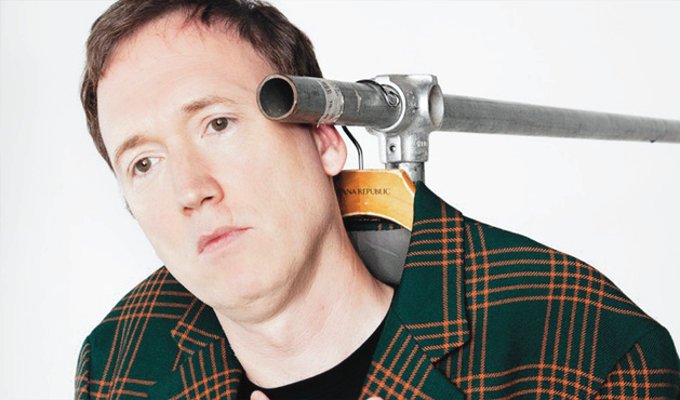 Watch this – it's everything I love about comedy
Monty Python: Running Man
This is the hardest I've ever laughed in public – I was in a movie theatre – and of all the hilarious scenes in Monty Python and the Holy Grail, this one just got to me. The second time they cut to the running man, I could see where it was going, and I began laughing uncontrollably throughout. I was laughing so hard that it was ruining the bit for other people in the theatre, they must have been thinking: 'Is there something else he's laughing at?"'
I still laugh aloud when I watch this. It's something about the gentle music, then cutting back to the dramatic drumming, and the subtle expressions on the guards' faces. It's perfect.
The Bob Newhart Show
I used to love Bob Newhart as a kid. There are of course a million clips I could share of him doing classic bits from his stand up, or hilarious scenes from the show, but I'll share this- the opening sequence. I'd watch it every week, and I loved it - it was just a guy commuting to work. I liked that this was a comedian who was just a regular guy- he didn't seem funny, but he was. I never thought I'd be a comedian when I grew up, but I did want to be like him: an unexpectedly funny guy with a briefcase.
Houseguest
OK, I'm going for some unexpected picks here, because I'm trying to make this interesting. But I've always loved Sinbad. He's funny, and the mark of a great comedian to me is someone who can take mediocre material and make it shine.
Look at this scene from Houseguest – as with every scene in that movie, it is ridiculous, but he makes it work. Why would he even bother to make up a different fake association name for each person he met? It makes his con-job so much more difficult! But he does it to make us laugh and we do.
And if you think I'm joking that I love the movie Houseguest, just watch the movie Houseguest and you will laugh, laugh, laugh.
Sean Cullen
Oh my God I just watched this again and it is the funniest thing I have ever seen. It is my favourite. If you want to know what fuel makes the Shillue engine run, just watch this video. It's everything I love about comedy.
Sometimes when we are alone with our friends we come up with the most bizarre ideas that make us laugh until we cry, but there is often no way to bottle whatever weird thing it is we were doing – it wouldn't translate to the stage. This feels like one of those bits to me: Sean Cullen found a way to turn this absolutely absurd idea into a bit he could perform over and over. It's fantastic.
Remix
I love musical comedy bits. I'm in a barbershop quartet called The Rag Time Gals with Jimmy Fallon and it's such good fortune for me because I'm a barbershopper from way back, and I'd be singing four-part harmony whether or not the lead in my quartet was the host of The Tonight Show. We've done a lot of great songs but this one was my favorite, R. Kelly's Remix to Ignition:
• Tom Shillue: Impossible is on at The Assembly Rooms, 21:00
Published: 6 Aug 2014
What do you think?