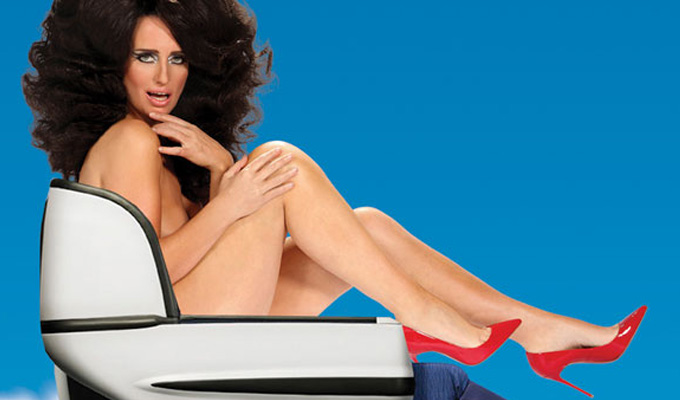 Edna, Sandra and drag queens were why I got into comedy
Growing up in Australia I was immersed in camp and drag so it makes sense that I was drawn to the gay community and never missed a Dame Edna performance. Dame Edna, Sandra Bernhard and drag queens were the reasons why I got into comedy in the first place. Here are some of my all-time favorite comedy clips – ones I hijack my friends with after a few wines.
The Dame Edna Show
Growing up watching The Dame Edna Show ultimately paved the way for Pam Ann and inspired my very own talk show set on a plane. Dame Edna's talk show was the first of its kind to bring down the walls of some of the biggest stars in the world. The whole premise of being in her penthouse, with A-listers trying to get up to see her only to be knocked back was pure genius. Barry Humphries is a master improviser and one of the funniest, wittiest, innovators and pioneers of comedy to date and my inspiration.
Queens Of Comedy
Fearless, edgy, wild and fucking funny, the Queens of Comedy is one of my favorite comedy shows of all time starring Mo'Nique from the film Precious fame. Some people watch The Secret to find themselves, well I watch the Queens of Comedy; these bitches are my law of attraction. I actually performed with Mo'Nique and Salt N Pepa for Milwaukee Gay Pride – don't ask!
Sandra Bernhard in The King Of Comedy
Like Dame Edna Sandra Bernhard was also one of the catalysts to why I got into comedy. She takes no prisoners in her live shows. Just recently we were on a double bill at Joe's Pub in NYC, which was crazy and super surreal knowing after 18 years that here is the very woman sitting in my dressing room giving me her contact details to organize a show together.
I am her ultimate stalker, a bit like her role in my all-time favorite film The King Of Comedy, where her character Masha and De Niro's character Rupert Pupkin hijack Jerry Lewis and take over his talk show – something I have dreamt of doing my entire career and yes I play applause (not GaGa, but recorded applause) when I wake up in the morning and have cardboard cut out people I talk to.
Peter Sellers in The Party
If I could be in any film this is the film I would want to star in alongside comedy great Peter Sellers. The style of this film has inspired many Pam Ann costumes and musically inspired my shows.
This is timeless comedy and one of the films I always go back to when I am writing my very own Pam Ann movie. So many great scenes to choose from so it was hard to pick, you must watch the entire film the opening credits alone are pure comedy genius. Now this is a party I would like to go to.
My Son is Gay
Anything John Roberts does makes me fucking howl laughing. I recently moved to LA, I also live in NY which makes sense because I have sung Patsy Gallant's song from New York to LA so many times it's bound to come true. That bloody 'Secret' at work again. A bit like imitating John over and over with my friend.
Every time we hit the streets of NY we would launch into his sketch 'My son is GAY he went to the city and he's GAY' people would look at us with sideward glances.
Well guess what? I ended up meeting John in London when he opened for Margaret Cho. I hijacked his ass and got him so shit-faced and I didn't stop impersonating him all night – OMG – and he tolerated me. I mustn't have annoyed him too much because now he is my BFF and we both live in LA.
Most recently he took me to a classic disco in LA, we got so drunk I ended up on the piano screaming 'My son is gay', I got thrown out of the disco. He texted me a photo of me on the piano the next day. Does that all make sense? Fuck I find it hard to explain shit in my head!
Bon Qui Qui
Anything this girl does make me fall on the floor. Just Google her name and you will be entertained all night. This clip is everything. I love her observations and I can't wait to meet her. LOL. I guess I haven't watched her enough to warrant a meeting and friendship but watch this space; Pam Ann might pop up at King Burger very soon
I hope you enjoyed your in-flight entertainment, bitches....
• Pam Ann: Fly is in the UK from March 21, playing Bournemouth, Belfast, Salford, Glasgow and London. Dates.
Published: 14 Mar 2014
What do you think?