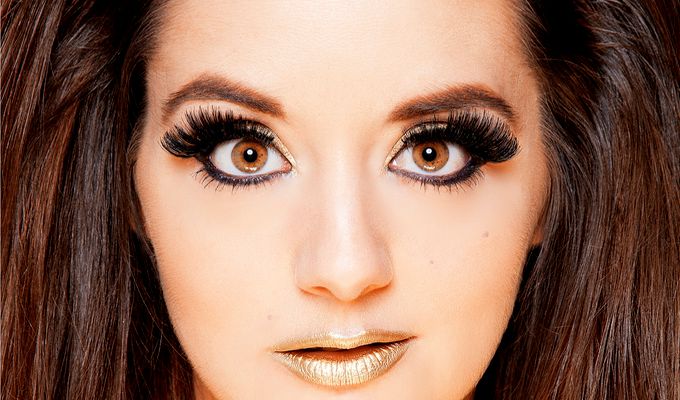 Falling over and knocking things down is the world's best comedy
I suppose compiling a Chortle Perfect Playlist is what it must be like to get married. Who gets an invite? But you've got to invite those people who were around when you were growing up though don't you – people who influenced your formative years: Steve Martin, Woody Allen, Mel Brooks, are on the top table, obis. Partridge, Vic and Bob - Best Men. Tina Fey and Amy Poehler- Maids of Honour and everyone that's had anything vaguely to do with Arrested Development…
It's great doing this because you realise how much amazing comedy has been made. But it's tooooooo hard to decide.
I think what I admire in all of these below is they all have very distinct personas and a very particular, personal and honest comic voice.
Also I realise I sound like I'm doing an episode of Inside the Actors Studio. I tried so hard not to use the word 'craft'.
It's The Gary Shandling Show
You can't get much of an idea from this clip but there is hardly any of this show on the internet and it was only released very recently on DVD in the UK.
I was made aware of it after did an Edinburgh show which I staged in a real house – so when I got my little paws on this I couldn't believe it! It was everything I have ever dreamed of doing. It's such an exciting show – conceptually so strong and different and so ahead of its time - there has been nothing like it before or since. The slow disintegration of the forth wall and the line it straddles between reality and fiction and the audience interaction is all such a unique thrill.
My favourite episode is The Graduate when he drives his date around the studio in an electric toy car and they go to the drive-in movies among other toy cars with barbie dolls in them – a grown man genuinely pulls this off! It's the most fun ever! It's revolutionary in its ability to be a mainstream funny sitcom which messes with the form and structure whilst playing with such big wild, risky ideas. It is a total breath of fresh air, even all these years on…
Bobby Thompson: The Little Waster
Memories of watching this at my grandparents', growing up in The North East – my Dad snorting at it and gasping for air. The North East is a very distinctive place – it sort of doesn't fit in very well to the rest of the country. It is like a little nation all on its own and with it I think comes a particular sense of humour. It's raw, unfussy and down to earth but always with a surreal silliness and stupidity.
Bobby Thompson was the epitome of the working man's club comic in a way at a politically important time for the North - but the jokes are clever and surprising and daft. His non-pretention is very attractive – particularly these days - the turns of phrase, the wordplay and the barely coherent accent (?!) is something that makes me laugh in a different way to anything else, provoking in me a more sentimental reaction perhaps.
Spike Milligan
I read a lot of his stuff with my mum when I was very little. I would howl at all this. Elegant, perfect absurdity.
Give me gobbledygook, total drivel and nonsense any day. Talking utter rubbish is the hardest and the cleverest use of words but when it's done right it is the funniest thing ever.
The best comedy should be sensory - you don't know why you are affected by it be you are. There is a feeling and vibe behind it that you understand and react to on an emotional level but don't know why or how… but you are changed. He does that to you.
Les Dawson
Some comedians are definitely 'made' not 'born' and yeah, that's good and stuff. But I like the ones who are born and then also did loads of work like Les Dawson. I think really if I had to pick… 'funny faces' would probably win comedy for me and he is the master of the funny face. I love a good gurn – I'll hold my hands up – or should I say jut out my jaw and lift my bottom lip up.
I love the simplicity of this. It is so clean and clear and the timing is incredible. Comedy is about surprise and this is it done perfectly. Every time I watch it I am surprised again and again. It elicits such a guttural instinctual reaction from me.
I think it is so beautiful. I snort when I watch it. That is not so beautiful.
Mr Show and Portlandia
Falling-over-and-knocking-things-down comedy is the world's best comedy. It is so simple and clear and base. Also add to that dropping things comedy and hurting-yourself-on-purpose comedy, seconded only by putting-things-on-your-head comedy.
In this sketch, the Story Of Everest, him knocking them over just keeps getting funnier each time it happens. I could watch this forever.
The comedy rule here was: Tragedy plus time plus thimbles.
In Portlandia we have recognisable and relatable characters we all know but wound up to 10,0000,000. The sketches start with simple premises and then they just keeping pushing the ideas and the characters till they've created these grotesques. All these characters are pretty mental but the basis for all of them is truth and reality and that's what makes it so funny.
And the jokes of course: 'Every time you point I see a penis.'
Rowan Atkinson
Sorry – there are tooooo toooo many Blackadder options I am not going to decide on one. But Blackadder was the sitcom I watched and loved the most when growing up. It has everything you want from a sitcom and stands the test of time.
This sketch from Not The 9 O'Clock News just shows one aspect of how adept Rowan Atkinson is at being a beautiful idiot…
Just hearing his voice is enough but coupled with all the 'toilets' it's totally ridiculous.
'Funny voices comedy' is defo in the running for best type of comedy.
Julie Walters as an old woman
When I trained in clown* with Philippe Gaulier he would say 'enter the stage as a complete utter idiot and a loser - not like the world champion'.
This sketch and the Mrs Overall character etc are all examples of the types of characters I love because they are the chief idiot. They are perfect clowns. I love the underdog – I'll always back the person who is losing and these characters are that. Also physical impairment is always funny.
*Inside The Actors Studio moment - apols
Andy Kaufman / Sacha Baron Cohen
Great comedy should have a sense of drama to it while making you question things. Both these comics chart new territories and really make you sit up and pay attention. They grab you by all your senses and pull you in.
They turn comedy in to an experience and an event every time. They make you hold your breath and play with your perceptions. It's the bravery, fearlessness and commitment to taking risks in the most inappropriate, dangerous situations which is so invigorating. They up the stakes to such an extent that by the time the laugh comes it's a wonderful release. I love the theatrics and the way they play with what is real and what is fake and their boldness in saying things most people are thinking. It provokes a very different sort of laugh.
I've left out interviews with actors, performance art and Japanese pop stars - and in truth those are the things that make me laugh the most. And those people will be at my wedding…
• Holly Burn's Hoo-Hah! is at Soho Theatre on Saturday December 7 and Sunday December 8. Tickets.
Published: 27 Nov 2013
What do you think?