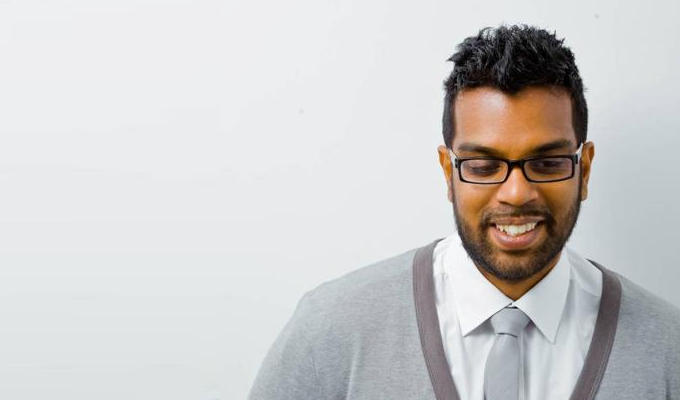 'Cartman is pretty close to perfection as a comic character'
1. Dave Chappelle
I think that Dave Chappelle represents the closest thing to my idea of someone who is born to be a comedian. He has the voice, the face, and of course, the comic brain. He has a way of bringing a freshness to ideas that on paper seem awful.
He told a story about being held hostage on a bus by a masturbating man. If somebody told you that was an idea for a routine, you would tell them it was great just so that you could go and watch them die on their arse doing it. But he manages to weave it into an excellent routine.
Depending on how much sleep I've had, I either find it inspiring or thoroughly depressing to watch him.
The best comedian of all time in my humble opinion. I think that what I admire the most about his comedy is the honesty of it, something which I have pathetically tried to emulate in my stand up.
It's difficult to convert newbies to what he does, because the groundbreaking nature of his stuff has been diminished by time, but when I first watched stand up show of his I was blown away.
I have to be honest though, I knew him as a comic actor before I knew him as a stand up. Stir Crazy, See No Evil Hear No Evil etc, I thought were all great. I read his autobiography, and he didn't seem that keen on them though.
I think it's between him and Louis CK as to the best working today. What I find most compelling about his work is that I disagree with a lot of what he says, yet I find myself following his logic and enjoying the journey. Jesus that was an awful sentence.
I think that he has his persona so incredibly nailed on that you want to hear his opinion on absolutely everything. I listen to his Monday Morning Podcast, where he goes on about American Sports for bloody ages. I couldn't give a shit about any of it, but I find listening to him get worked up about it compelling.
A friend argued that he's not quite charming enough to get away with some of what he says. and while I can see the merit of that argument, I think on top form, he is untouchable.
4. Blackadder
I grew up watching this, probably getting hooked on Series 2, but of course Series 3 is the daddy. I watched it so religiously with my Dad that the nostalgia factor of sticking an episode on is off the scale. I love it and remember memorising Blackadder's putdown monologues so that I could repeat them at school. And then get beaten up.
Series 1 was obviously a little bit weaker, as they were still finding their feet, but series 2-4 were just excellent. The casting was inspired, and the writing was delicious.
Some people argue that Blackadder Goes Forth was not as good as our memories would have us believe, but I dispute that strongly, having revisited it recently. It still blows my mind that the same man who played the witheringly sarcastic Edmund Blackadder is the same dude that played Mr Bean.
5. Ghostbusters
'Ray, when somebody asks you if you're a God, you say yes!' - this is the first time that I can remember hearing a single line in a film that made me collapse in hysterics. This film is absolutely perfect.
Your first instinct when watching this film, is to fall in love with Peter (Bill Murray) but actually every cast member in this film nails it. I love the proton packs, the use of the old fire station, the uniforms, the car and its siren, the struggle with authority, but mostly how laugh-out-loud funny it is.
While it had flaws, the second one was also very good. I heard that they are doing another one. I hope not, because I don't want this tarnished by a 'Ghostbusters and the Kingdom of The Crystal Skull' type affair.
6. South Park
Bloody hell this is brilliant. This show suffers from watching short clips, because it gives the impression of just being a puerile, toilet humour fest. While there are elements of that, it is actually incredibly intelligent, and Cartman is pretty close to perfection as a comic character. There are troughs and peaks in the episodes, but overall I think it is head and shoulders above most comedy on television at the moment.
While I like Family Guy a lot, I think this is much funnier, if not as immediately accessible.
• Romesh Ranganathan is a regular on the new series of Stand Up For The Week, which starts at 11.05pm on Channel 4 tomorrow. He is also performing his show Rom Com – which was nominated for best newcomer at this year's Edinburgh Comedy Awards – at the Soho Theatre, London, at 9.30pm tonight, tomorrow and Saturday.
Published: 31 Oct 2013
What do you think?