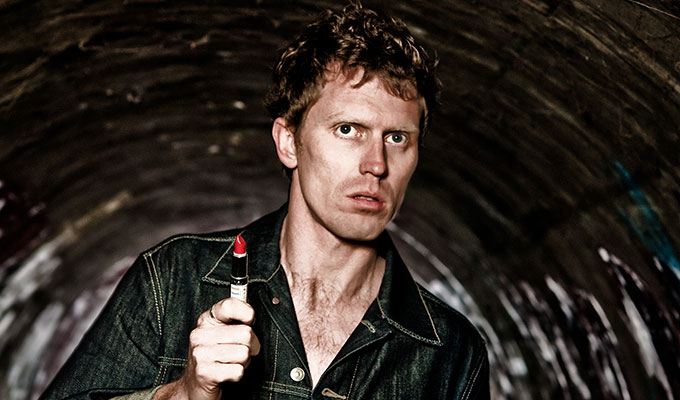 How could a man with a name like Stewart Lee be funny?
Ween Freedom of 76 live on the Jane Pratt show
I love all the kind of comedians you'd maybe expect me to like. Bill Hicks did something that confronted me when I saw his work for the first time in about 1998. I'm sure people are aware of him, so I'll put this up instead. It's Ween.
I fell into a deep love with these two men. They are often funny, but not here. If you want to know anything about me, I think you need to be aware of my love for Ween.
I might have chosen this clip because it was when it was just the two of them and a drum machine, which is great, and maybe because they might be as out of place on television as me.
I listened to this late last year in a hotel bed, at night, in St Kilda, Australia, and very tired. That doesn't have much to do with it but at the time and even now I still think it's one of the best things I've heard in stand-up comedy for a long while. If I had cancer I'd like to think I would have done something similar. She was beautiful with it. 
Here she is talking about her experience on Conan:
I've lived in Melbourne since about 1998, and would go and see comedy at the festival each year before I started doing it myself. I was a cockhead, looking back, as I'd only go and see the bigger international names from the UK and the US, not any locals. I would not have gone and seen my future self.
I remember hearing and seeing the name Stewart Lee and, even though he was from overseas, I think I thought, 'How could a man with a name like Stewart Lee be funny?' That was around 2005.
About three or four years ago, a guy came up to me after a gig and said, 'Do you know Stewart Lee?' And I said, 'I know the name, he was at a comedy festival a while ago, I didn't see him' then this guy told me that I was a bit like him in delivery. So I watched him and loved him.
If I want to get people on to his stuff then I show them this bit. I thought I was doing original things until that guy told me about Stewart Lee.
Withnail And I (in the tea room)
I know a lot of the people who might see this are from Britain, and this great film is British, and this might seem too obvious, but to me, a so=called Australian, this is one of the best scenes from one of the best films. I thank you. Richard E Grant is 'present' to say the least in this. Or drunk, either way.
The Simpsons: I shouldn't have stopped for that haircut. Sorry.
Like a lot of people my age or older, I grew up on The Simpsons. This is a line I always think about. Brilliant and ridiculous. Perfect a bit.
Michael Jackson, Prince & James Brown
As a person who's come to love Prince, this one is special. I like how messed up Prince Rodgers Nelson seems here. He shouldn't have gotten up, perhaps, but I'm glad he did.
By the time he accidentally pulls down the light post, it's heaven. Despite the other two great names here I like Prince the most because he's out of place. The other two are just great, we can agree on that. They don't need to be discussed. Prince on the other hand, well. Personally, I love it.
• David Quirk: Shaking Hands With Danger is at the Pleasance Courtyard, 21:45
Published: 19 Aug 2013
What do you think?