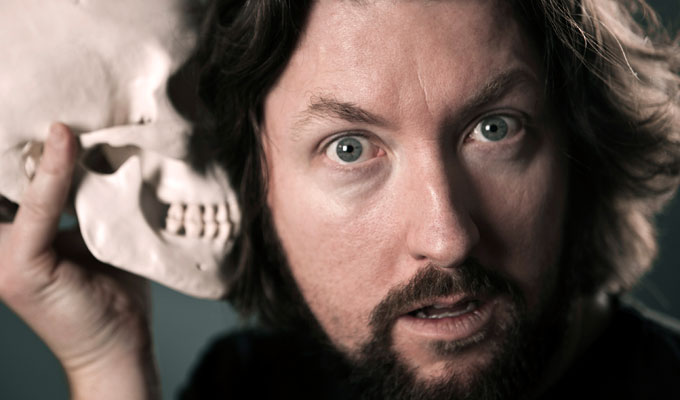 'Memorable, honest and really, really funny'
Dermot Morgan: Live
Before Father Ted made him a household name, Dermot Morgan was the scourge of politics and religion in Ireland. He caused national outrage when he appeared on The Late Late Show in Ireland dressed as a corrupt Italian bishop years before the Church had been ousted from its position of moral and actual power.
Morgan was one of the most inspiring and Funny Men we've ever produced, and he passed away in 1998. Although there are recordings of his radio show, Scrap Saturday, made with Father Ted co-star Pauline McLynn, there is very little of his stand-up available, which is a shame. Were he around today, he'd no doubt be leading the charge in eviscerating the limp-wristed powers that be that have made Irish politics such an embarrassment.
Mitch Hedberg: Mitch All Together
This is just frighteningly funny. Like a comedy sorbet for your ears, listening to Mitch Hedberg roll out one killer line after the other, utterly unconnected but with a flow and a rhythm that is irresistible is one of my favourite ways to pass the time. Because there are so many good lines in there, it always seems fresh when you go back to it.
In Ireland we benefit enormously from growing up in a story-telling tradition but it's listening to wordsmiths like Hedberg that make you want to strive to add that extra layer or twist of funny that he did so effortlessly.
Black Books
This is to the UK what Louie is to the US in terms of a perfectly shaped TV show for the personality of the stand-up involved. The familiarly angry, anti-social louche presence of Moran onstage is so well utilised that it feels like this is actually his day job when he's not gigging.
Bill Bailey and Tamsin Greig are perfectly cast and are comfortable in their own abilities so as to be not overshadowed in any way by the lead as sometimes happens in shows like this. A grumpy old joy.
Louie
I've always been a bit 'meh' about any fictional representation of stand-up in a film or TV show. Films like Funny People only added to the Meh-ness, especially when there's so many good documentaries such as I Am Comic and Bitter Buddha (about Eddie Pepitone). Louis CK has turned a lovely trick, however, by encapsulating the randomness of a stand-up's existence without signposting it.
I know he's probably the hipster's favourite comedian now and everyone will be bitching about him by next year but nonetheless, over three series, he creates something truly memorable, honest and really, really funny.
Dr. Strangelove
When I moved from Cork to Dublin, I discovered a video store called Laser which had every film imaginable and was pretty much responsible for my education in film. This was one of the first films recommended to me. Although I'd seen Clockwork Orange and 2001, I was never a huge Kubrick fan until I sat down and marvelled at Peter Sellers and the script and Peter Sellers. And Peter Sellers. Looking back, I think it was watching this film made me realise that anything horrific, even the end of the world, can be made hilarious if you play it right. 
Life of Brian
I think this film is still banned in Ireland. So upset were the papal police at its depiction of a naughty messiah, they refused to all it in the country. Sometimes British humour, and in particular the absurdist tradition, doesn't always translate well to Irish audiences but there was no such problem here.
I remember the first time I saw it, it was more with a sense of disbelief that this had allowed to be made and I kept wondering when the sky would open and an oddly animated foot would crush me.  It was only on the second showing that I believed it was real and spent the whole film laughing and ironically began to believe that there really must be a god. And that I must defeat him.  
Born Standing Up
Steve Martin's book on his career is a finely written exploration of the vagaries of chance and talent that can encompass an entire career. It's a slim book, but weighed down with an experienced and unique viewpoint of someone who worked hard to have it all and then when he had it, walked away.
Whether it's due to a relaxed relationship with therapy and self-analysis, it feels like the Americans always have an easier time in exploring their own paths and making it interesting for those who follow along. One for comedy fan and comedian alike as I'm sure the blurb jacket says.
• Keith Farnan: Fear Itself is on at Underbelly Cowgate, 18:20
Published: 18 Aug 2013
What do you think?