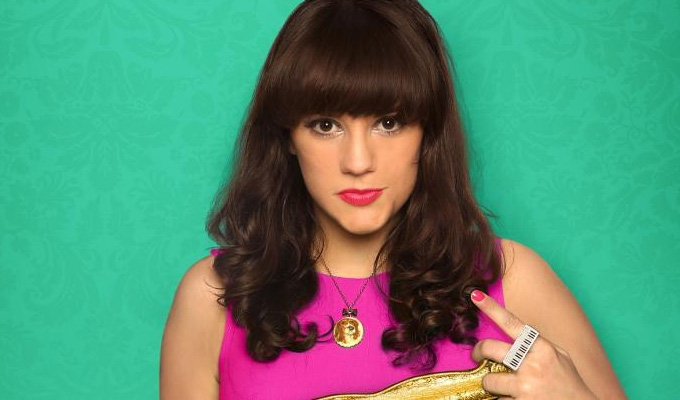 Still rocking a showgirl leotard at 67!
Barbara Streisand in Funny Girl
Before Streisand got all serious, she made a movie musical called Funny Girl. Funnily enough, it's really funny, and Streisand is brilliant, but she vowed never to do comedy again after it (well, she clearly caved to make Meet The Fockers). It's a real shame that she didn't play more comedy roles earlier on in her career, as she's just so magnificent in this film.
Everyone knows the hit Don't Rain On My Parade, but I love a lesser-known number from the show, The Greatest Star. 

The storytelling is wonderful, and her use of different voice qualities to play all the different characters within the song is exquisite. After this, she doesn't really record any songs that require the same vocal dexterity. Yes, she goes on to belt the living shit out of many a tune, and that she does very well indeed, but this is a insight into how funny she might have been.
Bette Midler's mermaid routine
I think Bette Midler is my biggest influence. What I like about Bette is how she's so versatile. She can go from a hilarious routine involving mermaids in wheelchairs to singing  The Rose in the space of the same live show, and audiences go with her. They come for both the comedy and the music, and she's just brilliant at both – AND still rocking a showgirl leotard at 67. That's what I'm in the business for. The excuse to dress like that for the rest of your life.
My shows now contain a number of ridiculous props and costumes, and ideas that have just got out of hand , which I think must have come from loving the silliness of Midler when I was growing up.
Elaine Stritch singing the Noel Coward song Why Do The Wrong People Travel?
I was always aware of the work of Elaine Stritch, but was obviously too young to have seen her play any of her famous roles live. But, I was utterly blown away when I saw  Elaine Stritch At Liberty in 2002.
It was the first 'one-woman show' I'd seen, and it definitely opened my eyes to the possibility of being on your own on stage. The particular song I've chosen, Why Do The Wrong People Travel, a song from the Noel Coward musical 'Sail Away, was my favourite from the show, and it became part of my own musical theatre audition repertoire, back in those pre-comedy days.
Avenue Q: Everyone's A Little Bit Racist
When I was in the middle of my musical training at the Royal Academy Of Music, Avenue Q came to London, and I thought it was just brilliant. So funny. It has recently been topped by the magnificent Book Of Mormon, but this was one of the things that started the ball rolling with my own comedy songwriting.
Writing a properly hilarious musical is on my 'to do' list. There are so many great songs in Avenue Q, but Everyone's A Little Bit Racist is my favourite. The lyric  'Everyone's a little bit racist, sometimes. / Doesn't mean we go around committing hate crimes' is such a brilliant bit of comedy writing.
Goldrich & Heisler: Taylor The Latte Boy
I discovered these writers in 2005, loved their work and it wasn't soon after that I began writing my own comedy songs. They have a very heavy musical theatre sound, but I liked the juxtaposition of the lyrical melodies and offbeat topics. Taylor The Latte Boy is their biggest hit, but others that were influential include Alto's Lament and Fifteen Pounds.  They're well worth checking out, if you're into comedy songs.
Fawlty Towers: Communication Problems
As a child, I tended to watch the same things over and over again, and me and my brother watched Fawlty Towers, to the point we had memorised entire episodes by heart. I'm not sure my Mum was that thrilled that her 10 and 6 year old kids had that as their party trick, but we performed at any opportunity.
I was always Basil AND Manuel, and my brother protested at being Sybil and Polly, but I was the older sibling, so I got to decide the casting. It's hard to pick one episode, but we tended to watch the first in each series more than the others, and I large chunks of Communication Problems still remain deeply embedded in my memory.
• Vikki Stone: Definitely is on at Underbelly Bristo Square at 19:20.
Published: 8 Aug 2013
What do you think?