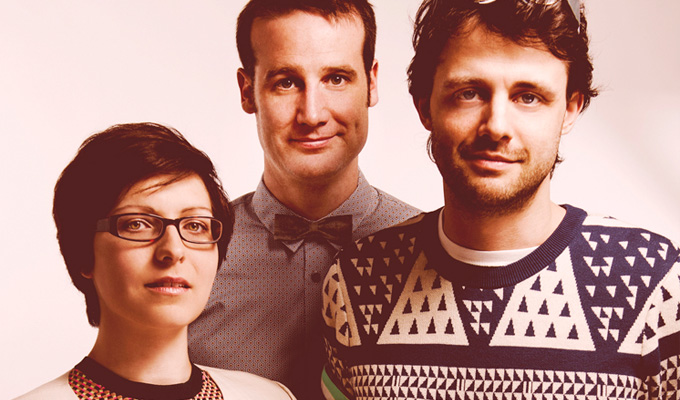 'Science and comedy - how does that work?'
Stand-up mathematician Matt Parker, geeky songstress Helen Arney and experimenter Steve Mould choose their comedy Perfect Playlist, with a heavy bias towards the sciencey
Monty Python: The Galaxy Song
HELEN:As a child, I grew up on a strict diet of Monty Python sketches and songs. I'd spend hours learning all the words, working out all the chords and failing to impress my classmates and teachers with my piano renditions of Finland, The Lumberjack Son and I'm So Worried (About The Baggage Retrieval System They've Got At Heathrow).
One song has been more than inspirational, it's been useful too: Eric Idle singing the Galaxy Song from Meaning of Life. Not only a handy reminder of how insignificant we, and our show, actually are, it's also chock full of factually accurate* information that genuinely helped me through the exams at the end of my physics degree. 
(* = factually accurate in 1983, that is. Current estimates put the number of stars in our galaxy at 100 billion, an order of magnitude greater than in the song. Email me for full analysis including citations and calculations **)
(** = That's not a joke.)
ZeFrank: True Facts About The Star Nosed Mole
STEVE: ZeFrank is funny in a way that's hard to pin down. It's not the obvious gags but the way he says things and the flow of it. And he covers science quite a bit. I like to find the funnies that aren't obvious jokes.
Tom Lehrer's Elements
MATT: Lehrer was the original science+comedy+music performer and him singing the periodic table to a Gilbert and Sullivan tune (first recorded 1959) is a classic of the genre. Unlike many YouTube videos which put animations over the audio, this is a film of Lehrer himself performing the song in 1967. What a guy.
The Two Ronnies: Mastermind
STEVE: The Two Ronnies had some incredibly clever sketches with brilliant wordplay and mind-bending setups. Their Mastermind sketch is a great example of that. I made a tribute version with Gemma Arrowsmith back when we were doing Mould & Arrowsmith. We always strived for that kind of thing.
Red Dwarf: Science fiction becomes science fact
HELEN: In interviews we often get asked the infuriating question: 'Science and comedy - how does that work?' It's not a new idea, there's already tonnes of funny science fact and funny science fiction: Tom Lehrer, Douglas Adams, Dara O'Briain, Helen Keen… and Red Dwarf. It's not all that niche.
As long as science and technology keeps progressing at light-speed, helping us to save time and then waste it in other ways, and make the world both better and worse at the same time, we, as humans, are going to find funny stuff about it. One thing I love doing right now is spotting moments of classic science fiction that are almost reality.
An electronic version of Douglas Adams' simultaneously translating Babelfish is just around the corner; Star Trek style handheld computers are pretty much already here; and NASA has just funded research into a 3D food printer, to create pizza out of protein powder at the push of a button. Basically, it's a vending machine for a spaceship. If they spent another $125,000 developing a sarcastic voice for it, we'll all be living on the Red Dwarf before we know it.
Big Box and Maru
MATT: It's good to be reminded that no matter how hard I work on the cleverest of maths jokes, I'll never be as funny as a cat jumping into a box.
• Festival of the Spoken Nerd is on at Assembly George Square at 18:10
Published: 7 Aug 2013
What do you think?