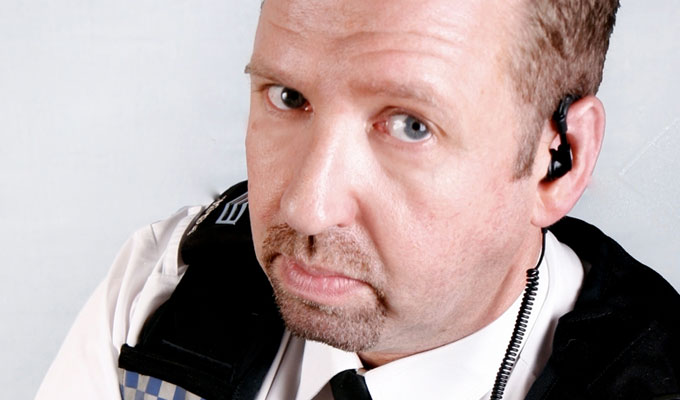 'I don't care what you think, I love Vicar Of Dibley'
Les Dawson
A lot of people talk about 'funny bones'. I think Les Dawson definitely falls into that category. In fact I would defy anyone to watch his 'blowing out the candle routine' and not laugh- it's nigh on impossible.
Seeing this clip brought memories flooding back of watching telly with my dad in the 70's and 80's. Comedians that were way ahead of their time such as Spike Milligan, Dave Allen and the like only surfaced occasionally. I would put Dawson in that category.
He refused to fit into the 'northern comic' stereotype with his articulate word play and musicianship skills but as this clip shows when you've got funny bones – who needs words anyway. Legend.
Terry Alderton
About three years ago, I saw Terry Alderton close the first half of the Comedy Store in London. It was the best live comedy I had ever seen. One of those sets that absolutely take the audience to another place, the physical performance and timing were immaculate. I just stood there thinking who could walk on that stage now and follow that?
It's stayed with me ever since and I sort of hope I never see him play live again as I wouldn't want to risk tarnishing the memory. Also a great story of someone refusing settle for the level they're at and continuing to strive to reinvent themselves.
The Vicar Of Dibley
I don't care what hardened Chortlers think I'm unashamedly going to throw The Vicar Of Dibley into the pot. I think this 90s sitcom – created by Richard Curtis for Dawn French – is superbly written. The characters are very strong, well acted and the perfect vehicle for Dawn French to shine.
This great British sitcom has a lovely nostalgic feel and all round family appeal and I for one will take a Chrimbo special every single year. 
Woody Allen
For an example of someone ahead of their time take a look at Woody Allen. Can you believe that this clip is 48 years old? He might have made good films but I think we all missed out when he quit stand-up. I don't know how serious he was when he recently hinted he'd like to go back to it at the age of 77 but if he does, put down for a ticket.
Lee Mack
I took up stand-up at the end of 2007 and that Christmas my wife bought me the Lee Mack:Live DVD. Consistently brilliant stand-up from start to finish. Punchy, physical, fearless and superbly timed.
The high energy levels never look like stopping for a breather. If someone who's thinking of taking up stand-up asked me for a tip. I would say buy this DVD.
Louis CK
A lot of people rave about iconic American comedians such as Pryor and Hicks, but to be honest they never really did it for me. However as far as I'm concerned Louis CK is the real deal. I'm a big fan of his work. He's brave, clever and challenging. A real class act and it's exciting to think he's probably not peaked yet. 
• Alfie Moore: Viva Alf's Vegas is at Pleasance Courtyard at 21:50
Published: 4 Aug 2013
What do you think?