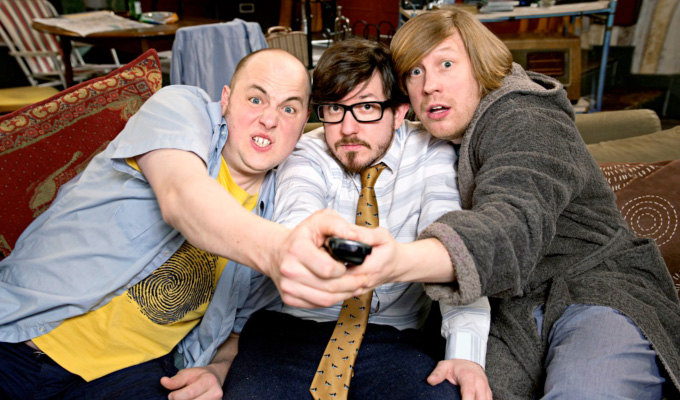 'I think we secretly want to be the Marx Brothers'
The Marx Brothers in Duck Soup
BEN: We grew up watching the Marx Brothers.
TOM: That's misleading; we didn't grow up in the 1930s.
BEN: I think we secretly want to be the Marx Brothers.
MATTHEW: But none of us are smart enough to be Groucho or willing enough to do a funny foreign accent to be Chico.
TOM: I constantly suggest that Ben should take a leaf out of Harpo's book and be a mute.
BEN: Basically you just want me to shut up.
MATTHEW: In one episode of Badults, we pay homage to this mirror scene from Duck Soup.
TOM: Homage is French for stealing.
BEN: I thought homage was French for cheese.
The Young Ones
MATTHEW: The Young Ones and Bottom were another key touchstone for us.
TOM: This scene from the Young Ones has a punchline that is so stupid yet so unexpected. It's brilliant.
BEN: We love the idea that a sitcom doesn't have to be grounded in reality.
TOM: We wanted Badults to have a similar 'sketch show meets sitcom' feel. In fact we wanted to call it a skit com.
BEN: Tom wanted to call it a skit-com.
Mr Don and Mr George
MATTHEW: Jack Doherty plays my boss, Mr Carabine, in Badults, which was a real thrill because this was one of my favourite shows as a kid.
TOM: On one of the first nights of filming we all went for drinks with Jack and started quoting lines from this at him. He hadn't watched it since it was on.
BEN: It's such a weird show. It gave us a lot of confidence to have strange things happen in Badults.
MATTHEW: In fact having Jack around was brilliant because he'd done it all before. He's worked Vic and Bob, Smith and Jones, Spitting Image, Absolutely.
TOM: But he's not at all jaded. He's got as much enthusiasm for comedy as we do.
The Three Amigos
BEN: We could watch this film a hundred times and still laugh. How did they write the chant that summons the invisible swordsman?
TOM: You get the feeling with this scene that the script just said 'make a stupid noise here'.
MATTHEW: There must be loads of outtake footage of them just improvising and messing around with stupid sounds.
TOM: This was a great bonding moment with our director, Ben Kellett.
MATTHEW: He just mentioned it in conversation and our eyes lit up...
TOM: ...because this was the clip we used to watch every night when we were drunk at university.
MATTHEW: I don't know what the joke is but it's hilarious.
BEN: Quite a lot of people have said that when they watch us: 'I don't know what the joke is…'
TOM: Lots of people say that, less people follow it up with, 'but it's hilarious'. They usually just say, 'I don't know what the joke is' then wander off.
MATTHEW: There's a great essay on this sketch which tries to explain its appeal.
Mr Show with Bob Odenkirk and David Cross
MATTHEW: When we started doing comedy Mr Show was our most immediate influence. They taught us that, in sketch comedy, if you come on as yourself then an audience get to know you and allow you more licence when you're playing a character.
BEN: All our sketches ran together. We did lots of 'fake sketches' that never really happened. We borrowed a lot from Mr Show.
TOM: No Ben, we 'homaged' a lot from Mr Show.
MATTHEW: Talent borrows, genius homages.
• Pappy's star in Badults, which starts at 10pm tonight (July 23) on BBC Three
Published: 23 Jul 2013
What do you think?