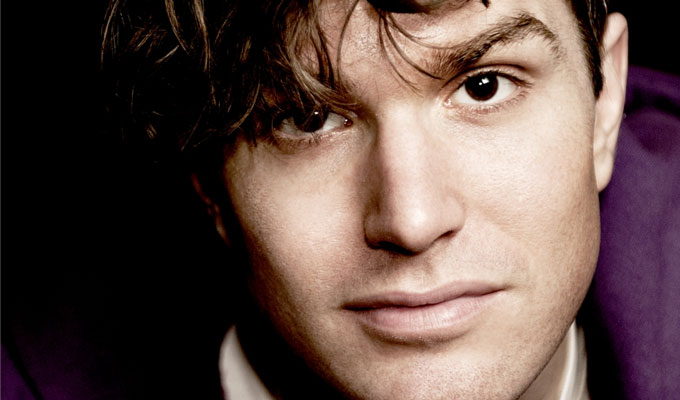 'It's so rare to find a comic that doesn't become dated'
Tommy Tiernan
Tommy is my absolute favourite comedian in the world to watch.. In fact I get frustrated when I watch anything he does because I instantly become painfully aware that I will never be anything close to that brilliant.
I was chatting to another comic, Colin Murphy, after a gig in Belfast recently and he was regaling stories of Tommy in the early years – like judges in the new act competition So You Think You Are Funny? assuming he'd been doing stand up for ten years in Ireland and lying on his application. Also a story where he did an open spot at the now deceased Jongleurs Battersea, getting a standing ovation and walking off saying 'I refuse to play here again'.
I saw him at his 'Anfield' – Dublin's Vicar Street – at his 200th show there, a ridiculous feat. He has an ability to hold his audience so well, he draws them in with ten minutes of whispering, then spits them back out with a routine filled with manic physicality and Irish intensity.
Whenever I feel in a rut about stand up I watch the DVD Crooked Man (especially his bit on marriage), Something Mental (especially the bit about the word fuck at the start) or his first ten minutes at the Montreal gala. His variety is utterly staggering, every bit is so different from the next, puns, long stories, physical stuff, clever stuff, silly stuff. SO MUCH STUFF. It really blows my mind that he is not super duper known here. Yep I said super duper.
Bottom
This is basic hilarity. Two incredible characters in a small flat with conflicting personalities who often result to violence. I was a bit young (ironically) for the Young Ones, but I remember sitting up with my parents watching Bottom on TV and then getting a VHS every year for Christmas for years after that.
They are two people that on paper you shouldn't care about. They argue, they're dirty, violent, sexist and lazy but Ade Edmondson and Rik Mayall make them two of the UK's most loveable characters in TV history.
Dave Allen
I think Dave Allen, although obviously hugely regarded is slightly under acknowledged by the young stand-up world. He is so so brilliant. And like Tommy is so varied. I was clearly too young to remember him from his BBC days (I'm clearly too young right?) but my mum always tells me about how much her dad loved him and how he'd howl at the TV on Saturday nights.
If you look at all his various clips on YouTube he is still so relevant and funny. It's so rare to find a comic that doesn't become dated after so long.
He was very controversial too, this is hard to imagine as now it looks fairly placid but it is also rare to find someone who was willing to push the envelope to such a degree whilst remaining popular to so many people, including primetime BBC. There is a great video on YouTube that talks about how the producers at the BBC had got complaints that he had said a swear word at the climax of a routine so he went back out the next week and did a bit involving a litany of swears.
Frank Skinner's autobiographes
He has two and they are both pretty good but everyone knows the first one is best. I recommend this wholeheartedly to any new comic who needs to know how hard to work. The bit where he writes 25 new minutes a week because he used to compere a weekly gig with a regular audience if often quoted by comics. He talks about the importance of MCing to find your comfort and style on stage and his initial Edinburgh naivety which lead to his Perrier win which is truly fascinating to any comic or comedy lover.
Frank is one of my favourite acts to see live. I remember seeing him about six years ago at Banana Cabaret when I was still fairly new to comedy, I really don't think I've ever laughed that hard since. He has such an innate likability yet such a clubby style and his book proves that you have to love comedy and really work hard to be brilliant.
This is an extract from his second book, On The Road
Shooting Stars
The original batch of series which started in 1995 really is my favourite panel show ever.. Such unbelievable surreal silliness. Any time I ever have a meeting about a new panel show they almost always say at some point 'We want this bit to be Shooting Starsy...'
Vic and Bob had an amazing ability to create a sort of sketch show within a panel show by making characters out of the guests and having recurring jokes throughout. You knew the tumbleweed moment was going to happen and Vic would at some point rub his legs but you enjoyed the familiarity of it instead of being bored by the format.
It was almost a parody of a panel show, mocking the seriousness of Have I got News For You and It set the way for shows now like Celeb Juice that seem strangely safe in comparison.
• Joel Dommett is on Twitter at @joeldommett.
Published: 21 Jun 2013
What do you think?