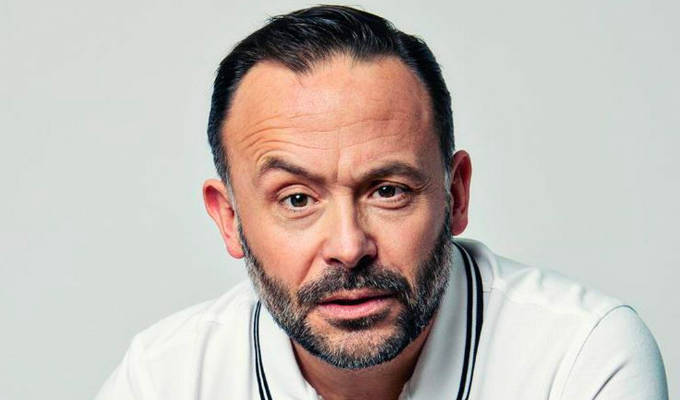 Geoff Norcott organises a charity gig for men's causes
Geoff Norcott is organising a fundraising gig for male-specific charities next year.
The comic – and author of The British Bloke Decoded – will host the Standing Up For Blokes (And Boys) show at the London Comedy Store on April 22 with acts including Katherine Ryan, Tom Davis, Michelle De Swarte, Marcus Brigstocke, Simon Evans and Jacob Hawley.
When Norcott appeared on the BBC to discuss the idea of a Minister For Men with journalist Ava Evans in September, prompting a nauseatingly sexist response from Laurence Fox that ultimately led to his suspension from GB News.
Norcott said: 'A couple of months ago I went on Politics Live - if I'm honest mainly to flog my book - and was talking about the possible need for a Minister for Men.
'When I highlighted issues which disproportionately affect men I experienced pushback on the panel and the clip went viral. There was a big discussion starting to happen about why the arresting stats around male suicide, depression, homelessness fail to get traction…. but then it somehow became about GB News.
'However, while that drama was unfolding I got a steady flow of messages from people who'd lost men they'd love to suicide. It was sobering and people were so brave to tell me their stories. I can be quite selfish, but when people are literally telling you to have to do something and have shared so much I had no choice other than to get my skates on.'
His charity night will raise funds for the Men And Boys Coalition, which is devoted to advancing awareness for issues which disproportionately affect men and boys.
Norcott said he was attracted to the group as it was apolitical, adding: 'When it comes to something as serious as this, you don't want tribal lines interfering. When you look at how female MPs in the Commons work across party lines for women's issues you realise that's an example of how to make sure silliness doesn't get in the way of the big picture.
'Another thing I was reminded through all the messages was that, in the real world, women are still doing most of the heavy lifting when it comes to supporting men who are in poor mental or physical health.
'We have to grow a pair and take responsibility for doing more for ourselves and each other.'
Tickets for the show are available here.
Published: 17 Nov 2023