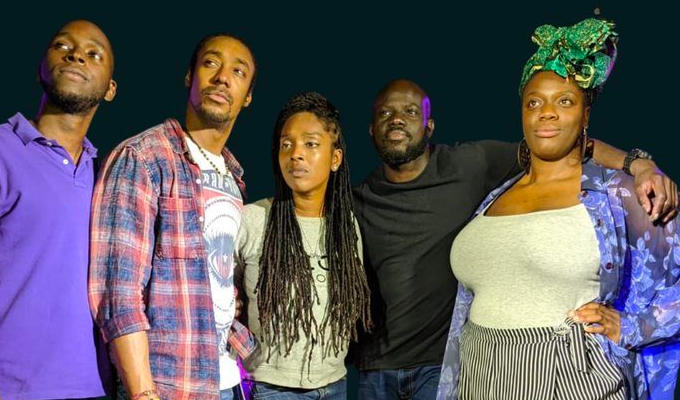 Birmingham Improv Festival to return
The Birmingham Improv Festival is to return, showcasing 18 troupes across its five days.
Now in its fourth year, the event will this year be staged at the Midlands Arts Centre from Wednesday September 28 to Sunday October 2.
Highlights include the US-based Baby Wants Candy; The Comedy Store Players; black troupe Do The Right Scene (pictured); Asian outfit Comediasians; QI: Queer Impro; and Canada's Fandco who perform in a projected virtual world.
Festival director Jon Trevor said: 'I am very excited to announce that the festival is back! We have gathered together a very impressive five days of the best improv on the planet.
'This year we have a fantastic diverse line up featuring improvisers who are stepping into technology for the first time; hilarious crime scene improv; a tech-infused improv and science comedy show; an incredible animated show co-created by improvisers and a live audience and an evening of hip-hop musical numbers based on audience stories and suggestions.
'And, for opera fans, we have the acclaimed Impropera a troupe of foir trained opera singers who make up operas on the spo
Tickets for the Birmingham Improv Festival are available from www.macbirmingham.co.uk
Here is the full schedule, including blurbs:
Wednesday September 28
YES QUEENS 7pm
Yes Queens is the West End's first female-led improvised comedy night. Featuring top UK improv talent from such Olivier Award-winning productions as Showstopper! The Improvised Musical, Austentatious and Mischief Theatre, it is interactive theatre at its best.
GIGGLEMUG THEATRE present
THE BEAN SPILLERS: THE IMPROVISED MUSICAL 8pm
A totally improvised musical based on scandalous and silly stories from the audience.
Thursday September 29
THESE FOLK 7pm
An improvised, mythical, musical, folk tale brought to you by Justin Brett and Susan Harrison the most experienced improvisers in the UK who are also core members of the Olivier Award-winning Showstopper!
DO NOT ADJUST YOUR STAGE 8.30pm
Do Not Adjust Your Stage present The Wunderkammer! A unique show where TED-style talks from expert speakers inspire improvised comedy. Previous Guest Speakers include an extreme snowboarder, a Greenpeace activist, the scientist who cloned Dolly the sheep, a Game of Thrones superfan and a piracy expert.
Friday September 30
THE BAREBACK KINGS 6.30pm
The Bareback Kings are a not-so-regular group of women having a go at being regular dudes. Four women, dressed as lads, improv anything related to being alive in the 21st century—gender, politics, Deliveroo, to name a few. A unique brand of improvised drag-king comedy.
BABY WANTS CANDY (USA) The Completely Improvised Musical! 8.30pm
Baby Wants Candy is one of the world's most popular and celebrated comedy ensembles. It's a roller coaster ride of off the cuff choreographed dance numbers, rhyming verses, and witty jaw dropping comedy. Each performance is its own opening and closing night, and by design every show is completely unique and a once in a lifetime premiere.
DO THE RIGHT SCENE 9.30pm
A fast-paced improv group comprised of Black improvisers, sketch performers, stand-ups and character comedians with credits on Radio 4, Comedy Central, BBC 3 and BBC1.
Saturday October 1
COMEDIASIANS 2pm
Comediasians is the UK's first pan-Asian improv troupe dedicated to celebrating Asian comedy and performers in London. Their diverse collective boasts experience from Upright Citizens Brigade Theater, Second City, IO, Free Association, Hoopla and the BBC Writers Room. They are very excited to bring a mix of short and long form games - original creations and some all-time favourites - to Birmingham Improv Festival.
IMPROPERA 3:30pm
With hugely successful shows in London's West End, at the Edinburgh Fringe and across Europe, Impropera have an international reputation for their unique mix of virtuoso musicianship, agile wit and ingenious storytelling.
MATES: The Improvised '90s Sitcom 5pm
Don your sweater-vest and your Rachel hairdo and get ready to relive the '90s. Inspired by classic sitcoms such as Seinfeld, Frasier and Friends. It promises to be an hilarious performance.
Q.I. – Queer Improv 6:30pm
QI: Queer Improv is London's first all queer improv group, bringing you big gay laughs since 2016. The show combines personal stories and anecdotes with quick and funny improv scenes.
COMEDY STORE PLAYERS 8pm
The Comedy Store Players, the official Guinness World Record Holders for the longest running comedy show with the same cast, are now in their 37th year. See them create a show from out of thin air. Each show is different because the audience are the writers. From random suggestions they perform hilarious sketches and songs, without a safety net.
Sunday October 2
IMPROBOTICS 2:30pm
Award-winning troupe Improbotics presents Artificial Intelligence Improvisation, a tech-infused improv and science comedy show. Human actors join artificial intelligence robots on a surreal trip in augmented reality, where the robots literally take control of the show.
FANDCO presents PlayTest 4pm
Fandco love to mess with technology! They are innovative, comedic storytellers and artists, pushing the bleeding edge of XR in many forms. PlayTest combines seasoned players in virtual reality and motion capture with improvisers who are stepping into technology for perhaps the first time ever!
DOG AND PONY SHOW presents PIXELS 5.30pm
Pixels is an animated show co-created by improvisers and a live audience. True stories from the audience inspire animated shorts in real-time. Every show is different from big adventures to tiny romances, spooky hauntings and impossible mysteries. Pixels premiered in 2018 at the Winnipeg International Fringe Festival and has presented the show at the Winnipeg Improv Festival and the In/On/Out Inter-Arts Festival.
CSI – Crime Scene Improv 7pm
Edinburgh and Brighton Fringe hit sell out show – Crime Scene Improvisation is a rip-roaring comedy entirely made up on the spot to solve a surreal murder chosen by the audience. Once you've picked your victim, grab your detective hats and prepare to laugh as you meet the suspects, grill them in a line up, and ultimately decide who's off to the clanger.
TRACK 96 8.30pm
London's premier hip-hop improv group Track 96 present "The RAPture", where members of the audience will help determine whether the human race survives or is consigned to oblivion. Featuring hip hop musical numbers based on audience stories and suggestions. Get ready for the hip hop apocalypse.
Published: 29 Jul 2022
What do you think?