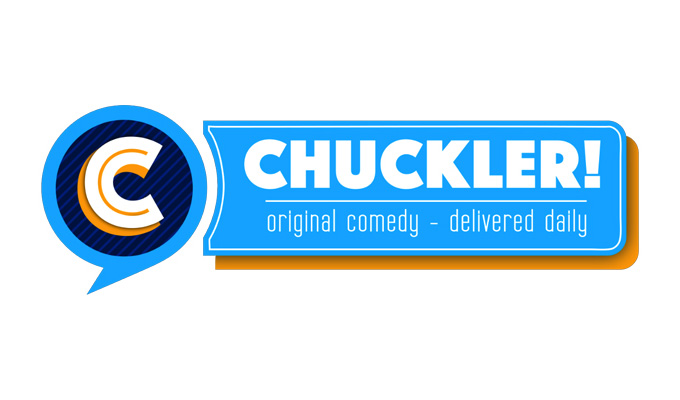 Web verticals! Content engagement! Production parameters!'
A new digital comedy channel is due to launch next momth, featuring actors and writers from Saturday Night Live, Comedy Central, and Veep.
Chuckler will distribute shows it commissioned on Facebook and its own website starting on November 7.
It has been set up by Meetinghouse Productions, creators of the MTV International TV series Clickbait and truTV's Almost Genius, both of which are based on commenting on online videos.
The company is also behind the Facebook The Week in Trump, or TWIT, which catalogues the President's chaos and has more than 215,000 followers.
Bryan Odom, Meetinghouse's vice-president of digital strategy and production, said: 'We want to build an audience on Facebook that trusts Chuckler for comedy the same way we have with our other verticals. We've got a slate that will drive engagement with our content and we're excited to keep it rolling.'
And yes, he did use the word 'verticals'.
Highlights of the slate include:
Philly Court, a scripted comedy courtroom show from comedian John McKeever about the small crimes plaguing the city. 'I've always wanted to make a court show about the dudes I grew up around,' he says says McKeever, 'It's like Law & Order if way more cases involved Percocet [a pain reliever] and illegal fireworks.'
Neighborhood Watch, about an over-zealous vigilate from the comedy trio of David Storrs, Travis Draft and Damon Zwicker, and starring comedian and writer David Storrs.
Newsmasters, a Sunday morning roundtable discussion show that makes the news interesting by making it up. Created by Billy Kimball and featuring longtime SNL writer Jim Downey. Kimball said: 'I'm thrilled to have an opportunity to give Fake News its due consideration. Viewers will find our show both informative and packed with information.'
Search History, an on-the-street game show that asks, 'What weird and embarrassing stuff have you searched for on your phone?' The contestants then must defend and explain their searches in order to win cash and prizes and their dignity back.
Chuckler also has in development a comedy/home-improvement series from comedian Sunah Bilsted and a food-and-comedy series from Ali Kolbert.
Jason Cilo, President of Meetinghouse Productions, added some more management buzzwords: 'What's exciting for us about this is the ability to bring our content directly to audiences and to be developing content from the ground-up with engagement front and centre.
'Reliably funny people working within production parameters born out of our experience building web verticals to make quality relatable content is our mission with Chuckler.'
Published: 25 Oct 2017
Recent Other News
What do you think?