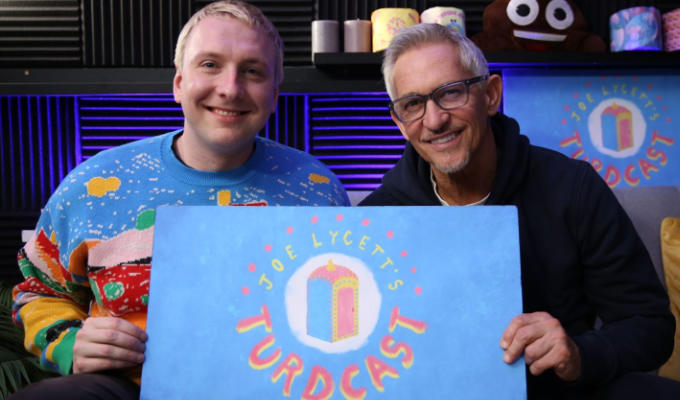 Joe Lycett launches a shit podcast
Joe Lycett is launching a podcast in which celebrities share their 'most satisfying, horrifying and frankly awful toilet stories'.
Turdcast will launch next Friday with Gary Lineker discussing the moment he relieved himself on the pitch in England's opening game of the 1990 World Cup in front of hundreds of millions of people, Gazza farting during team baths and more.
Lycett said: 'It's a side of life we don't hear enough from celebrities, whether that's due to shyness, modesty or sheer self-disgust
'Famous people are just like you or me - they sometimes find themselves experiencing a blissful quarter of an hour with a novel and a multipack of Cushelle, or flooring it down the M6 in a race against time to find a Welcome Break cubicle.

'Let's face it, most podcasts are just celebrities talking shit – Turdcast will now make that official. We've all got a toilet story to tell, and you'll hear them all on the No1 number two podcast.'
In a preview clip of the podcast, Lineker explained how he cannot escape people mentioning that 1990 incident.
He said: 'Once my little accident, became public knowledge, which was about 20 years after the event – about the same time as I went on Twitter, as it was then known – then every single tweet that I would put out, underneath it would be… say I was talking about "I'm gonna see Joe Lycett this afternoon", it'll be "shit on Joe Lycett".
'Like multitudes of them all say, whatever the subject I was talking about Manchester City, it's "shit on Manchester City". Brilliantly witty of them all.'
'Yeah, football fans are so clever,' Lycett commented.
But Lineker revealed: 'In the end, they had this thing where you could mute words. So I'm muted "shit" and I've never seen any since. '
Here's the clip released to promote the show – which has the word 'shit' bleeped out, rather ridiculously given the topic, and indeed the show's title.
Turdcast is made by Lycett's own production company, My Options Were Ltd.
• UPDATE: This turned out to be all part of a bigger stunt. Click here to read the full story
Thanks for reading. If you find Chortle's coverage of the comedy scene useful or interesting, please consider supporting us with a monthly or one-off ko-fi donation.
Any money you contribute will directly fund more reviews, interviews and features – the sort of in-depth coverage that is increasingly difficult to fund from ever-squeezed advertising income, but which we think the UK's vibrant comedy scene deserves.
Published: 17 Nov 2023